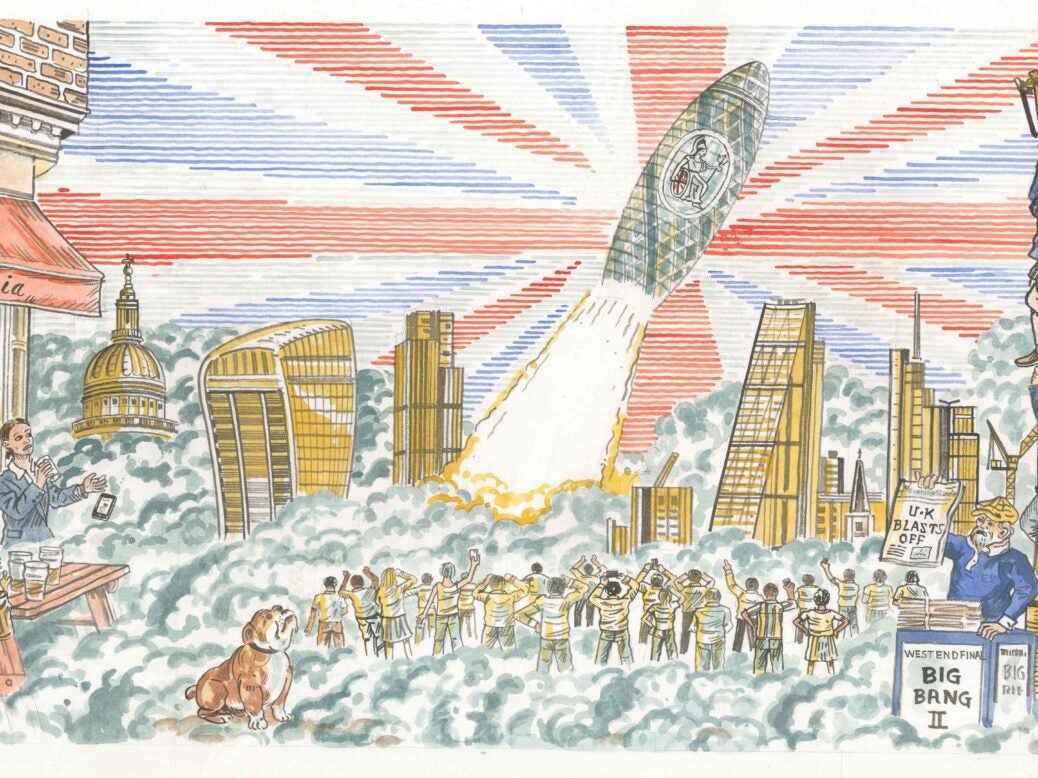 The dawn of Big Bang 2.0 is here, and it is London's chance to go interstellar
Whether you believe that it all began with gossip and deal-making over a latte or macchiato in Jonathan's coffee house more then 300 years ago is up to you. What we do know is that, not long after the founding of the stock exchange in 1801, London very soon eclipsed Amsterdam as a financial centre, which in turn had overtaken Venice.
The City then successfully bankrolled the defeat of Napoleon (the Austrians among others relying on its generous handouts), and it kept the nation steaming on during through the bloody and costly crises of the 20th century. Indeed, having stolen the crown as the world's leading international financial centre in the early 1800s, London has by hook and by crook kept it ever since. But now, if you listen to the naysayers, Brexit is going to do for the City what the South Sea Bubble, the Luftwaffe and the decline of Britain's superpower status failed to do.
This is where Spear's begs to differ. Far from being the beginning of the end, Brexit offers a new beginning. Thirty-one years after the Big Bang of 1986 transformed the City from a closed world of old school ties, the UK's departure from the European Union is going to put the Square Mile on course for the next phase in its global rise.
The City is, in the words of the Corporation of London policy chief Mark Boleat (not a man given over to undue optimism), the 'world's leading international financial centre'. It is number one for over-the-counter global foreign exchange trading (41 per cent of all trades, compared to 23 per cent in New York), for cross-border bank lending, for offshore wealth management, for over-the-counter interest rate derivatives, and for marine insurance. Every day more than half the planet's trades in dollars and euros occur in London — part of $2.7 trillion of global FX trades daily. The wealth management and private banking industry employs some 27,000 directly and manages north of £800 billion of assets. Aside from Wall Street, only Hong Kong, the gateway to China, even faintly registers as a competitor.
Earlier this year, Barclays knocked on the door of Wall Street's big five when it reported a tripling of annual profits to £3.2 billion, on the back of a strategic shift away from Europe and Asia towards New York and London. 'I don't believe the financial centre of Europe will leave the City of London,' Barclays chief executive Jes Staley declared. 'The UK will continue to be the financial lungs of Europe.'
And that's a point well made: whatever the political pressure to move euro-denominated trading from London, it's not as simple as that, as many have pointed out.
'Being able to continue euro clearing is an important component of the future of the City of London for sure,' Mark Field, MP for the Cities of London and Westminster, has said. 'But it is also vital to the health of the EU itself.'
Don't just take a British MP's word for it: here's what German finance minister Wolfgang Schäuble said in February: 'The London financial centre serves the European economy as a whole. London offers financial services in a quality that is not found on the continent.'
Maintaining access to the EU single market for London's financial services industry — be it the euro's clearing functions or the wealth management sector (of whose clients roughly a quarter are based in the EU) — is therefore vital, as is some fashion of transitional arrangement, and in everyone's interests.
So the pragmatic guess is that a deal will happen. But what if it doesn't? Well, as Camilla Stowell, head of Coutts International and Private Office, tells Spear's: 'Businesses evolve towards the opportunities that present themselves. So if the negotiations restrict the way that the financial sector in London operates in Europe, then I'm sure London will find other global opportunities. The world's a large place and there's wealth creation happening beyond Europe.'
Stowell isn't alone: over at wealth manager Smith & Williamson, which has £18 billion-worth of clients' assets under investment, Rupert Phelps, its partner for family office services, is another who is cautiously optimistic about Brexit. He thinks it compares favourably to Big Bang in terms of potential impact: 'It could be absolutely enormous, and that is why it is very important that our political leaders really think this through and the commercial approach is fully understood, because a more prosperous London means a more prosperous United Kingdom,' he says.
This is a comment echoed by Jeremy Arnold, the partner overseeing Withers' private client and tax offering, which covers offices around the world. 'London will be even better if the opportunity is seized,' he says. 'That's the big question: can the politicians deliver?'
There's the rub: can the politicians who are forging the EU deal and arranging the regulatory playing field that London's financial services inhabit get it right?
'There needs to be a tangible, compelling economic or collateral to be here or do business here, rather than somewhere else,' John McFarlane, chairman of Barclays and the lobby group TheCityUK, warned in comments to the Financial Times earlier this year. The group isn't calling for a regulatory bonfire, insists Miles Celic, its chief executive, who adds: 'But there is space for a tonal shift.'
In particular, as Anthony Browne from the British Bankers' Association is quick to point out, the scrapping of the bank levy and corporation tax surcharge would be a welcome start.
Get right the relative advantages which London enjoys, and the winnings are there for the taking, as a trade expert from the Legatum Institute, Shanker Singham, makes clear. 'The EU piece of the Brexit prize is actually not as dominating as some people think,' he says, arguing that South Korea, the US, Mexico and Singapore lead a roster of countries with which the UK, outside the EU customs area, could strike deals. 'Economically such a network would constitute a much bigger prize than the EU.'
And London does have what it takes, insists Mark Boleat. 'Everything is here,' he says. 'Most of the people are here. There is huge expertise, there are massive pools of capital. We've got the world's largest insurance market. Very simply, this is where the marketplace is and it's where the people are, and that in itself attracts new business. Financial services businesses need to be in the same place. They work with each other extensively: they need to be in the same place as lawyers, consultants, public relations specialists — London has got absolutely everything, and that is its main strength.'
Among international gripes are London's high costs, but Boleat adds: 'Any financial institution could cut its cost dramatically by moving from London to another European city but it wouldn't be nearly as effective, which is why they have substantial businesses in London and why they will continue to do so.' That's something the weaker pound can only help with.
So, London, Brexit is your chance — your chance to build on the hard work of previous generations of wealth managers, traders and City dealmakers. This is your moment to bank the rewards of the Big Bang of 1986 and to go global as never before. With unrivalled talent, breadth of expertise, capital and aligned professionals, the proceeds of global growth are yours for the taking. Freedom from the EU customs union means London can fly to new heights, forging relationships in higher growth markets.
Not since that first macchiato or latte was enjoyed all those centuries ago has the opportunity been brighter or keener. It's time for London to smell the coffee of the 21st century. It's time to embrace the global opportunity as never before. It's time for the City, for London, to blast off, to go where no financial centre has gone before. It's time to go interstellar. And London, you can do it. This is Big Bang 2.0.
This is a leader from Issue 56 of Spear's. To enjoy all this and more, go to your nearest WHSmiths travel store or independent newsagent to buy the May/June edition of Spear's magazine or visit www.spearswms.com/subscribe