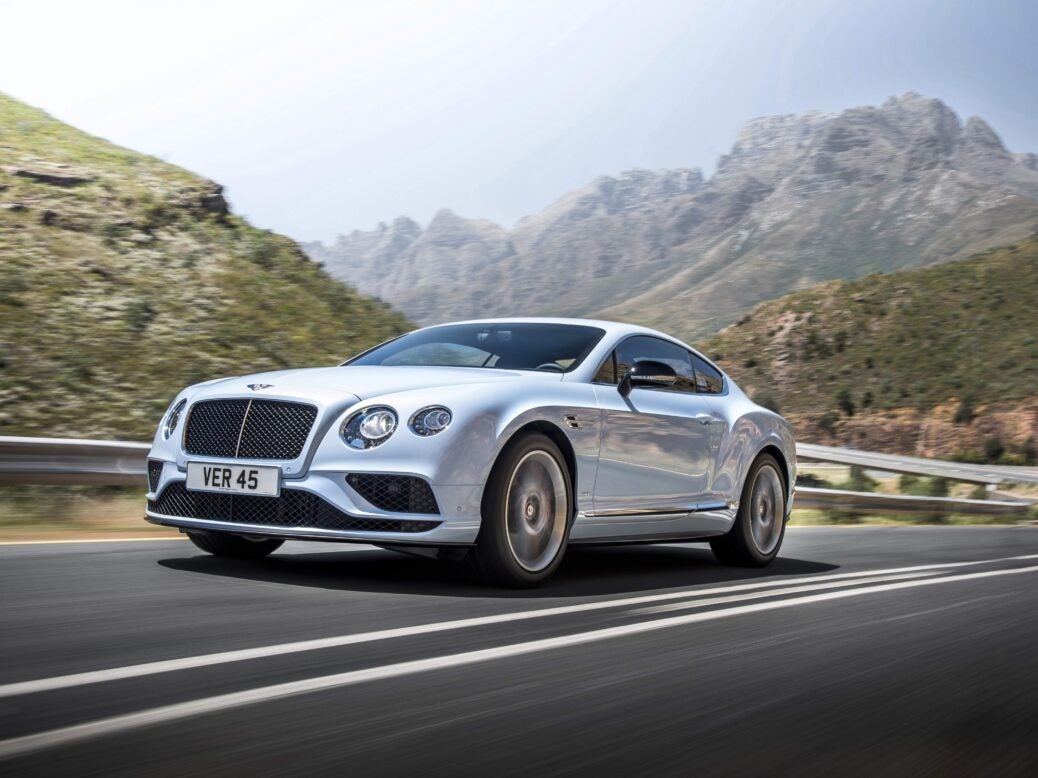 From tinted lenses to throaty engines, two V8S models emphasise different qualities that have made Bentley such an enduring name, writes Cindy-Lou Dale
The stately Flying Spur V8S is not just another Spur with a few technological and visual upgrades; it represents everything the range stands for — pure unadulterated luxury combined with outstanding performance and sporting muscle.
With flowing curves, crisp edges and sharp lines, the V8S creates a remarkably sleek silhouette. To match its enhanced performance and give it a dramatic and purposeful appearance, it has numerous athletic styling cues, including the V8S badging, the iconic matrix radiator grille, and the bespoke treadplates revealing the model's identity. My press car has a set of 21in six-twin-spoke black alloys, gloss-black wing mirror covers, and a black rear diffuser. The tail lights wear tinted lenses, as do the headlights — all added from the immense options menu, encouraging potential buyers to open their imaginations almost as wide as their wallets. Inside the cabin it's exquisitely crafted, from the thickness of the chrome on the air vents to the generous armrests and the vault-like heft of the doors.
As with its Bentley stablemate the Continental, the diamond-quilted, perforated seats and doors are hand-crafted of the highest-quality Brunel hide, the fuel and oil caps
are jewelled, and the headrests are embossed with the signature Bentley V8S emblem.
What makes the Spur the ultimate place to work (or relax) on the move is the advanced suite of on-board technology. You could run your empire from the back seat, made that much more fun by a refrigerated champagne cooler and bespoke crystal champagne flutes, all-round ventilated seats with massage function, and entertainment
via 10in touchscreens.
The V8S slots perfectly between the Flying Spur V8 and Bentley's Flagship, the W12. Under the bonnet is a powerful V8S engine that is the same 4.0-litre, twin-turbo, V8 found in the baseline Flying Spur, but with a few added tweaks that propel it to 60mph in 4.6 seconds and a top speed of 190mph. In 'Drive' mode it retains its luxurious, limousine-smooth ride and legendary ability to transport passengers in unrivalled comfort. Should you decide to get up front, drop it into 'Sport' mode and go on an epic drive thanks to a sharp throttle response.
The Spur, which comes in at a £142,000 base price, is a large, prestigious saloon with commanding on-road presence — a muscle car in a dinner jacket which, with several options ticked, will have you closer to the £200,000 mark.
The Flying Spur is essentially a stretched version of the Continental, with the focus shifted from the front seats to the back, which is where most Spur owners will sit. However, the differences, both mechanical and visual, are greater than before.
At first glance, the Conti GT V8S is a GT on steroids: 520bhp, lowered air sports suspension, 21in seven-spoke black alloys, tweaked aerodynamics, and a Herculean stance. But that's just the tip of the technological iceberg, as what Bentley has also done is mate this to an all-wheel-drive system, a 4.0-litre twin-turbo V8 engine and a ZF eight-speed gearbox — all of which enable a fire-spitting awakening. This is a snorting attack dog of teeth and sinew. It's also the most devastating V8 Bentley has delivered.
I finger the start button and stroke the accelerator with my foot. I slide the gear lever from 'Drive' to 'Sport' and feel the throttle response become razor-sharp, forcing the gears to hold longer, flooding the cabin with a guttural, reverberating Barry White-like V8 bass. On the open road, I floor it and take off with a velocity seldom seen outside a Road Runner cartoon. It jettisons its 2.2-ton frame from 0 to 60 in 4.3 seconds (making the £10,000 ceramic brake option essential), and when I take my foot off the accelerator dramatic pops and bangs announce the Bentley's arrival.
The Conti's features have been distinguished by a blacked-out grill, red badging, red brake callipers, a rear diffuser, an aggressive front splitter and different side sills. With enough space inside the cabin to seat four adults comfortably and a boot for all the luggage, the Continental GT V8S continues to be the definitive British grand tourer, guiding you via its 8in touchscreen. Almost everything in the cabin is trimmed with smooth metal or leather hides, so it feels luxurious and stands as the only comfortable high-end sports car on the market.
You may even well see one of these parked outside Greenpeace HQ, as its CO2 emissions are a mere 250g/km thanks to the V8's cylinder shutdown system: four cylinders turn off under light throttle 'cruising' conditions, to be resumed when the throttle is engaged.
Its recalibrated engine, revised stability control and uprated chassis deliver unshakable road-hugging qualities; and every time you negotiate a bend you'll feel certain you've just drawn a line through physics — which is exactly what you'd expect from a sports car with Bentley's racing DNA. It delivers face-melting acceleration while playing Bach on surround-sound and providing an in-seat massage — which makes the £150,000
base price seem quite reasonable.
The Continental GT V8S is the master of understatement; it's drawn to order and formality. It distances itself from other cars, imposes a sense of responsibility and has higher standards of behaviour — which is why Bentley is considered one of the great luxury brands. This Continental GT V8S is a good reminder of that: it visually reinforces Bentley's credentials. I couldn't stop smiling the entire time I was driving it.