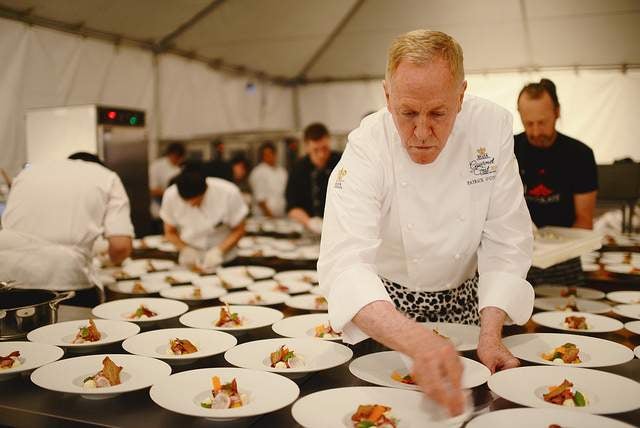 Andrew Harris meets the legend behind the Inn at Little Washington, Virginia, USA…
The Pope is planning a party. An elaborate epicurean affair apparently, taking place over several different locations throughout much of 2018. But before any unseemly images of Pope Alexander VI, (aka Rodrigo Di Borgia) take hold, with his infamous Banquet of the Chestnuts, remembered not so much for the food, as the orgy that followed, it should be pointed out that the pontiff in question is resident in Virginia, not the Vatican.
'The Pope of American Cuisine', was a title famously bestowed upon US super chef, Patrick O'Connell, by the late Robert Mondavi, himself effectively the high priest of the American wine industry. It's a title that O'Connell, with his ever-present mischievous smile, has been happy to adopt, even to the extent of being led fully robed into the inner sanctum of his spectacular kitchen by an incense-swinging altar boy.
The reason for next year's sequence of celebrations, including dinner for 350 on the lawn of Mount Vernon, George Washington's historic home, and a two day glamp-out for four decades' worth of alumni chef's, culminating in a gastronomic extravaganza at Chateau Vaux le Vicomte near Paris, is the anniversary of the restaurant that O'Connell founded 40 years ago next January.
The Inn At Little Washington, in the tiny, timeless and dreamily beautiful village of Washington (pop. 130), on the edge of the Blue Ridge Mountains, an hour and a half's drive inland from its world-famous namesake, (which it predates), really is a landmark in America's culinary evolution – not least for its staying power. When in 1978, O'Connell and his then partner Reinhardt Lynch, took a leap into the unknown with a lease on a disused gas station in the middle of nowhere, they had no idea that success would come as quickly as it did, nor that the restaurant would remain at the forefront of a new American gastronomy for all this time. There won't be any white smoke billowing out of O'Connell's kitchen just yet though, the ecclesiastical grip on America's tastebuds remains as tight as ever, and at 72, Virginia's veteran cuisinier disports no desire for hanging up his Dalmation-dappled chef's pants anytime soon. (Homage to a canine companion, although that's nothing. The cheese trolley is a cow, and it moos!).
The Francophile O'Connell, who is also President of Relais & Chateaux North America, appears as focused as ever. Accolades and awards from American institutions have cascaded down the decades like a never-ending shower of truffle shavings, recently added to by the Michelin Guide, as it expands its reach into the US, including Washington, DC for the first time in 2016. Michelin was obliged to make an exception for the Inn, technically ineligible 70 miles away in rural Virginia. Michael Ellis, the American-born, main Michelin man, clearly had no appetite for excommunication, however, and the Pope of American Cuisine was awarded and continues to hold, two Michelin stars.
The frisson of excited anticipation, pulling into the old stars-and-stripes- bedecked gas station forecourt, and handing the keys to the cheery as cherry-pie, smiling doorman in full livery must be akin to my daughter's experience whenever we checked in at Disneyworld. The beginning of a ludicrously indulgent, all-American escapade, only this time for discerning adults with gastronomic intent. O'Connell now owns significant chunks of this slice of off-the-beaten track Americana that he took by surprise in January 1978, with the Inn having become far and away the town's principal economic player. If it didn't already have such a quintessentially American name (before he got into superpower start-ups, George Washington was a surveyor and laid out the town in 1749), it could quite easily be renamed O'Connellville. With buildings systematically acquired here and there for administration and guest accommodation, an entire street named after him, his own organic market garden presided over by farmer-in-residence Joneve, who organises weekly farmers markets, and with the old post office soon to become his bakery, this is now, to all intents and purposes, O'Connell's personal fiefdom.
But any Disney-esque visions of overdevelopment would be misplaced. A pre-dinner stroll around the silent streets, greedily gulping down air so pure, my London lungs didn't know whether to breath it or bottle it, confirms that seeking out this off-piste place of culinary pilgrimage is worth every effort. Mr Bluebird might not have been on my shoulder, but the Blue Ridge Mountains were on the end of every vista, there's a bear who saunters to the edge of the woods as if to say 'yup, there's bears out here in the woods', a village pond so idyllic it could invoke duck envy, all engulfed by a sybaritic stillness settled over one of the most alluring little villages to be found anywhere.
In addition to the main building, there are another five properties comprising, in total, 24 guest rooms and suites, all named after the personalities associated with America's gastronomic evolution over the last half a century. Craig Claiborne, the former New York Times food editor, perhaps the most influential American restaurant critic of the late 20th century, and a regular visitor to the Inn gets a whole house named after him. Claiborne House, a favourite of Al Gore, probably represents the pinnacle of the design motif that permeates everywhere, melding English country house with New World plantation, a bit of Byzantium brothel, and a Shaftesbury Avenue theatre. This unashamedly theatrical and individualistic approach is the result of a long-established collaboration between O'Connell and English theatrical designer, weaver and embroiderer, Joyce Evans, whose very first commission was for a twenty-foot tapestry to hang in the new Park Lane Hilton back in 1962.
Between them, they painstakingly create an atmosphere, that stuck somewhere else might get stuck in a stylistic time warp. Sprinkled liberally throughout this unique bucolic backwater, however, not only does it work, it all looks fabulous. Everywhere is rich and warm, cosseting, textured, pleasingly plush and in the Claiborne House, positively presidential.
One of the intriguing things about O'Connell is how he managed to bypass any long sentences of servitude in the kitchens of the established chefs of his youth. What can only be a naturally infused talent was, he readily confesses, brought to the boil by watching TV chefs as much as anything else. As hard as that might be to assimilate, and I'm sure that long culinary excursions through the French countryside taken at every opportunity also played a major part, four decades of foodie pre-eminence simply speaks for itself. Almost as soon as he began banging his pans about in the old gas station, respected restaurant critic John Rosson, following up a personal recommendation, made the trek out from Washington DC.  Unsure whether what he had just been subjected to was a one-off or not, he returned the following week, only to be assailed by the same audacious heist of his taste buds. The resultant superlative review propelled O'Connell into the limelight, and he's rarely been out of it since.
Barbara Streisand was served lunch when she dropped by looking for it, but that's only because she's Barbara Streisand. Otherwise, no lunch service remains a notable departure from French orthodoxy, but that'll be a long-lost concern once perusing the elaborate offerings at dinner. There are three menus to choose from, all offered with carefully curated wine pairings arranged around vegetarian, newer innovations, and the Inn's long-established classic dishes such as carpaccio of herb-crusted baby lamb loin with Caesar salad ice cream. No, I didn't like the sound of it either, but it's the incredible taste of it that confirms incontrovertibly how Caesar salad ice cream and the many other unique creations emanating from O'Connell's kitchen, have rendered up a culinary icon. There are no interminable tasting menus, just a classically inspired and beautifully crafted total immersion into gastronomic gaga land.
Alan Greenspan, one of an unending list of celebrities to visit the Inn, commandeered the entire place for his wedding in 1997. After convincing so many, for so long, how accounts can be settled with money magicked out of thin air, Greenspan probably didn't have too many concerns about settling that one. Visitors with less alchemical inclinations, however, will be reminded that papal indulgences don't come cheap, not that any such concerns impact the Inn's long list of potential penitents.
As the legendary chef and his reputation for playful theatricality hurtle toward the extravaganzas of his anniversary year, it's pretty clear what cherry would sit nicely on the cake.  While the Inn delivers constant validation of a uniquely American experience, from the fresh truffles shaved onto buckets of parmesan-tossed popcorn, to the promotion of the local Virginian vineyards, France remains the Mecca toward which O'Connell will always turn. A third Michelin star is a deeply desired accolade that certainly wouldn't be better timed should it decide to come shooting by in 2018. Irrespective of whether the Inn At Little Washington does manage to join the fifteen restaurants across the US currently enjoying three-star status, an audience with the pope of American cuisine will always deliver the salvation for the senses that it has done for the last 39 years.