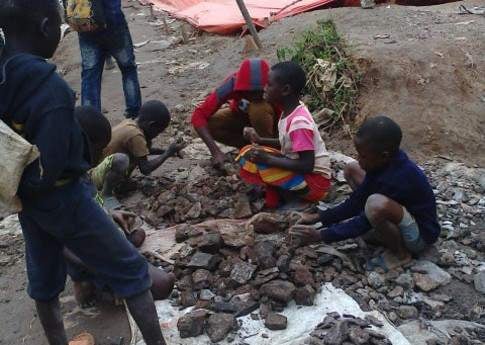 The horrific human cost of consumer technology is laid bare in a new report from London-based asset manager Hermes, writes Cormac Rae
The plight of 40,000 children miners working in cobalt mines in the Democratic Republic of the Congo (DRC) has been highlighted by London-based asset manager Hermes Investment Management.
In its hard-hitting report, the finance house, which has £31 billion in AuM, warns that these children, aged as young as seven, are working in dangerous and highly toxic 'modern slavery' conditions to mine cobalt destined for lithium batteries in mobile phones, tablets and electric cars.
In Modern Slavery: the true cost of cobalt mining Hermes details the brutality at the sharp end of the cobalt mining supply chain in the DRC, where children work up to 12 hours a day for as little as $2. 'To make matters worse, miners, including children, face constant risk and are ripe for exploitation,' note the report's authors. 'They work in wretched conditions that are extremely dangerous to their health — often with no safety equipment or protective clothing. They are exposed to a near-invisible poison, cobalt dust, which can cause fatal hard metal lung disease… miners labour in tunnels that are not properly supported. Rainfall can cause large areas of cobalt mines to suddenly collapse.'
More than 80 artisanal miners died underground in the DRC, a country where the life expectancy for men and women is 47 and 51 years respectively, between September 2014 and December 2015, the report says.
With around half the world's supply of cobalt coming from the DRC and with a 30-fold increase in the worldwide demand for cobalt expected by 2030, Hermes hails the eradication of child labour from this industry as a pressing concern. The DRC government, meanwhile, has committed to outlawing the practise by 2025 — however, as the report points out, that 'at present, there is no regulation directly covering the global cobalt market – let alone local practices in the DRC'.
Asking why the problem has persisted, Hermes highlights the use of subcontractors across the global supply chain, leading to a 'lack of traceability… and the involvement of unscrupulous third parties'. 'A significant proportion of cobalt from the DRC is sold to Chinese traders and smelters, who are often more concerned with price than with ethics,' it says in the report.
Christine Chow from Hermes says supply chains such as the one for cobalt could benefit from a crytocurrency-style blockchain approach where a 'peer-to-peer… open registration process' would provide 'transparency in the value chain of the items being exchanged, in this case, cobalt, and the subsequent products that use it, including smartphone and electric car batteries.'
Amnesty International welcomed the Hermes report. Peter Frankental, Amnesty's UK's Economic Affairs Director, tells Spear's: 'It's encouraging that mainstream investors are taking modern slavery seriously, and sending clear signals to companies in their portfolios to conduct human rights due diligence when they source products.'
And the Hermes report correctly identifies regulatory gaps, explains Frankental. 'We expect other fund managers to follow suit and make equally clear their expectations that companies in which they invest should root out human rights abuses from their supply chains and publish the data to prove that they've done so,' he says.
HNWs have a role to play, too: 'Investors can play their part too by demanding more granular detail from companies on their supply chain activities,' notes Hermes, which states that it takes a holistic approach to investing with a view to creating a 'better society for all'.
Hermes' report concludes: 'Eradicating child labour and poor working conditions from cobalt mining will require co-ordinated action from consumers, governments, mining companies and NGOs. Nevertheless, investors undoubtedly have an important role to play in bringing an end to the 21st century paradox that is unethical cobalt mining.'
The asset manager also delivers a warning to the international players, whose supply chains lead to countries and working practices such as these. 'Should companies fail to increase the transparency of their operations or continue breaking ground in the move towards an ethical supply chain, they will encounter increasing investor pressure, and may suffer considerable reputational harm.'
Cormac Rae is a writer at Spear's