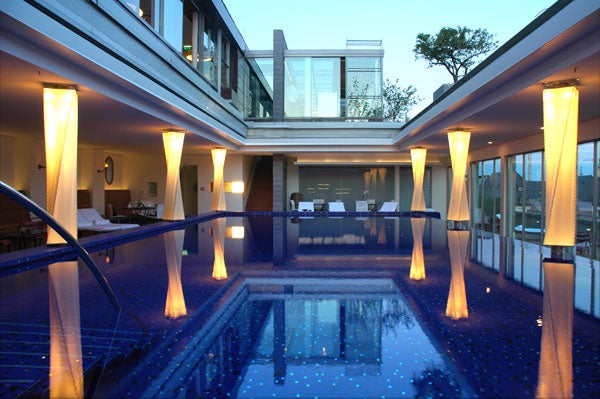 During my sulky teens, I remember standing across the road from the Bayerischer Hof with my earphones in, probably listening to something angry, and bemoaning that we couldn't stay there while on a forced family break to Munich. Almost twenty years later, and with marginally less attitude, it was in homage to my younger, brattier, self that I spent a couple of days at this rippling expanse of a mega-hotel.
Founded in the late 19th century by King Ludwig, who wanted somewhere comfy to house his guests, the hotel was then bought by the Volkhardt family, who have retained ownership to the present day and kept its regal essence alive. While embracing the original grandeur, they've juxtaposed it with the charm of boutique hotels and modernised parts of the décor, restaurants, bars and spa to please as wide an audience as possible.
Six types of room range from the 'cosmopolitan R&B style' – furnished with leather armchairs and optical illusions for bedspreads – to the soft and silky Graf Pilati rooms coloured in different shades of coffee and hung with big curtains that crinkle and crunch. There's even a slightly mad 'Laura Ashley' set of rooms stuffed with florals and tweed that look like they may smell of your gran.
No one likes a stereotype, but it was impossible to get a sunbed by the pool as the area is open to day guests who had bagged beds both inside and outside, throwing towels and kaftans upon them and then sauntering around the pool taking selfies in sunglasses. Fortunately the pool has its own sunroof so vitamin D-deprived guests can spread towels along the edges and still catch some rays.
The best place for lounging, though, is on the rooftop bar ¬- a secluded spot where little but the sound of church bells drifts over the buzz of couples nuzzling and elegant families gathering for early-evening champagne.
For guests who yearn for big-bicep-ed /damen/ with ruddy cheeks and plaits serving steins, don't fall prey to the horrors of the 'traditional' Hofbräuhaus in the town centre: just go downstairs to the Palais Keller which is filled with the warm doughy fog of homemade pretzels.
Originally used as a salt store in the early 15th century, the vaults of the Palais are cosy and fun. Housed beneath low-arched ceilings with the odd stag's head overlooking long wooden tables, it delivers the stodge and satisfaction of meaty knuckles, haunches and schnitzels piled with golden onions, buttery mash and mounds of sauerkraut.
More formal dinners take place in the Garden restaurant where two business partners were trying to woo a Chinese client over a beautifully chilled steak tartare. A dirty habit, but I like to eavesdrop and spy on fellow diners and their order looked so good that I chose the same and was floored by the freshness of the meat, all gooed up with a warm yolk, spiked with shards of anchovy and blessed with a spoon of sweet black river caviar.
My Wiener schnitzel was ironed thin and dusted with a hot crisp coat, and the pan-fried calf's liver with apple and mash was pink and perfect, but free from the whiff of undercooking.
The Hotel Bayerischer Hof is like the Titanic of hotels – there's a cinema, a ballroom, a jazz bar, an art gallery and plenty of fancy guests – but this is no sinking ship. After two days, several pretzels and a smidgen of sunburn, the sulky teen inside me was happy at last.