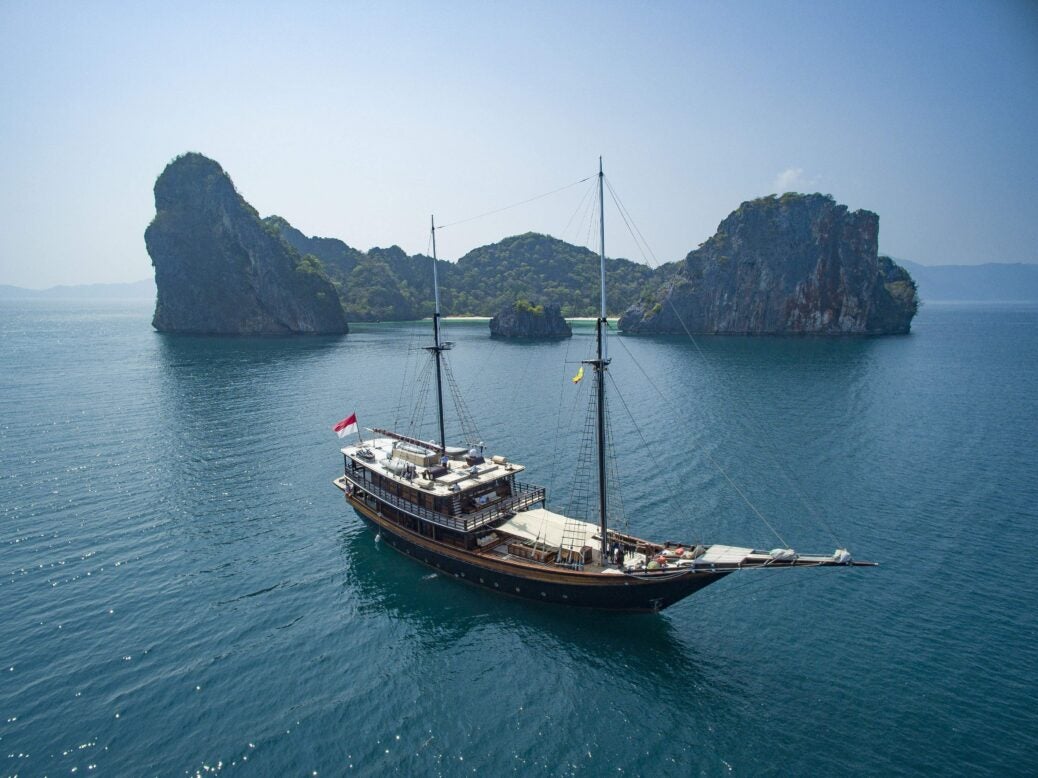 Her construction may not have been plain sailing, but Indonesia's top private yacht, 'Dunia Baru', was worth the wait, says Rory Ross
The archipelago of Indonesia is both God's and nature's gift to superyachting. Steamy, diverse, volcanic, unspoilt, vast, remote and was hed by two great oceans, the 17,000 islands pulsate with wildlife above and below the waves.
The only snag is the lack of yachts. Indonesian law forbids you to charter a yacht unless it's registered locally. And if you owned a yacht of any distinction, you'd be mad to register it in Indonesia, given the corruption.
Unless, however, you were Mark Robba. An ex-yacht-skipper-turned-entrepreneur from New England, Robba, 57, has lived in Indonesia for twenty years. He is the world's largest sports glove maker. If that were not adventurous enough, he also devised and commissioned the pre-eminent private yacht in Indonesia: the 51-metre Dunia Baru ('New World').
'At the superyacht level, yachting usually focuses on the boat, not the region,' says Robba. 'Dunia Baru is about the region. The Coral Triangle is the most diverse place on the planet: 700 languages, biodiversity, ice-capped mountains, glaciers… This is where Indian and Pacific Oceans meet, and where Asia joins Australasia. Coming here helps you realign your priorities.'
I boarded Dunia Baru at anchor off Maumere, the largest town on Flores island. On the map, Flores looks like a dash next to the dot of Komodo as the Malay Peninsula dissolves into Morse code. It's easy to forget quite how large some of these islands are. This part of the world includes three that are larger than Great Britain.
Flores is a significant landmass 400 miles long, home of 'the hobbit' or Homo floresiensis, a cousin of prehistoric man. Welcome to a backwater beyond reach of adjectives, never mind tourism or public transport: take your pick from whale sharks, giant manta rays, migrating orcas, dolphins, headhunters, pristine highland scenery, exploding volcanoes, obscure whaling villages where formal religions blend with mysticism, and seas where strange wave patterns emerge and then disappear. It's like stepping into the pages of National Geographic.
One of the world's main volcanic belts passes beneath this part of Indonesia, creating a seismic hotspot. Most of the daily quakes are perceptible only to seismographs, but the occasional big shake causes havoc, such as the one in 1992 whose fifteen-metre tsunami killed 2,400. Nature is in charge here, yet Bali is only two hours away by air.
Dunia Baru cuts a jaunty profile: the living quarters are located aft, leaving a large foredeck which rises to a tsunami-high prow. Side-on, she looks like a giant pixie boot. If they get round to shooting Pirates of Indonesia, Dunia Baru is one Jolly Roger short of being typecast.
With wood carvings and paintings by Balinese artisans, the interior is simple, unpretentious and comfortable, and there is a family kitchen on the lower aft deck. I was awarded a beautiful upper-floor cabin looking aft with my own deck and day bed.
We set sail into the heart of the Coral Triangle. After picking up fish from the market at Larantuka, a former Portuguese mission, we throbbed south-east, gently probing the broken jigsaw of the Flores archipelago, with its layered hills and skyline of
volcanic peaks.
On a yacht, you can reach places that would take days to get to by other means. But prepare to have your priorities realigned, or at least softened up.
Take Lembata village on Lembata island. It is a string of wooden shacks penned between a volcano and the shoreline. I disembarked from Dunia Baru and stepped into a local perahu (the crudest wooden boat) to be skilfully surfed ashore on the Indian Ocean rollers that pound the island.
Everything in Lembata is made of whale. Whalebones prop up roofs and form fences; whale leather hangs bleaching in the sun; whale blubber boils away in pots; whalebone necklaces adorn women's shoulders. To rub it in, an entire whale skeleton lies on the beach, where I stumbled on discarded chunks of whale shark.
I watched the fishing fleet return with the day's catch: six huge rays were laid out on the beach like grounded Vulcan bombers. 'The rays will be shared among the fishermen, the boat builder and the person who supplied the timber,' a German tourist told me. 'If a whale is caught, everyone in the village gets a share. Whaling keeps this place alive.'
There's little finesse to catching whales. A man stands on a plank that extends beyond the prow of a wooden rowing boat. He leaps on to the back of the whale and stabs it with a harpoon.
To the east of Flores, Alor is another island I'd never heard of before. Our arrival here was marked by a pod of several thousand dolphins that lit up the seas with acrobatic leaps and somersaults. Alor's population of 177,000 is split into seventeen tribes, who speak 57 languages and nod to Catholicism with side orders of animism. Headhunting officially stopped when the Japanese occupied in 1942. Nowadays, the tribesmen harvest only maize, fruits and vegetables. Despite their alarming betel-rouged grins, the locals are quite happy to teach you how to use a bow and arrow.
Back on board Dunia Baru, Mark Robba showed me around her innards while sketching out his rise as a frontier-market entrepreneur. Today, he employs 3,200 people in four factories, and is about to expand to 6,000. 'To do business here, you have to be like a cat,' he shrugs. 'You need nine lives. People say Indonesia is corrupt. What they mean is that there is no law. Just because something is illegal, that doesn't mean you can't do it; and just because something is legal, that doesn't mean you can.'
Dunia Baru's back story is just as exciting as her owner's. Forget glass and chrome. Hand-built from ironwood and teak, Dunia Baru has no nails or hinges, only pegs. Her birthplace was an upriver jungle in Kalimantan where a team of shipwrights from South Sulawesi built her with power-planers, a drill, home-made saws, a winch and a generator. She wasn't launched; she was dug out of the river bank.
Robba reckoned on $1m and two years. He was way off. She needed eight years and went six times over budget. 'We worked to a result, not a schedule,' says Robba.
Dunia Baru's genesis was sprung with other surprises. 'One day, a guy drew up in a boat with supplies,' says Courtney Robba, Mark's daughter, who manages Dunia Baru. 'He claimed he'd killed a boa constrictor two days earlier, and said that the sweetest meat he had ever eaten was human ear.'
Two and a half years into Dunia Baru's construction, the local mafia confiscated her and threatened to auction her hull unless Robba paid $100,000. Robba kept his cool. When no one showed up at the auction, Robba took the hull off the mafia's hands for $40,000. 'It was an adventure,' sighs Robba. 'In my definition, an adventure is when you go through all the emotions.'
The result is a work of genius: four double-walled bulkheads, three generators, two air-conditioning compressors, a 2,000-gallons-a-day desalination plant, two dive compressors, an 829-horsepower diesel engine that produces 10 knots (12 with sails up), rigging from the UK, blocks from Nova Scotia, winches from New Zealand, and so on. All systems are 'marinised'. She draws 4.2 metres and weighs 395 gross tonnes. 'One cubic metre of ironwood weighs two tonnes,' says Robba. 'The weight provides comfort.' Several of her friendly 18 permanent crew were part of the team that built her, so they know the yacht inside out. Her ice machine can crank out 100kg a day.
Circling back towards Flores, we passed by the island of Kumba, a live volcano that soars 750 metres from the waves, and erupts every 25 minutes. Finally, we stopped at the island of Palu, just north of Flores, before returning home.
As I disembarked at the end of the cruise with my priorities not only realigned but also reinvented, Robba told me, 'Had I known what Dunia Baru would cost, I'd never have built her. But I am glad I did. It is often not the result but the process where you get experience of life. From that point of view, building Dunia Baru was a wonderful experience.'
CRUISE CONTROL
Dunia Baru can accommodate up to fourteen guests in six spacious and well-appointed guest suites and one master cabin. Handcrafted by traditional Indonesian shipwrights, she is a superyacht with soul, built to international standards, that takes guests to some of the most remote and beautiful archipelagos on earth.
Daily prices of chartering 'Dunia Baru'
Komodo:
$12,500 plus 10% tax
All other areas in Indonesia:
$13,500 plus 10% tax.
(Both the above rates are generally inclusive)
Outside Indonesia:
$13,500 plus 10% plus
All fees (government fees, port clearance, visas, etc)