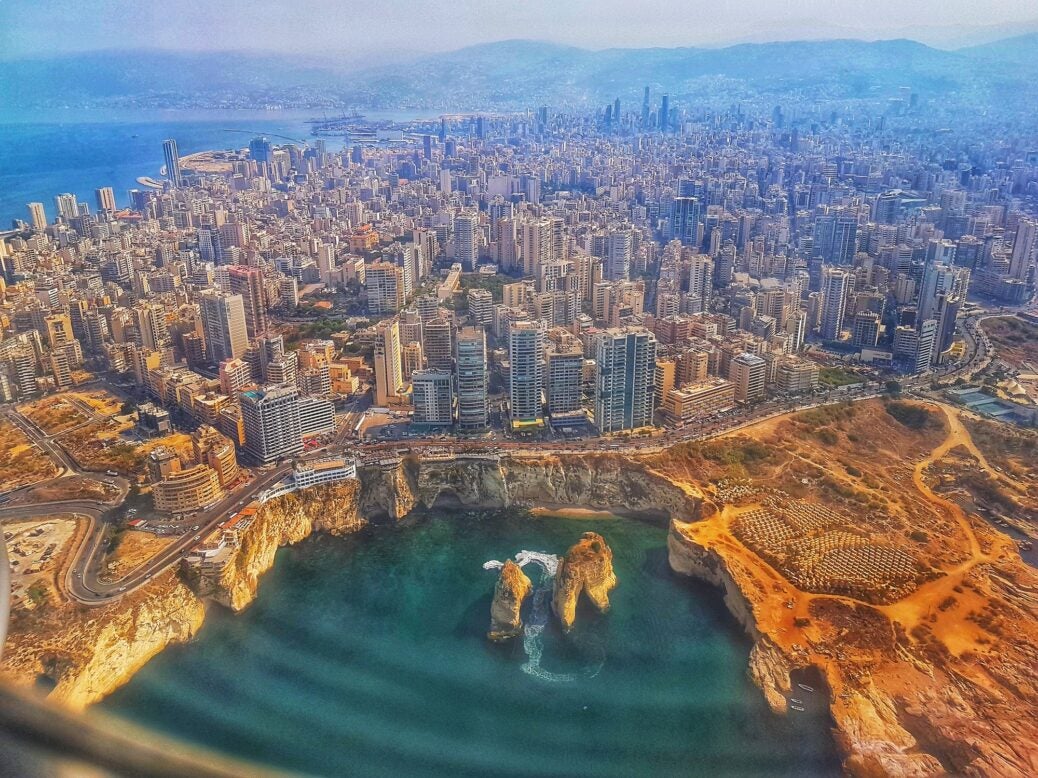 The technological revolution is – at last – transforming the Middle East. John Arlidge travels from Beirut to Dubai to find the hottest start-ups from luxury to security
Charlie el Khoury is used to answering tough questions from venture capitalists. But when the boss of Next Automated Robots (NAR) pitches his drone software, there's one question he has to tackle that none of his Silicon Valley rivals ever gets asked: are you Hezbollah? 'We got it on our very first pitch to a Canadian company,' he laughs.
In his Ralph Lauren monogrammed shirt and wearing designer glasses, the 25-year-old could not look or sound less like a member of the Iran-backed militant Islamic group. But gaze out of the windows of his office and the question no longer seems so odd. The sun-bleached walls of the buildings opposite are riddled with bullet holes. 'This was the heart of the war zone,' he explains.
NAR is in Beirut's new Digital District on what used to be the front line in the battle for control of Lebanon's capital that began in 1975 and raged until 1990. Other regional and international conflicts followed. But now peace – and the arrival of fast, reliable broadband amid the ruins – is attracting a new generation who are more concerned about bytes than bombs. 'It's a new revolution, a big opportunity,' El Khoury says.
The entrepreneurs, dubbed Generation M – young, tech-savvy connected modern Middle Easterners – are attracting interest from some of the biggest beasts in Silicon Valley. Apple CEO Tim Cook, Apple co-founder Steve Wozniak and Tony Fadell, co-creator of the iPod and iPhone, have all recently visited the city to scout talent. Microsoft has gone one step further and opened an office downtown.
Priscilla Elora Sharuk is one local who is already well-known in California. She is the co-founder of cyber security start-up Myki, which allows individuals and companies to store and manage passwords securely, offline, off 'the cloud'. Myki has been awarded PC Magazine's Editors' Choice Award 2019 and has been selected as one of Apple's App Store's 'powerful password managers'. It also made Forbes magazine's list of 2018's hottest of start-ups. It has raised a total of $5.2 million, opened an office in New York, and grown its user base to more than 400,000 customers in 172 countries.
Many of Beirut's new entrepreneurs are coming home after living abroad during the war. Karl Abouzeid, 29, returned from Switzerland two years ago to help set up Sqwirl Lab, which backs and supports local start-ups, mainly in fintech, transport, gaming and – this being Lebanon – food delivery apps.
His outfit is growing so fast it is bursting out of its office in a traditional Lebanese home in the Ashrafiyeh district of the city. Under a sign on the wall that reads 'Get Creative or Get Fired', he explains what makes Beirut fertile ground for start-ups: established trading links with Europe and the US, few regulations, no censorship, and the highly educated local population who speak English, French and Arabic. 'The talent here is amazing – and we are more open-minded than the Gulf countries,' he says.
The government is playing its part, too. It has set up a fund to invest hundreds of millions of dollars in tech. Venture capitalists are following. Middle East Venture Partners (MEVP), the largest VC firm in the Middle East with more than $220 million in assets under management and $100 million in co-investments, has one of its two offices in the region in Beirut.
The other is in Dubai. There, it's Mohamed Alabbar, one of the city state's most dynamic entrepreneurs who has a large stake in MEVP Capital, who is a key driver of local start-up culture. Along with a group of prominent Gulf investors, he has invested $500 million to launch Noon, the Middle Eastern answer to Amazon.
Public Investment Fund, the Saudi Arabian sovereign wealth fund, has matched him dollar for dollar to create a $1 billion operation.
Noon sells 'a huge range of items – home and garden, electronics, street fashion, even groceries', Alabbar tells me in his vast home 15 minutes' drive from downtown, with the Ferrari in the garage, his $60 million Bombardier Global 6000 private jet a phone call away and a brand-new rose gold Rolex on his wrist.
He is also bringing to the Middle East the leading fashion e-tailer, Net-a-Porter, based in London, in new joint venture 60 per cent owned by YNAP, Net-a-Porter's holding company, and 40 per cent by Alab – bar, through his family office, Symphony Investments.
Room for growth
Alabbar believes e-commerce, whether at the value end of the market with Noon or the high end with Net-a-Porter, will grow fast. Despite its young population, shoppers in the Middle East still prefer to go to bricks and mortar – or, this being Dubai, gold and steel – stores.
Online retail accounts for less than 1 per cent of total retail sales in the Gulf states and 0.4 per cent of GDP, according to market researcher Euromonitor International. 'That means there is huge room for growth. We believe it will reach 15 per cent, worth $70 billion,' Alabbar says. An – alysts agree.
Online retail sales are growing at 26 per cent a year, Euromonitor says. But Alabbar has tough – the toughest – competition. Amazon bought online retailer Souq.com two years ago for $580 million in the biggest ever technology M&A transaction in the Arab world. It has enabled the Seattle-based giant, which has never had business operations in the Middle East, to hit the ground running.
Souq's marketplace connects tens of thousands of businesses with consumers. The total number of products on offer is around 10 million. It also has an existing logistics and delivery operation and its own online payments gateway, PayFort. Alabbar is unfazed. 'This is our market. We know it well. We operate in 22 countries, with 22 rules and regulations. It is easier for us.
Noon will be Amazon plus, plus, plus.' Not everything in the region is rosy, of course. In Beirut El Khoury and Abouzeid complain about delayed imports at ports, frequent power cuts, risk-averse local banks, and an outdated legal system. And there is the threat that conflict might return.
Ziad Jureidini, 36, co-founder and managing partner of Sqwirl, repeats the local mantra that keeps all Lebanese going in tough times: 'Keep walking. Keep walking. Resilience, resilience, resilience.'
And what about that question? How does El Khoury tackle the Hezbollah issue? 'When they asked me on that first pitch in Canada, I wanted to say "Yes", just to scare them. But, of course, I said "No".'
Did the Canadian firm believe him, or were they still concerned? 'They were still concerned,' he laughs. But they bought his drone technology anyway.
John Arlidge is a writer for the Sunday Times in London and Conde Nast in New York 
This article first appeared in issue 68 of Spear's magazine, available on newsstands now. Click here to buy and subscribe.