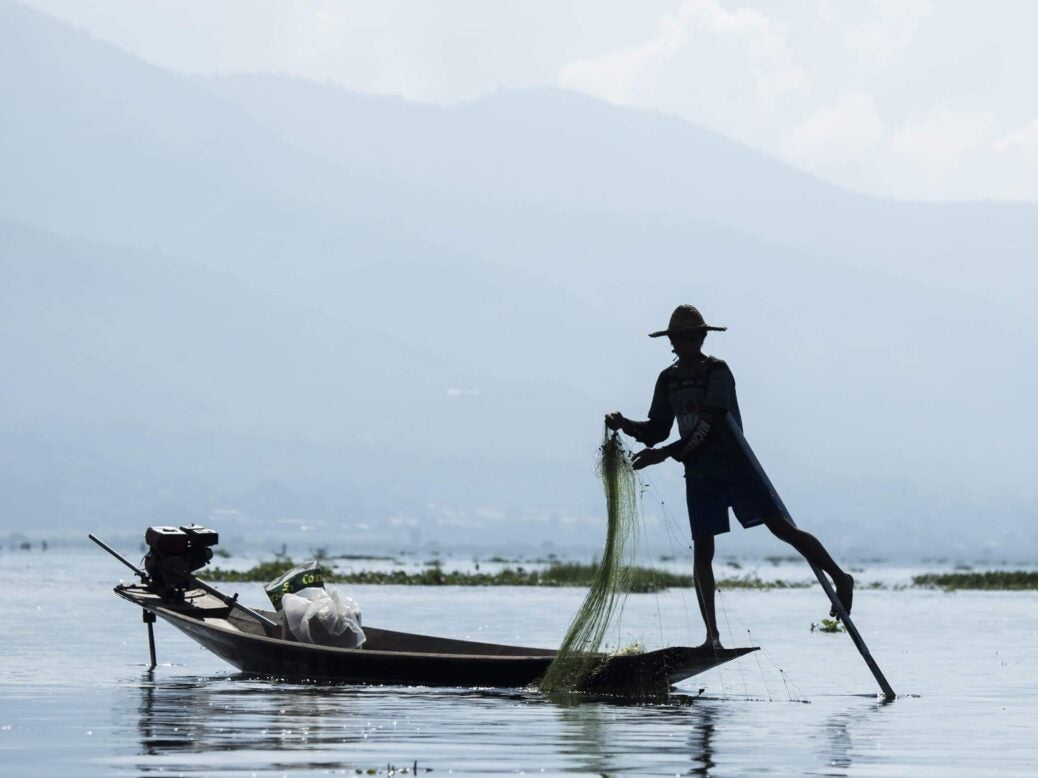 A visit to an elephant sanctuary deep in the Myanmar countryside is just as rewarding as it is educational, writes Caroline Phillips
An apothecary for elephants is where my family and I are sitting. It's a bit like a hair-cum-health-and-beauty salon for Babar and Celeste. There's a wooden cabinet containing acacia bark, its strips used to brush an elephant's skin; toothpaste for (who'd have guessed?) cleaning elephants' toenails; tinospora cordifolia (which looks like a wooden snake) for supporting digestion; catechu (from acacia trees), which is boiled, dried and turned into moisturiser; and turmeric for treating wounds. We're at the Green Hill Valley elephant sanctuary and social enterprise in southern Shan State, Myanmar.
It's on the Burmese road less travelled. We've flown to the delightfully named Heho airport and driven an hour on the old opium route, a road that heads to Thailand and the golden triangle: following paddy fields, lima bean plantations and water buffalo ploughing the fields; and past piles of roadside Chinese cabbages.
We've then motored along the ridge of a beautiful valley of teak, banana palms and jackfruit trees, beyond the erstwhile colonial hill station of Kalaw, with its half-timbered mansions and pine trees. And finally – gradually descending from 3,885ft to 1,200ft above sea level – we've driven a further 16 miles to Green Hill Valley camp.
Domestic policy
Elephants have been used in Myanmar since the 10th century for logging, agriculture, construction and war, most recently just for logging. But since 2016 using these wondrous and intelligent beasts for timber extraction has been banned (not always adhered to) and there are now more than 3,200 tamed elephants – which cannot be released back into the wild – in government care. We talk with Htun Htun, a former tour guide who founded the camp with his wife's uncle, over a simple, delicious lunch of Kalaw food, with its Nepalese twist: brown bean soup, pickled mango, vegetable curry, and rice. We learn that elephants eat for 16 hours a day and love alcohol and getting drunk, and that mahouts used to sedate them with opium inside a tamarind leaf.
He tells us the Chinese are poaching elephants not just for 'medicinal' tusks and embryos with their perceived anti-oxidant qualities, but also (starting five years ago) for the tips of their trunks and skin. An entire trunk sells for US$10,000; skin powder goes for $400 a kilo. The sanctuary attracts 3,000-5,000 visitors a year (each paying $100 for a package that includes lunch). Most people stay a day or two, but sleepovers are forbidden as these would disturb the elephants, who are released at 3.30pm every day from the 65-acre camp to roam.
'They have 741 acres of protected private forest,' says Htun Htun. 'But they come back of their own accord now. They like the food and miss the interaction with people.' It's a bit like a hospital in that each elephant is only allowed a maximum of six visitors a day: 'Most of the elephants have psychological issues and paranoia or trauma when they come to us.' After lunch, we meet four elephants under a grass thatch roof, where they are tied with a rope around the foot.
There's Hin Sit Wai, 26 years old, who has a gunshot wound (from when she was captured) and a dislocated hip (from panicking and falling off a van she'd been put on for a festival). 'She's been here for 18 months and already she's calm,' says Htun Htun. Yu Moe Yin is a 48-year-old female with a tumour who seems to eat most of her daily 150kg of food as we feed her bamboo stems and maize cobs.
(There's also a cauldron of boiled rice and corn for a 67-year-old elephant whose teeth aren't so good.) After we've spent an hour feeding, stroking and trunk-hugging, the mahout releases Yu Moe Win for us to take her to the river to wash.
'This isn't for entertainment,' says Htun Htun. 'Elephants have poor sweat glands, just around the toenails, so they need to cool down.' We walk down to the river and plunge into the cold, cascading water – into which the elephant relieves herself, but the less said about that the better. We scrub her with acacia bark and she showers us. After half an hour in the water, the mahout mounts his elephant and lumbers off downstream.
Medicinal mud
We return to the apothecary, where we meet the co-founder and vet, Ba Kyaw Than, a charming, longyi-clad (sarong-style) man with betel-nut red teeth. He talks fondly of 'my elephants' and shows us his exercise books, one for each of the animals, entitled 'Elephant Biography'. It's here that we learn of the benefits of mud, mud, glorious mud. 'Mud wallowing,' the vet explains, 'helps to maintain hydrated skin and offers protection from overheating and insect bites.' Dietary supplements are also recommended in his biography record for Yu Moe Yin: 'She should,' his tiny scrawl reads, 'have bran mash and extra banana stem leaves and golden pumpkins.'
Afterwards we visit the hut housing the skeleton of a blind and arthritic elephant who had fallen down a cliff, being chased by a bull elephant. The walls are covered with papers and posters, from an ultrasound of the male elephant reproductive tract to illustrations of whole brains viewed from the dorsal, ventral and anterior sides. This is where elephant doctors, behaviourists and other experts from Vietnam and Laos to the US and UK congregate for workshops and to exchange practical and academic skills. The sanctuary also makes paper from elephant poo.
Excrement from old elephants is too rough, but the team collect poop from the young, which is full of vine, tree bark and grass and better masticated and absorbed. After a happy day at the camp we return to Kalaw: 'Welcome to pineland,' reads the notice in gold writing at the entrance of this hill station founded at a cool and breezy 4,200ft by Brits at the turn of the last century.
It's a town with dilapidated colonial buildings, and where army officers are still playing golf on a manicured nine-hole course. We stay in the part-timbered Kalaw Heritage Hotel, built in 1903. It's set in an English-ified garden and has antler trophies and colonial quantities of gins and whiskies. Oh, and there's Fawlty Towers-style service. Not to mention a menu with Anglo-Indian favourites such as chicken tikka masala, plus bangers and mash. We could be in Worthing.
Caroline Phillips is a journalist and public relations consultant 
Caroline travelled with Arakan Travel, an organiser of experiences in Myanmar. Web: arakantravel.com  ghvelephant.com kalawheritagehotel.com