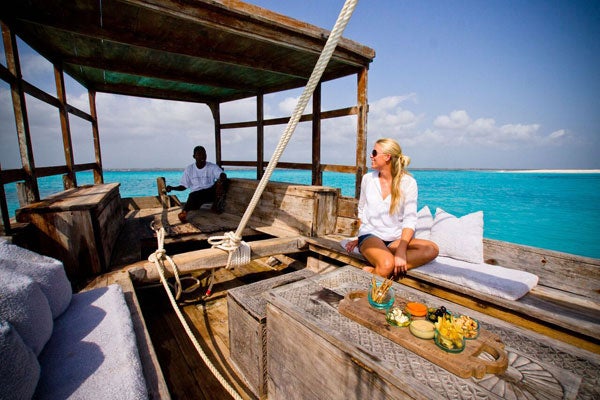 Someone asked me recently how the world of African safaris has altered in the 25 years since we founded Africa Exclusive? The world environment has certainly changed dramatically with 9/11 and its aftermath altering people's perceptions about safety. We share our planet with 2 billion more people. The communications revolution means that I can have a facetime conversation with my daughter from the wilds of the Okavango Delta and be in constant contact with clients from all corners of the world.
If I get a call this morning from a client who wants to be tracking chimpanzees in the Mahale Mountains beside Lake Tanganyika by tomorrow afternoon I can arrange that – even though those chimps are in one of the remotest safari regions of Africa. 25 years ago it would have taken a lot longer. Does the fact that an experience so remote is so instantly available devalue its romantic appeal? I don't think it does. You still have the sense of distance being travelled and the only way to reach the tiny lodge remains a lazy couple of hours ride along the shoreline in an old dhow. You putter round the last headland and there beside the beach at the foot of an immense rainforest clad mountain is your luxurious thatched lodge. What bliss, and how far removed from everyday life!
Increasingly I find myself describing African safari places as 'timeless'. As our business environment moves ever faster the pace of events in the wilds of Africa remains as it ever has been, tied to seasons, the rising and setting sun and the movement of migrations. That difference in pace is widening and makes the idea of escaping to Africa for its peace, its gentle rhythms and that timelessness ever more alluring.
Undoubtedly we are less willing now than we were a quarter of a century ago to compromise on our comfort. At the top end, the quality of small exclusive safari camps and lodges is astonishing. These places may be a hundred miles from the nearest town in a developing country on the poorest continent on the planet but you can expect the cuisine of a decent London restaurant, attentive service, a private plunge pool overlooking herds of elephants and sumptuous accommodation. And why not? Part of the romance of being on safari today is that almost miraculous juxtaposition of new world style and comfort suspended on raised walkways, part of, but barely touching its wild surroundings.
Equally romantic for me, though, is the old style authenticity of chucking some tents, a bucket shower and supplies in the back of a land rover and heading out into the bush with a great guide on the great savannah and sleeping out under those huge African skies. The good news is, we can still arrange that too. Remove the watch, dump the phone if you dare – and you can be set free to roam timeless Africa.
John Burdett is Director of Africa Exclusive, one of the world's leading personalised safari specialists.
t: 44 (0)1604 628979