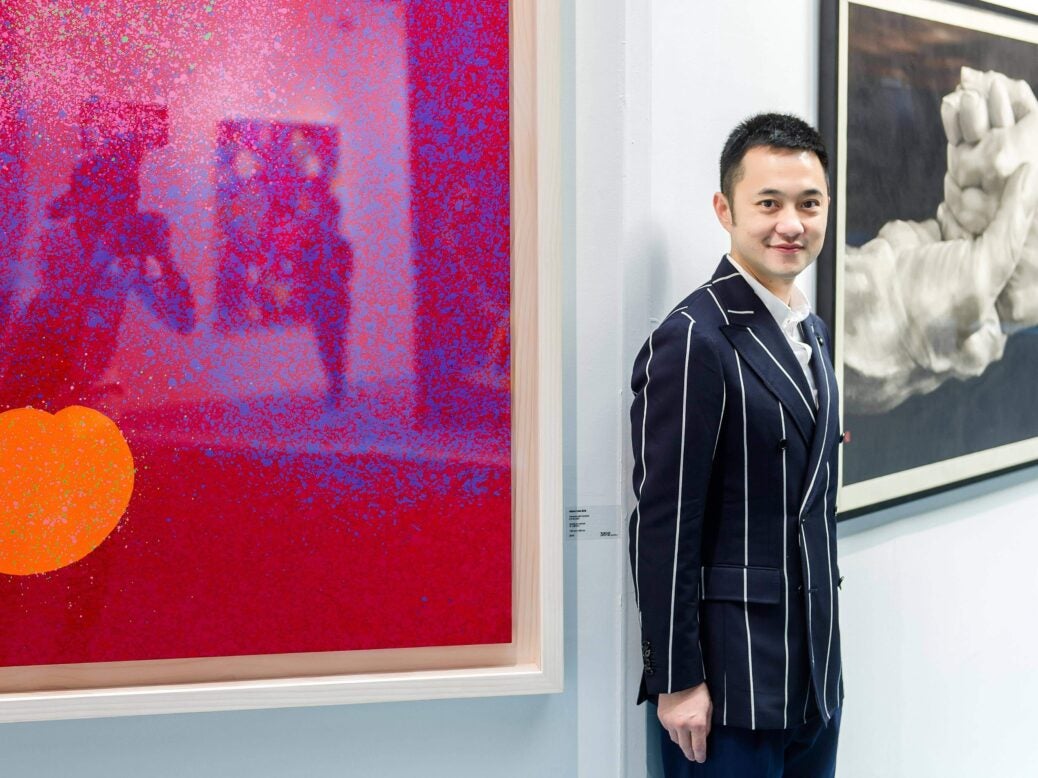 The co-founder of Hong Kong's 3812 talks to Spear's about expanding the brand to London, writes Arun Kakar
Calvin Hui founded Hong Kong's  3812 Gallery with Mark Peaker in 2011, widely seen as one of the leading lights in Asian contemporary art. It's presented some of the most exciting and diverse artists from across the region, united by the theme of 'Eastern origin and contemporary expression'.
It's this motif that the gallery has bought to London, its first international outpost that was opened in St James's last November. One of the foremost figures in East Asian art, Hui is also a former chairman and director of Fine Art Asia and founder of INK Asia, an initiative focusing on the advancement of contemporary ink art across the continent.
Hui spoke to Spear's about his confidence in the capital, as well his ambitions with bringing the 3812 brand to a western audience.
Spear's: Why did you choose London as the location for your second branch?
Calvin Hui: International expansion was always in our plans over the last two years and Mayfair was our first choice. We were lucky to find this place in St. James, it's the perfect location.
We saw the opportunity for us here to introduce Chinese contemporary art that has rich cultural aesthetics, which is quite rare in London and the whole European market, but we have been doing quite well and are recognised in the Greater China region.
It's the right time for us to branch out and also to introduce 3812 and the artists. We believe the market here is very mature with its audience, collectors and media – they have a deep cultural understanding as well as being open minded. That's why I planned this collection of artists and also the curatorial programmes, the exhibitions we present will be very sophisticated and high quality.
What are your main aims with the new gallery?
I travel a lot and found few galleries in the UK [representing Chinese artists]. They chose the art and artists based on their own understanding, mostly from a western perspective. I could also feel that the connection as well as the distance really inspired me to think about how I could enhance the appreciation of Chinese art with Eastern aesthetics.
We care about traditional essence and historical development of our culture would be reflected through the artistic creation. This is like contemporary art, or artworks done by the artist. Besides the concept, they also like to present their cultural understanding and it's also a part of our lifestyle.
However, in the western market, this is not exactly the area the audience could easily absorb because it relates to more cultural knowledge and how the audience expose themselves to Chinese culture.
That's why we've picked some Chinese artists and artworks that they might be familiar with in terms of the visual presentation in terms of their political or social ideology which may relate to western thought, but I found this may not really reflect or give a full understanding of what the Chinese art market is nowadays, especially now when the economy and the integrated power of China is growing.
Compared to the past, some Chinese artists might not easily be in touch because of the language barrier. That's why when we [create] an exhibition program, we want to introduce the new concepts through the artists creativity, not just a concept, but also the originality, and the beauty based on the traditional aesthetic, not by copying the past but having a new interpretations. We found collectors appreciate this.
A lot of them mentioned that they hadn't seen this before and 'this is quite new to me', and they're really curious and eager to learn more about what this means. This is very exciting for us to find some refreshing outlooks.
How are you using the space to facilitate a dialogue between different cultural entities?
Selection of artists is first and foremost the most important thing. For example, Qu Leilei is recognised in the international art market. We would like to foster a dialogue through the selection of these artists and also how we engage the academic world. We talk about what the 'ink' nowadays in contemporary context, this is dialogue we appreciate and are interested in. We can have different discussions. We also like to present a solid and curated program in terms of the exhibition as well as the parallel academic programmes. We want to engage the local collectives, invite them to join us, to understand more about us, our artists and our mission so that we can build relationships.
 How are you addressing worries of declining gallery attendance?
We are now entering a very competitive and challenging age. We need to care for a conventional communications kind of way as well as explore the latest social media trends. We hope to strike a balance, but we also have to understand what we are and how we deliver our deep knowledge through different communication [platforms].
What are your thoughts on the Brexit situation and its potential effects on the art market?
We are quite confident of our potential here. The local collectors are our primary target, but when we have an exhibition opening or a private viewing we always have Chinese collectors and audiences who are based here, or who will get to know us through their friends. I think we have an international crowd that would also appreciate this eastern aesthetic in contemporary expressions. That's why we would really like to open up ourselves.
Everybody talks about Brexit.  In some ways, there will be an impact on all levels. We plan and promote our gallery consciously. For them we see a lot of attention in the first three months because at least collectors who collect even though there is some political uncertainty. It's just the way how we introduce ourselves to them and how we bring them to the gallery to see our works. I'm very confident in the London market. It is one of the most important international cities in terms of art, creativity, fashion, finance, everything, that's why we chose it.
What are you looking forward to in 2019?
We appreciate the market here, [it's] very open minded, very liberal and also very effective. We have a good feeling here that with the historical connection to Hong Kong and UK, and also the cultural developments. We appreciate our presence in such a mature and sophisticated market and want to give a refreshing perspective to local collectors to give an inspiring insight into what's going on in China's contemporary art world nowadays. There will also be room for us to collaborate locally in London with all these academic and commercial entities, to promote this artistic exchange.
Qu Leilei: Echoes is showing at 3812 Gallery until the 9th of March.
Arun Kakar writes for Spear's