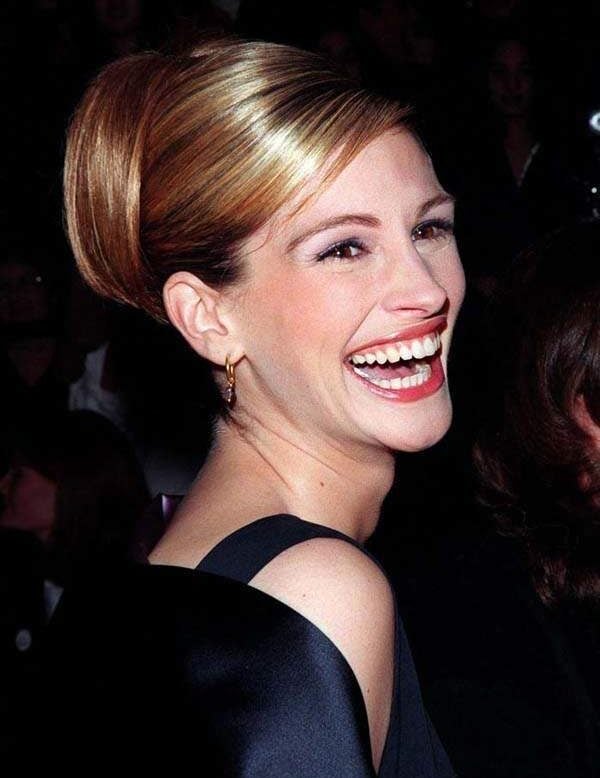 Author: Peter Matthews

Julia Roberts is worth an estimated £96 million.
Julia developed a keen interest in acting during adolescence. Soon after graduating from Campbell High School, Roberts joined Click Modeling Agency where she learned professional acting. She made her debut on the television series Crime Story, aired from 1986 to 1988.
As an acting student and with parents that had acting backgrounds, it wasn't that difficult for Roberts to bag a role in a movie for the first time. She first appeared in Satisfaction, released in 1988 and later earned critical acclaim and award recognition for her portrayal of the ill-fated Shelby in 1989's Steel Magnolias.
Roberts fully entered the spotlight when she appeared alongside Richard Gere in the 1990 movie Pretty Woman, where she played a loveable prostitute and won over audiences with her signature smile, booming laugh and red curls. She was also nominated for an Oscar for the flick. But it was her role as a passionate crusader in Erin Brockovich that earned her an Oscar and made her the highest-paid actress at the time.
Since then there has been no looking-back for Julia Roberts, who went on to add successful movies such as Sleeping with the Enemy and Dying Young to her filmography.
Soon Julia Roberts became the highest paid actress in Hollywood. She topped The Hollywood Reporter's annual list of top-earning female stars from 2005 to 2006.
For appearing in Mona Lisa Smile, released in 2003, Julia Roberts was paid a hefty sum of $25 million.
Roberts then made her Broadway debut in 2006, performing in Three Days of Rain alongside Bradley Cooper and Paul Rudd. While the drama received mixed reviews, it was a huge financial success, earning more than $12 million for a 12-week run.
Roberts married cameraman Daniel Moder in 2002, with whom she has three children. Prior to this, she married singer Lyle Lovett in 1993, which ended in divorce after just two years. She was also engaged to actor Kiefer Sutherland, her co-star in 1990s Flatliners, but called off the wedding just days before the ceremony was scheduled to take place.
Julia Roberts' love life has kept her in the news with her alleged relationships with many celebrities, including Liam Neeson and Dylan McDermott. At the age of 46, Roberts still attracts a younger audience with her performances in movies. She's currently working on The Normal Heart, which is in post-production stage.
Roberts has declared she practices Hinduism and has also shown interest in owning a house in India. It's an impressive fact that – even after engaging in aggressive philanthropic activities- Julia Roberts' net worth is now estimated to be in excess of $130 million.