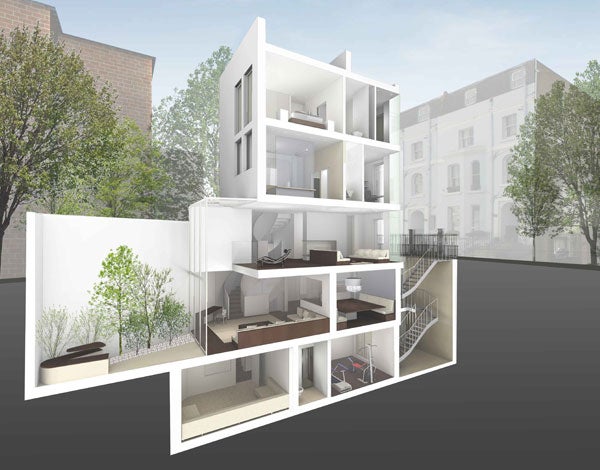 As the founder of Foxton's basement scheme irks the French Embassy Edward Burton examines council reaction to home improvement
Owning a property in prime central London is a key part of the global luxury asset portfolio of many high net worth individuals.
However, with ever present competition for the best properties and ever increasing levels of Stamp Duty Land Tax, rather than trading up, those in search of more space and a grander home have sought to expand what they currently own.
The most common ways of doing so have been to expand downwards into the basement or sideways into neighbouring property. However, none of these options is trouble free and there are important issues to be aware of before embarking on any scheme of work.
Basements have long been a source of contention in many of London's best post codes – the desire of some residents to expand their homes often clashes acrimoniously with the desire of neighbours for peace and quiet. Sometimes these disputes can become international incidents as seen recently in respect of Jon Hunt's (the founder of Foxtons) proposed basement scheme in Kensington Palace Gardens. This application led to heated objections from the French Embassy (which neighbours the property) as well as the embassies of a number of other countries.
Issues with neighbours are only one of the potential pitfalls surrounding a basement extension. Alongside the requirement for planning permission and (where applicable) listed building consent, a number of London boroughs have introduced basement policies which have restricted the scope of basement works that can be undertaken.
Kensington and Chelsea lead the way in this regard to be closely followed by Westminster. It has been recently reported that Islington are also proposing introducing a similar policy. This has been combined with the removal in Kensington and Chelsea and Westminster of permitted development rights (in very general terms work for which planning permission is deemed to be granted) in respect of any subterranean works to a property.
The potential downside of a basement extension has also recently been thrown into sharper relief by the news that basement excavation at a Georgian property in Barnes resulted in total collapse of the structure above ground.
If a basement excavation should prove impossible, what about buying next door and amalgamating two properties? Again, while this would seem to be a simpler solution, there are complex issues which would need to be addressed on any amalgamation.
If two leasehold properties were to be joined together, landlord consent would be required to do so although as any amalgamation would involve works outside the area of either lease, the landlord would likely be able to refuse any request for consent absolutely.
Aside from any issues arising specifically with leasehold property, local councils, concerned at the loss of housing units have been increasingly restrictive in granting planning permission for amalgamation of units. In addition, some councils have also amended their planning policies so that amalgamations of smaller numbers of units require operative planning permission.
Expanding your home upwards or sideways will be an attractive option for many would-be home improvers. However, it is essential to be aware of the possible pitfalls in embarking on any scheme and also the need for good advice in obtaining and implementing the same.
Edward Burton specialises in prime and super prime residential property at boutique private wealth law firm Maurice Turnor Gardner LLP