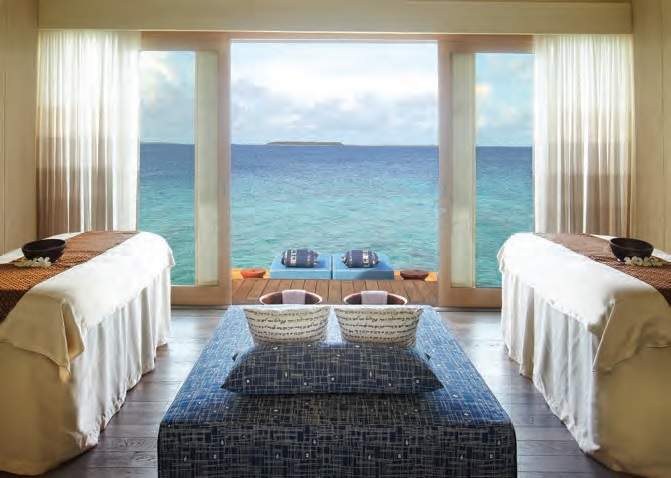 Remote and romantic, the Viceroy Maldives is surrounded by seventeen acres of palmfringed land and is edged by some of the bluest, warmest sea you could imagine. Its 60 villas are threaded like a necklace around a tempting lagoon and are divided between over-water villas and the beach variety.
Each one has its own plunge pool and direct access to beach or lagoon, so no guest is ever far from the enticements of the Indian Ocean. Many simply like to float and laze, others wish to snorkel in its clear waters, while more want to play and choose to sail, scuba-dive, fish or jet-ski. The more romantic opt for a sunset cruise or a day-trip to a deserted island. In fact, romance is high on the list of offerings at Viceroy, which is what makes it particularly popular for weddings and honeymoons. It has a designated wedding co-ordinator who will help the couple plan their perfect day, which can begin with beauty treatments for the bride and a facial for the groom and end with a candlelit celebration on the beach, a champagne breakfast the following morning.
Honeymooners get special offerings too, particularly at the overwater Vai Spa with its six double treatment rooms and ESPA products. But you don't have to be getting married or on honeymoon to enjoy this dreamy resort.
WHO
Couples, obviously, but also families, as it has its own dedicated children's programme for four- to twelveyear- olds, as well as babysitting services. For families, there are two-bedroom duplex beachvillas, offering over 300 sq m living space, with an upstairs loft offering panoramic views of the startling blue lagoon nestled along the crescent-shaped beach.
WHEN
Maldivians claim that summer never ends in the archipelago as the temperature rarely drops below 27°C. However, as it sits on the equator it is visited by two monsoons. The north-west is the drier of the two, from November to April; this is the best time to visit. The southwest, which also brings some wind, runs from May to October, but the islands are still worth visiting then as it doesn't take long for the sun to reappear.
HAVE
The spa menu includes a choice of traditional, Ayurvedic and holistic therapies featuring massage, facials, wraps and scrubs as well as manicures and pedicures. There are special treatments for men as well as a great choice of express treatments which are terrific for those in a hurry to get back to the beach or simply to try a therapy never experienced before.
While there are spa packages lasting two or three hours, guests can also opt for a choice of spa journeys of three, five or seven days which include a lifestyle consultation alongside a selection of treatments.
The Private Spa Suite, complete with its own plunge pool, Vichy shower, steam room and hydrotherapy bath, is where true romantics can while away a day in sybaritic style. Personal training as well as meditation and complimentary yoga are on offer; guests will experience authentic yoga sunrise and sunset experiences with a team of yogi masters. The Spa Café provides healthy snacks, drinks and smoothies throughout the day.
DO
Make the most of the sea — its warmth, its clarity and its wonders. Often you don't even need a snorkel mask to enjoy the brightly coloured fish swarming around the lagoon. Enjoy a sunset cruise to watch the colours of sea and sky change dramatically and swiftly, or instead drink your sundowner from the deck of the Middle Eastern-inspired Treehouse before enjoying a dinner above the waves.
BEST
Yoga at sunrise in the pavilion overlooking the ocean, or a Rose Quartz Crystal Facial, which relaxes muscles in the face and nourishes the skin.