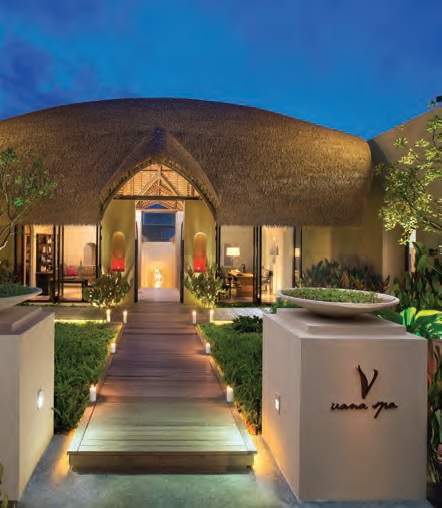 A beachside sanctuary surrounded by trees and hidden by indigenous rock formation, Vana Belle, A Luxury Collection Resort, Koh Samui is just minutes away from the island's liveliest town and beach life at Chaweng. Guests stay in traditionally styled salas and suites made from local materials and decorated with local silks and ceramics, and many have their own private pool.
Privacy and seclusion are paramount to a stay at Vana Belle, located on the island's best beach, which allows guests to relax and rejuvenate overlooking the tranquil Gulf of Siam. The whole concept of the hotel is based on the myths and magic of a beautiful forest– hence the lush tropical landscape and the healing sound of water throughout. The hotel's mascot, a mythical half-elephant/half-fish creature, sits proudly in the lobby.
Koh Samui boasts some of the finest beaches in Thailand, and the silver one on which the hotel is based is no exception. The clear blue water is ideal for snorkelling and exploring the coastline, and under the water is another magical land of caves and reefs, all waiting to be explored.
On a hilltop overlooking the property is Vana Spa — a haven of pampering with four lavish double treatment rooms each with its own shower, steam room, Jacuzzi and dressing area, offering a plethora of massage, facials, rituals and wraps. For the active, the resort's fitness centre is open 24 hours a day and offers yoga, Thai boxing, aquaerobics, Pilates and meditation classes.
WHO
This is a romantic retreat for couples, honeymooners and those wishing to get away from it all — yet with some proximity to night life. Many guests are Europeans while others are expats visiting from Bangkok, Singapore or Hong Kong.
WHEN
High season is December to the end of March, when the hot season begins (it runs until the end of August). The rainy season is in November, but this can still be a great time (and cheaper) to visit. The rain is tropical and can be heavy but then the sun arrives.
HAVE
The spa is massage central, offering not only the traditional Thai variety but also Balinese, hot stone,Javanese, Lomi Lomi and Indian head massage, among many others. If you have never experienced a Thai massage, this is the place to have it — it is like someone doing yoga on your body and is great for releasing muscles after a long flight.
Also on offer are four signature rituals that promise to renew, refresh and rejuvenate, plus a choice of four- and five-hour rituals that pamper everything from feet to face. Should you not wish to move from your lounger at the main swimming pool, the massage will come to you, where you have a choice of head and shoulder, foot or neck and shoulder.
DO
Take time to visit other parts of the island — it's not very big and an hour or two will bring you to the rainforest glistening with waterfalls and streams, while a visit to a Buddhist monastery or the Big Buddha, the island's most famous landmark, is always worthwhile. Otherwise hire a boat for the day and head off to explore some of the smaller islands dotted around the coastline. If you're looking for a party, Chaweng provides the liveliest cafes and clubs and is just a short drive away.
BEST
Head back to the spa for a four-handed massage — this is a truly magical experience that incorporates elements from Thai, Swedish, Shiatsu and reflexology massages.