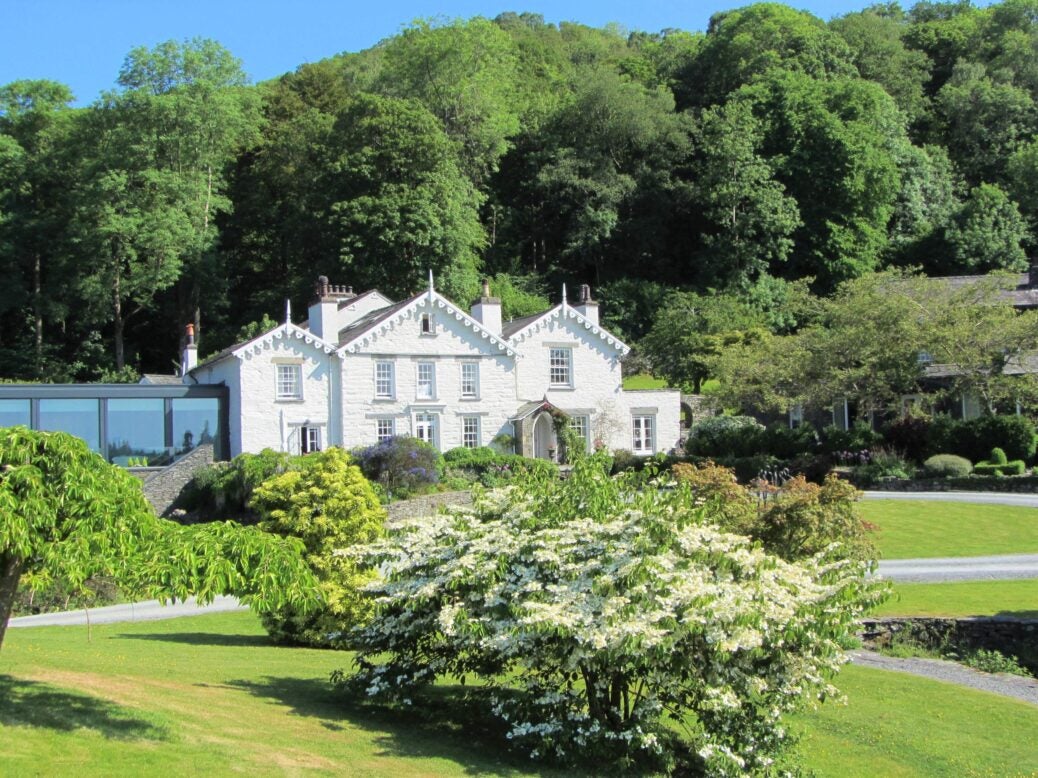 As well as stunning views and the cleanest air in Britain, The Samling's wine-cellar is well worth a visit in its own right, writes Emelia Hamilton-Russell
With sublime views of Lake Windermere, The Samling is an outstanding Georgian Gothic revival hotel in the heart of the Lake District that seeks to redefine luxury in one of Britain's most sought after locations.
As well as benefiting from the cleanest air in Britain thanks to its Lake District setting – one that was just two years ago was named a UNESCO World Heritage Site – the hotel is renowned for its fine dining and in particular for its extensive wine cellar. Spear's is assured that the general manager, Oliver Smith, has been 'buying furiously' to restock supplies ready for Mother's Day and the spring influx of guests keen to take advantage of the longer evenings and more reliable weather.
As for the food, the team recommends the signature scallop confit with crab and shiso, to be accompanied by a choice of the world class wines from the cellar, which houses 500 different wines. The 2005 Domaine Leflaive Chevalier-Montrache is a particularly rare and spectacular recent acquisition.
'We are dedicated to collecting one of the best wine cellars in the world,' says Smith. 'Currently we are one of the top 500 according to the World of Fine Wine who awarded us a two-star rating; and hold an AA Notable Wine List Award for 2018-19. Our ambition is to become one of the top three, and we're constantly working to add to the selection, sourcing rare and limited vintages.'
Wine tastings are available on request, tailored to guests' preferences – allowing them to explore a region, a vintage or to help discover new tastes. 'We have the Coravin system, to enable sampling of very precious bottles, should you wish to assuage curiosity without the commitment to a full bottle,' adds Smith.
The property comprises 12 elegant bedrooms, with all but two boasting stunning lake and mountain views. Emperor beds draped with cashmere, plush goose-down pillows and marble bathrooms with Lalique toiletries create an atmosphere of calm, luxurious retreat. The Master Suite is split over two floors and has a private terrace overlooking the lake. The bathroom is huge and features a freestanding, copper roll top bath.
Just three and a half hours' drive from London – or around 90 minutes by helicopter – the hotel is a two-hour car ride from Manchester, Leeds, Newcastle and Glasgow. Thus while feeling blissfully remote it is agreeably accessible. The nearest airports are Carlisle, Liverpool, and Manchester but helicopters can land in the grounds. For the rail alternative, the nearest station, Oxenholme, is just 15 miles from the hotel.
The hotel prides itself on being family friendly, making it the ideal location for a big Mother's Day get-together. Local adventures include invigorating Lake District walks, helicopter tours (which can take off from the property), mountain bike excursions or you can follow in the footsteps of the poet William Wordsworth and wander along the streams, taking in the stunning flora and fauna. Braver guests have been known to take a dip in lake Windermere, before warming up in the hotel's outdoor hot tub, glass of champagne in hand.
Guests are full of praise for The Samling: 'As with previous visits the food was outstanding, we had a five course taster menu with wine selection and can honestly say every dish was fantastic and the wine choices were perfect. The chef and his staff are clearly at the top of their game!' says one. 'Without doubt one of the best meals I have ever experienced. Each of the four courses we had was its own taste sensation. Beautiful surroundings, friendly and not stuffy welcome. Individually-designed menu, fantastic presentation. Attentive and knowledgeable staff. We're local but would happily travel hundreds of miles for that! ' writes another.
With its peerless location, astonishing views and thoroughly extensive wine cellar, The Samling is certainly a must for anyone in search of a Lake District idyll or a rustic get away. 'It's basically heaven on earth,' says the general manager.
Emelia Hamilton-Russell writes for Spear's