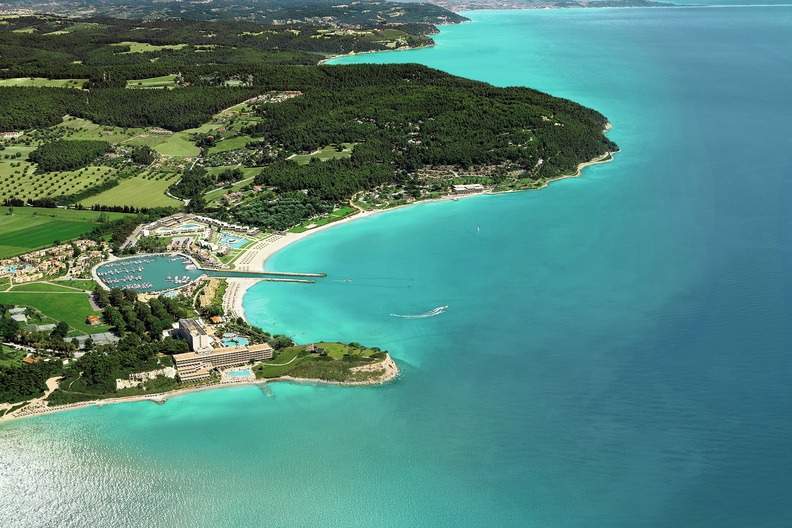 Want an easy and luxurious holiday with the kids? Christopher Jackson has just the place
 It's counterintuitive for anyone besides a parent to visit Greece without the ambition to visit a single temple. It's one of the many ramifications which get overlooked in the initial decision to have children that in choosing to multiply oneself, one has simultaneously embarked on a parallel reduction in your ambitions, whereby you deem any holiday a success where the family has returned intact.
Over time, one's cultural ambition decreases too: one eschews places of historical complexity in favour of comfort and simplicity. Anything for an easy life.
But the good news is you're never alone. This last point turns out to have economic proof in the astounding success of Sani Resort. This is a deluxe coastal megaplex in Halkidiki – and about an hour from Thessaloniki – where people who have had too many children come to commiserate together, and possibly share an excellent salad. It teems so much with the young that it feels, at times, like a gigantic and incredibly well-heeled crèche.
On your way to Sani Club, you pass a bewildering number of other incarnations of Sani, Porto Sani, Sani Asterias, Sani Dunes, Sani Beach. Needless to say, these variations upon the Sani theme all have their individual virtues: but they are united by excellent hospitality – or to use the Greek word, philoxenia, meaning literally 'friend to the stranger'. Throughout Sani, a specifically Grecian warmth is insisted on.
Sani Club benefits from a wide and spacious lobby area, which opens up onto a balcony, where the astoundingly clear waters lap agreeably. On clear days, you can see as far as Mount Olympus – for my money, one of the most extraordinary things in nature. It's bizarre to consider that across the bay from a place where temperatures reach 25 degrees by 9am, there is this incongruity of a snow-peaked mountain. It's no wonder that this eminence has become a metaphor for poetic flight, and a symbol of divine dwelling.
A few days later, we were relocated by buggy to the Sani Asterias. Situated next to a marina, and with spacious apartments – most of which are beach-facing – it calls to mind a mix of Augusta National where the US Masters golf is held, and the sort of gated community one might associate with Dubai.
The place runs remarkably smoothly, although the sheer number of people employed makes one wonder continually about the economics of the place. An army of waiters attends each meal. Each reception desk is manned with at least three receptionists. Every corridor you walk down spawns another employee. Finally, further increasing the resort's resemblance to a golf course, interconnecting buggies transport you from hotel to marina and back again.
But if the place can sometimes seem to proclaim employment in that slightly surreal way in which one imagines the Wall Street financial services sector was doing in July 2007, then one must also admit that a huge amount of good has been done. This once derelict part of Greece now employs tens of thousands of people who inhabit the nearby off-campus villages.
This success is due, quite simply, to the persistence in affluent countries around the world of the family ideal. With its excellent kids' club, and pervasive kid-friendliness – as soon as we arrived on the beach with our boy an attendant emerged bearing toys – Sani is famous for its offer to families. Accordingly, it's rare to see anyone unattached. Instead, it teems with people who have structured their lives around work and kids, kids and work.
It was perfect for us: pre-breakfast swims became the norm, at which time the sea had already been warmed by the sun. Then we would eat a breakfast so voluminous that it would have embarrassed Michael Phelps: I remember heaps of pancake doused in maple syrup and local honeys, and a daily rainbow of juice booster shots skirted by thirsty butterflies.
We became well acquainted with some of the restaurants around the marina, trying each at least once: Poseidon, Grill by the Pool, the Veranda and Ammos. The quality and service here was consistently high – philoxenia again – and our obsession with first-rate Greek salad and fresh fish deepened.
The weather here is sometimes so hot that it has to release itself in thunderstorm.  On one memorable evening, the thunderclouds came while we were in an ice cream parlour, turning the bay into an amphitheatre where the play – as good as anything by Sophocles – was a succession of lightning strikes.
Near Sani Beach you can walk in the wild oregano woods, and feel protective of the tortoises who have to seek bush shade in order to avoid baking in the heat. There are scraps of ruin here too, hinting – along with Olympus itself – of the culture you didn't have on this holiday.
It turns out you didn't need it. This is a hotel which is doing a lot of good: not just for the local economy, but for the families who come here and return home feeling refreshed in ways they couldn't have imagined before their coming.
FACT BOX
Olympic Holidays (www.olympicholidays.com; 020 8492 6868) offer 7 nights at Sani Club (part of their Gold Collection) from £1,109pp (based on two adults sharing) including flights, accommodation, luggage and transfers on a half board basis staying in a double room, garden view. Price based on May 2020 departure.
Prices at Sani Asterias in a Junior Suite start from €212 per night on a half-board basis.