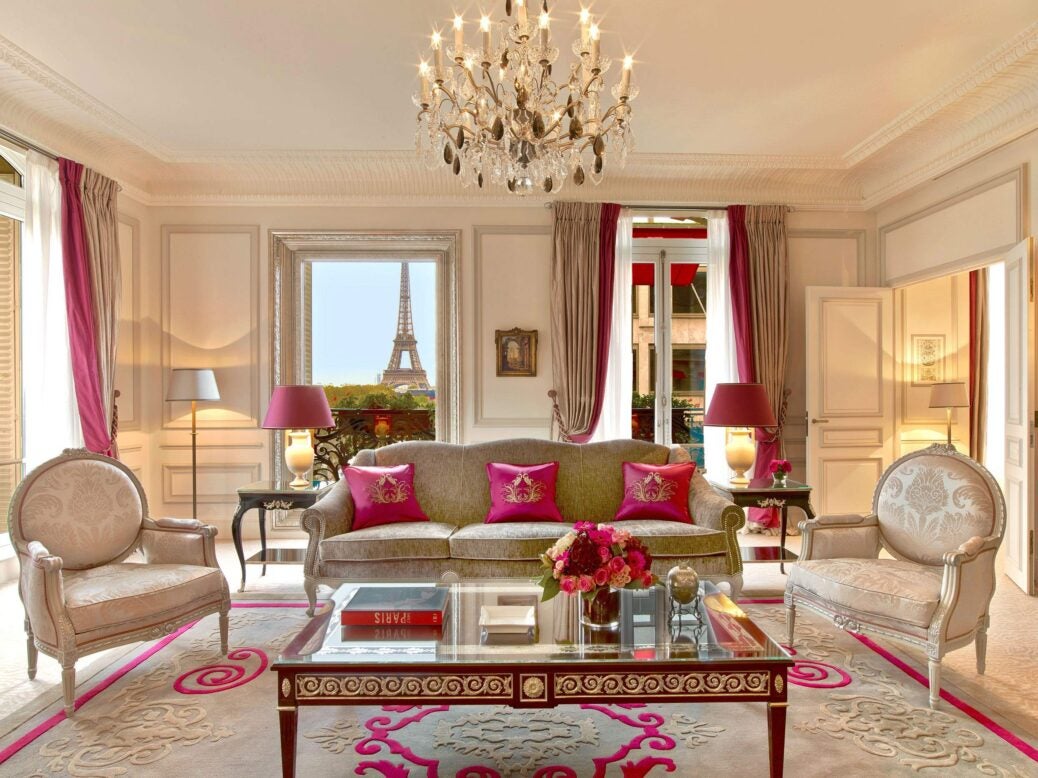 Awash with a celebration of haute-couture style documented in an Instagram induced frenzy, it's easy to see why Hôtel Plaza Athénée is the headquaters of the world's elite during Fashion Week, writes Codelia Mantsebo
If there is a word that sums up Hôtel Plaza Athénée, it is 'chic'. Traditional French grandeur combined with quirky Parisian glamour, is why, since 1913, this palace hotel has been favoured as the world's Haute Couture address. Christian Dior namechecked the grand location as his favourite in Paris, and went on to open his flagship boutique across the road in 1947. More designers followed suit, and now neighbours include Valentino, Chanel and Louis Vuitton to name a few.

Similarly, the hotel's guests are incredibly fashionable yet diverse in what they wear. And this, precisely, is what is so remarkable about Hôtel Plaza Athénée; the essence of the hotel. This gilded atmosphere of grand chandeliers, handsome furniture, and pink and red roses, makes a pied à terre for guests, such as the stylish woman to my right, for instance, in her sable coat, black leather trousers, silver loafers and Kelly bag, and the passing gentleman in plush joggers – draped in a white embroidered thawb. Rightfully so, there is a dress code here.
Carrie Bradshaw famously took a tumble in the marble-clad lobby in the final episode of Sex and the City, and posed on her Art Nouveau balcony against a picturesque view of the Eiffel Tower. Most, if not all, Hôtel Plaza Athénée guests can share a similar experience, whereby many rooms feature views of the Eiffel Tower, though it pays to know the numbers. These are the Eiffel Suites. Room 745 is an Art Deco presidential suite with a large terrace from which the Eiffel Tower is visible from the waist up, while room 878 offers the same Eiffel Tower view from the living room, bedroom and bathroom. All the rooms at the palace hotel have been designed in Regency, Louis XVI, or Art deco style. The varied interiors mean a lack of harmony in such a large hotel, however this leads to each room bringing a different experience to its guests.
Inside my suite, the decor is resoundingly Gallic, but a sense of chic and sexy comes from delicate touches of deep pink and charcoal gray furnishings. Brass-handled French windows lead to a narrow, iron-railed balcony that offers a superb view of the Eiffel Tower and overlooks the fashionable street, where a look to my far left reveals the infamous Dior flagship store that opened there to be in close proximity to the hotel. Below, the terrace is planted with window boxes of scarlet geraniums. Such refined details will make you feel as though you are living in a merry pastiche of Paris, in which the only other tourists are arty Jil Sander-clad types, taking afternoon tea in the lobby.
Chosen for Sex and the City's Paris denouement and by couture designers, Hôtel Plaza Athénée also owes its revival as the city's lap of luxury to the meticulous attention of the renowned Alain Ducasse. For breakfast, dinner or lunch, there are plenty of good reasons to remain in the hotel. There are three restaurants on site, and the seating in each restaurant is definitely an Instagram picture spot. But if one can take only one meal at the hotel, then, unequivocally, it should be in the three Michelin-starred Alain Ducasse au Plaza Athénée restaurant. This repast epitomizes the spirit of the hotel, featuring a stunning crystal ceiling.
The essence of haute couture is carried throughout the hotel down to the spa. The current incarnation of the hotel spa is inspired by Christian Dior, 'the architect of design'. Named Dior Institut, treatments are created, structured and redefined for each woman, step by step, for instant and long-lasting rejuvenating results. Before I cocooned in the world of Dior beauty, I couldn't recall a time my skin ever felt so soft. This spa is one of a kind in the city.
In Paris, there are hotels that are charming, contemporary, and grand –but then there is Hôtel Plaza Athénée, a silken blend of all these qualities. Even with a strikingly modern restaurant, albeit with grand chandeliers, under Alain Ducasse, the century-old hotel seems hardly changed. The palace hotel remains a fashionable playhouse for the glamourous.
Travel seamlessly from London to Paris with Eurostar. You arrive at the Gare du Nord long before you're bored with the train but shortly before you're too drunk to move – thanks to its fast check-in, wifi, on board entertainment system, comfort and space to unwind. Fare for a one-way Eurostar Business Premier ticket from London to Paris is £245 based on a return journey. To book, visit www.eurostar.com/uk-en or call 01233 617575.
Nightly rates in a Deluxe room at Hôtel Plaza Athénée start from €1500 excluding breakfast. Visit www.dorchestercollection.com/hotel-plaza-athenee
Codelia Mantsebo is online writer at Spear's