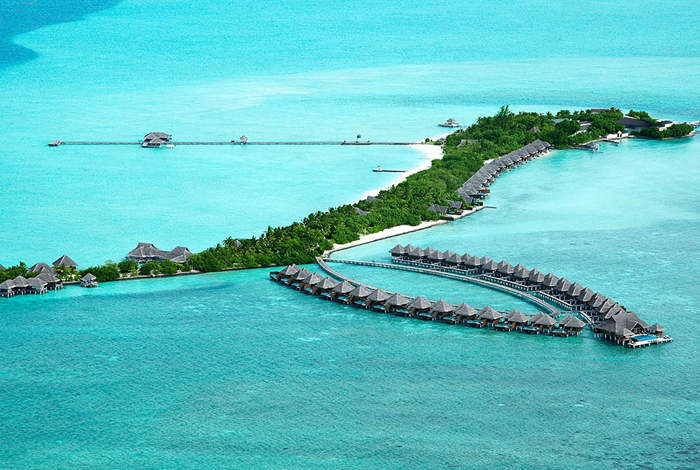 Taj Exotica Resort & Spa Maldives has opened its new Ocean Pavilion, an ultra-romantic setting for symbolic celebrations and ceremonies. Set in complete seclusion and surrounded by the crystal waters of the Maldives' largest lagoon, the pavilion is only accessible by boat. Its architecture reflects the local Maldivian style, with antique wooden columns and a tiled roof.
For couples wishing to reaffirm their commitment to the sound of lapping waves in the middle of the Indian Ocean, Taj Exotica Resort & Spa Maldives offers a 'Renewal of Vows' package. The package includes a ceremony at the idyllic Ocean Pavilion followed by a sunset cruise with space for family and friends. An under-the-stars party will then be arranged at a private location within the resort where guests can feast on freshly caught seafood, canapés and champagne either on the island's pristine beach, a secluded pavilion or one of the resort's villas – lavishly decorated for the wedding night. The package also includes a photographer to capture the event.
The newly 'remarried' couple can then enjoy some romantic time alone, being pampered in a Jiva Grande Spa over-water couple Suite. Here they will experience the signature Alepa treatment drawn from sacred and ceremonial time-honoured Indian bathing rituals.
Couples can upgrade their stay by reserving the recently renovated Rehendi Presidential Suite – re-modelled by the Singapore-based design firm James Park Associates – where they can marvel at the ocean life from glass-walled bathrooms. With open-air salas for unwinding and dining, a 15-foot infinity pool and hammocks, this is the perfect place to celebrate in style another 'happily ever after'.
Seclusion-seeking couples can now step from the suite onto a private 500 sq ft sand-deck, which stretches into the largest lagoon in the Maldives, and guests can marvel at the ocean-life from their glass-walled bathroom. With open-air salas for relaxing and dining, a 15ft infinity pool and hammocks in which to sip cocktails, guests can romanticise in style and solitude.
The Renewal of Vows package starts at $3,600 per couple (approx £ 2,343). This offer is valid until 31 October 2014. Villas at Taj Exotica Resort & Spa cost from $1,000 (approx £659) or upgrade to the Rehendi Presidential Suite from $6,000 (approx £3,960) per night based on double occupancy.
For more information please visit tajhotels.com, call 020 7259 1100 or email sblack@prco.com