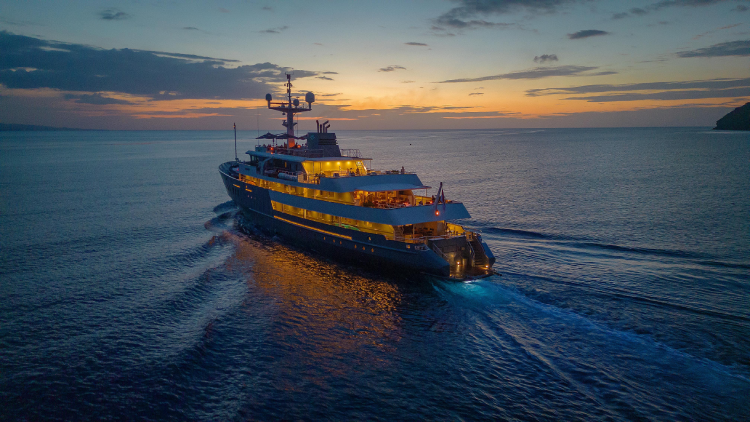 I'm on a tender just off the coast of Rinca Island, East Indonesia. It's just after sunrise. The water is clear enough to see the coral and sea life below. The surrounding scenery is lush and dense with trees and shrubs, despite the dry morning heat. It feels not just peaceful, but undiscovered. There's a sense of stillness, which seems impossible to disturb. Except by a few apex predators.
I lock eyes with a Komodo dragon only a few feet away. It lifts its powerful neck towards me and a yellow, forked tongue slithers out of its mouth. Fortunately, the dragons are kept at bay by the Komodo National Park rangers' 'magic stick' – a branch with an end not dissimilar to the Komodo's tongue. It's simple but surprisingly effective, given these reptiles use their venomous saliva to kill and then eat water buffalo.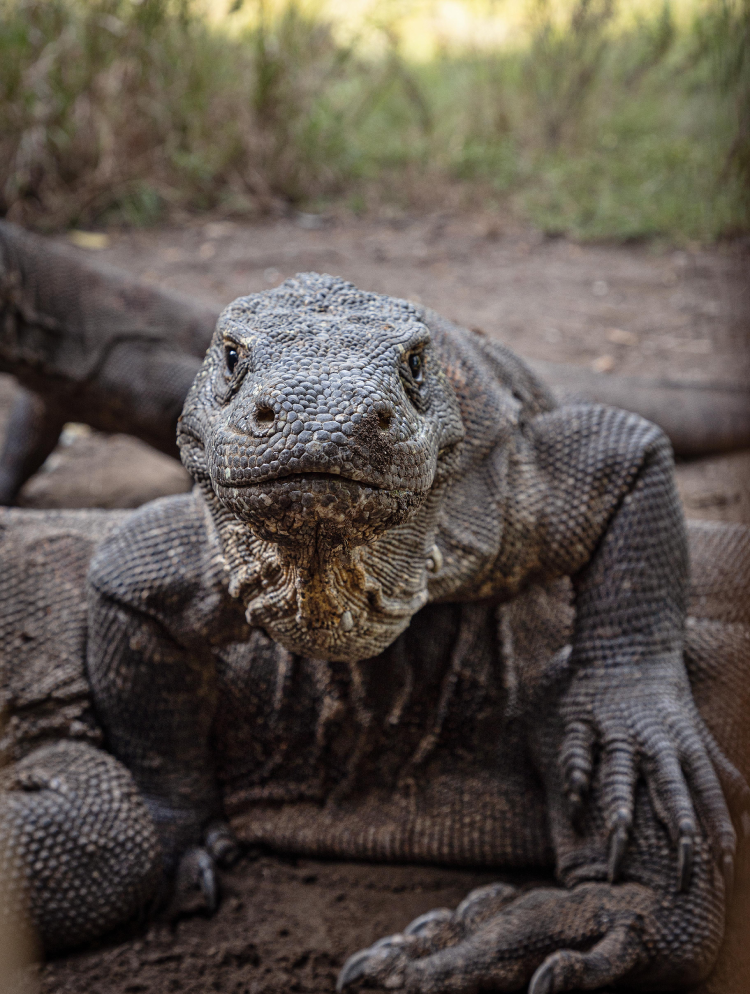 Wildlife teems The Coral Triangle
It isn't just Komodo dragons that we encounter. On my morning snorkels I spot everything from surgeon fish to nonchalant sea turtles and preying blacktip sharks. Wildlife abounds on our seven-day route from Labuan Bajo to Bali on-board Aqua Blu, a 60m, 15-cabin expedition-class yacht. We are sailing through a small cluster of the 25,000 islands that make up the Malay Archipelago. It harbours countless species; biological riches that helped to inspire the theory of evolution.
It was here that Alfred Russel Wallace created drawings from the local wildlife that he showed to Darwin before he published The Origin of Species. Fittingly, Aqua Blu, which was comprehensively refurbished by yacht design maestro Cor D Rover before its relaunch in 2019, started life as a naval explorer named after the ship Darwin sailed through the Galapagos, HMS Beagle.
[See also: Getting up close and personal with Rwanda's mountain gorillas]
Although it is possible for visitors to the islands to tour our route on phinisi (wooden schooners), cruising here on a vessel such as Aqua Blu is an almost unique experience. This is because it is the only luxury motor-yacht in Indonesia (with permission to sail in these waters) which can be chartered privately. Although other private yachts are permitted – after a rigorous vetting and approval process – the owner must be on board.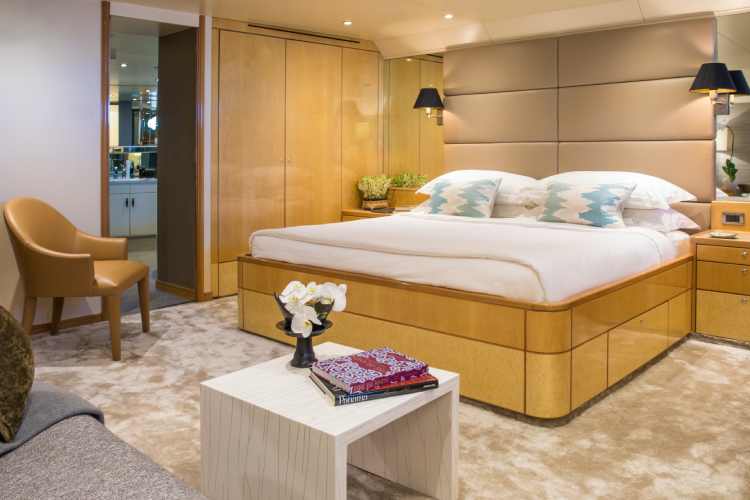 Can luxury and conservation be in harmony?
Komodo National Park is the only place in the world where the dragons live in the wild, so the Indonesian government closely monitors human impact – so much so it almost closed entry to Komodo Island entirely in 2019. The conservation effort is driven not just by Indonesian authorities but also by Francesco Galli Zugaro, the founder of Aqua Expeditions. He tells me he wants guests to feel that 'by travelling with us they are contributing to something great'.
This extends to the carpets made from recycled fishing nets, the alcohol bottles being refilled rather than replaced, and the supply lines that are Indonesia-based wherever possible.
Galli Zugaro has also struck a partnership with Indonesian Waste Platform, which aims to reduce 70 per cent of marine plastic waste in Indonesia by 2040. The Aqua Blu crew recently carried out a beach clean, collecting 337kg of waste in two days.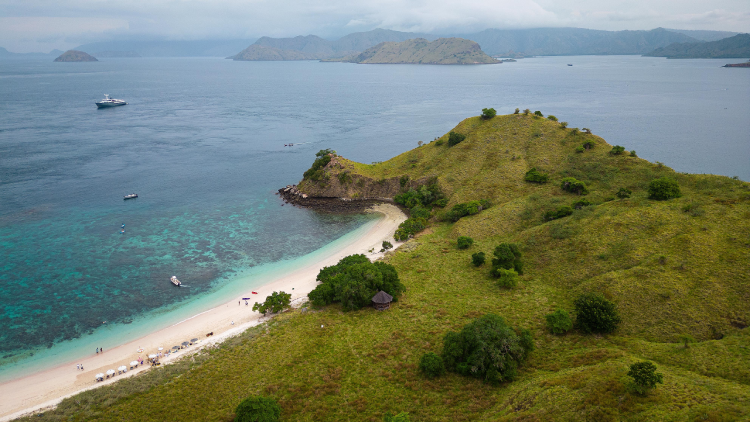 Community engagement plays a key role in remote Indonesian cruise tour
There are less formal, more local partnerships, too – as I experienced on Moyo Island, the only inhabited island on the route. It is home to the idyllic Mata Jitu waterfall, known to the locals as the Lady Diana waterfall after she visited in 1993.
Having come ashore, we continue our journey over land on the 'Aqua Buggy' jeep. It's a steep off-road journey, interrupted by potholes and branches, but is worth it. The waterfall is speckled in light that passes through the canopy of trees and glints on the surface of the terraced limestone pools. I plunge into the fresh water – a welcome contrast from the salty sea.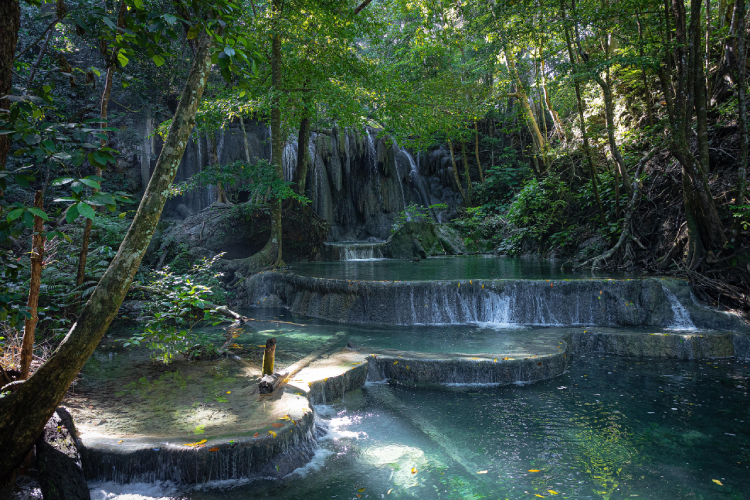 On our way back to the yacht, the sturdy-looking Aqua Buggy breaks down. But, within minutes, a motorbike ride back for every guest is organised. Locals from the village arrive and they zip through the shrubbery while we ride pillion, entertained by monkeys launching between trees and goats butting heads. This problem-solving speaks to the strong relations with the local communities. On Moyo the Aqua Blu crew donates a motor to the head of the village, who tells us it will go on the patrol boat to keep away illegal fishermen, protecting the village's economy and the environment.
[See also: The Shangri-La Bengaluru: a vibrant celebration of Indian culture]
The community engagement also proves crucial in the highlight of the trip, which comes early on the sixth day. It's 5am in Saleh Bay, the final island on our itinerary, but we're fuelled by adrenaline with the hope of snorkelling with the world's biggest species of fish. Sitting in a tender in the pitch black, our driver suddenly fires the engine and turns us in the opposite direction, acting on intel received over the radio from local fishermen.
By sunrise, I'm submerged with two 12ft whale sharks, and for nearly an hour I observe them as they feed. They swim in circles, veering off and reappearing abruptly within touching distance. Although their size is intimidating, their placid nature puts me at ease as I watch them gorge on the shrimp clinging to the fishermen's boat.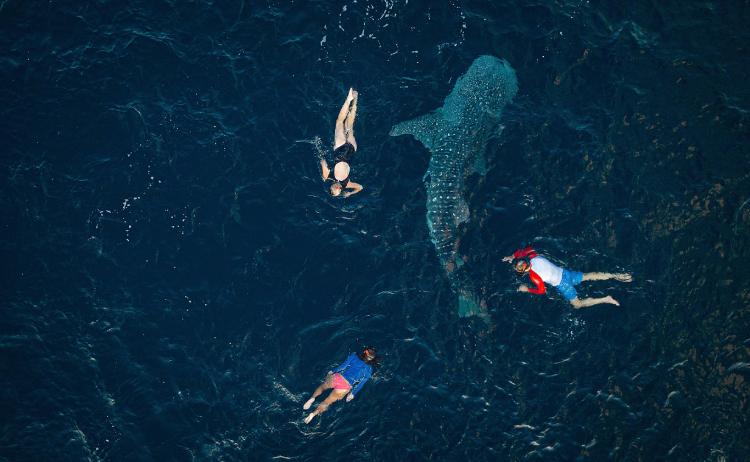 A luxury Indonesian cruise with a family feel
A sense of community also underpins the menus on board. The offering reflects local cuisine, but with an eclectic twist. There's Javanese prawns, beef rendang and peanut butter parfait – all of excellent quality. Lunch and dinner are served family-style, providing a warm, communal feel.
This ambience ripples throughout the boat, as Francesco's wife Birgit Galli Zugaro is responsible for the interiors, alongside Bangkok-based designer David Cole. The feel is cosy and homely, thanks to art and ornaments from Birgit's own collection, as well as crockery that features drawings from Wallace's first sketches of the Malay Archipelago. There are also personal touches to the cocktail menu with 'Elsa's pisco sour', a recipe by Birgit's mum.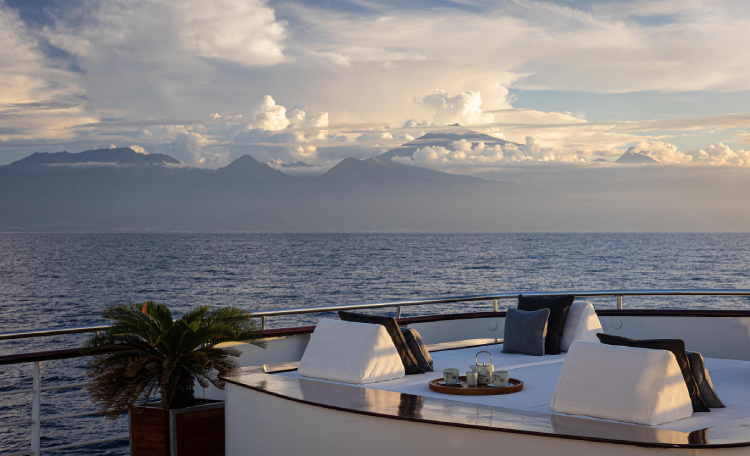 Fortunately, the sense of togetherness does not create a feeling of claustrophobia. The spacious layout allows for both sociability and quiet moments, whether that is joining other guests for daily sundown cocktails or relaxing with your book on the sun deck.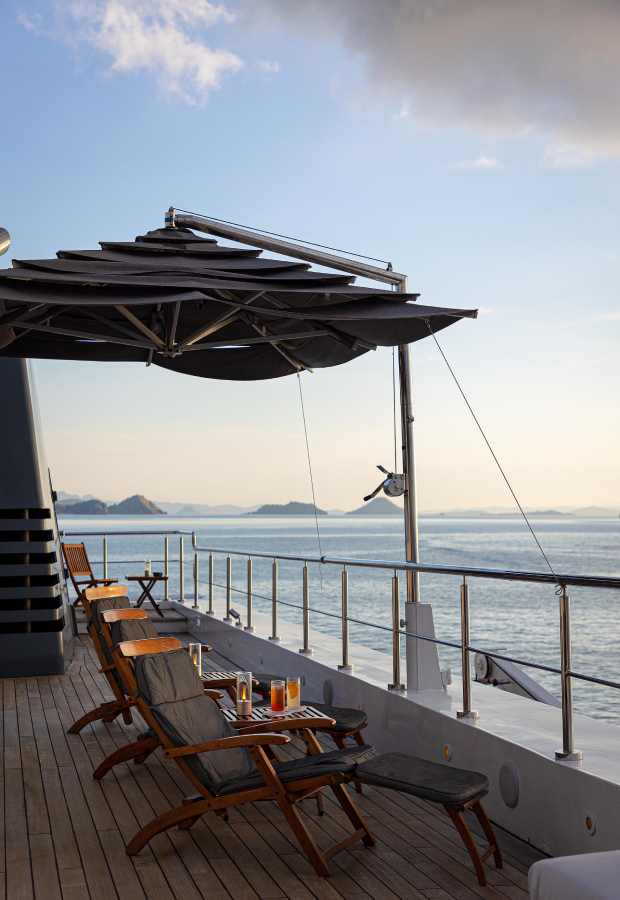 The same can be said for the itinerary. Although this voyage, which can be booked by the cabin, is targeted at, as Zugaro calls them, 'affluent explorers', you can cherry-pick as you please. Spend your morning with whale sharks and your afternoon with a masseuse; go for a sunrise kayak or swap it for a pre-breakfast jacuzzi. Just keep your distance from the Komodo dragons.
Aqua Blu has three routes in the Coral Triangle: Bali to Komodo National Park; Ambon and Spice Islands; and Raja Ampat. From $314,000 per week for a private charter, or booked by the cabin from $8,960 per person based on double occupancy.
In 2025 a new tour to West Papua will feature two days with Asmat tribes.