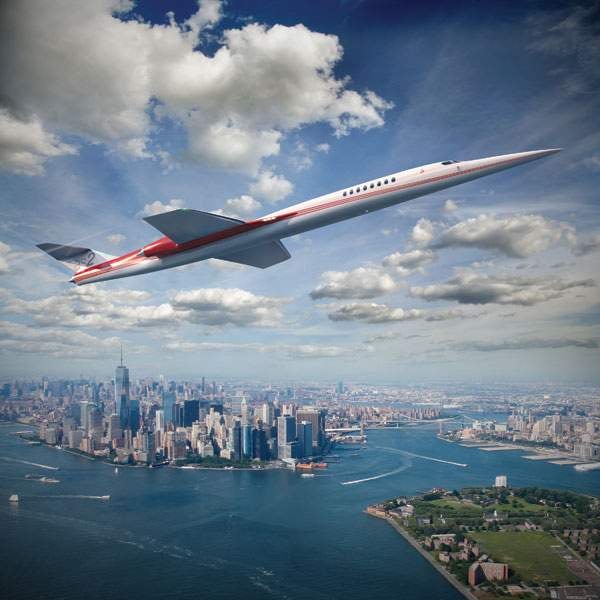 Finally there is hope, more than a decade after Concorde last took to the skies, says Ben Griffiths
'There's Concorde!' I was four years old and playing in Hyde Park when I first noticed the majestic, delta-winged shape of the world's only supersonic airliner gliding into view. It left a lasting impression on me and helped fuel a lifelong love of aviation.
The year was 1979 and the sight of a Concorde flight was still a novelty, a symbol of modernity and British industrial prowess. My grandfather had pointed skywards as the iconic jet cruised overhead on its approach to land at Heathrow, just ten years after its maiden flight and three years into carrying passengers. To us Concorde was a mythical machine, capable of transporting those lucky enough to fly on it across the Atlantic to New York in a little over three hours.
Adored by those who piloted it, Concorde took civil aviation from 600mph to 1,350mph in one single, giant stride. The 100-seat aircraft could cover 23 miles a minute — faster than a speeding rifle bullet.
At the time it was a feat that hardly seemed possible — even more so when you considered Concorde had been crafted by the best of British and French engineering know-how in the days before computer modelling. And yet it is an achievement that has never been matched. Jonathan Glancey, author of Concorde: The Rise and Fall of the Supersonic Airliner, has described the aircraft as 'the most beautiful airliner yet built, a technical tour-de-force, an aerodynamic masterpiece'.
Ever since US fighter pilot Chuck Yeager broke the sound barrier in 1947 in Bell's bullet-shaped X-1 rocket research plane, we have been fascinated with the concept of flying faster and faster. In the 1970s and only for a brief time, Concorde was the only way for civilians to satisfy the craving to fly faster than the speed of sound. That opportunity disappeared in 2003 when Concorde was withdrawn from service.
Today, only military jet pilots or astronauts get to go supersonic (described in Mach units after Austrian physicist Ernst Mach). Most commercial jets fly at up to Mach 0.65 (about 500mph), although some private jets can reach Mach 0.95, just short of the sound barrier.
However, the chance to join the supersonic jet-set seems, at long last, a possibility at least for those with deep enough pockets. This probably won't be on one of the existing Concordes, though. In spite of the best efforts of the Save Concorde Group to return one of the machines to airworthy status, that avenue looks unlikely. Experts, including former British Airways chief Concorde pilot Jock Lowe, point to the lack of engineering support, not to mention the cost. 'None of the Concordes will ever fly again. Forget it,' Lowe says. Building a new airliner-sized version also seems unrealistic. The potential return on investment for a manufacturer simply isn't there.
Instead, and despite significant hurdles, there is growing momentum behind a new breed of super-fast passenger aircraft that could taxi on to the world's runways in the very near future — a new generation of smaller, business-jet-sized machines.
Designing engines capable of sustaining supersonic flight presents a greater technical challenge than those for subsonic airliners such as the Airbus A380 or Boeing 787, according to Simon Weeks, chief technology officer at the UK Aerospace Technology Institute, who has spent his career working on military engines, including development of the EJ200 powerplant for the Eurofighter Typhoon combat jet.
'For any supersonic aircraft, the faster you want to go it takes more energy,' Weeks explains. 'You will have to burn more fuel and that is more expensive. That means fuel needs to be a greater part of your total weight when you take off, which tends to mean you can carry fewer passengers.'
However, manufacturers clearly believe there will be a market. After all, owners of private jets place a very large premium on their time. David Frost once described Concorde as 'my time machine', because it allowed him to fly from London to New York in the morning to record his TV show before flying home to England in time for bed.
So what might a Concorde-lite look like? One potential contender is the S-512 from Boston-based Spike Aerospace, which promises to deliver flight at Mach 1.6 within a few years with its twelve- to eighteen-seat twin jet aircraft. 'Flying supersonic is clearly the future of aviation,' says Spike CEO and president Vik Kachoria. 'It makes the world smaller and more accessible. For any competitive global business, cutting flight times in half will have significant value. But for people who have busy global lives and want to spend time with the people they love, the Spike S-512 Supersonic Jet will be a necessity.'
Another contender is the AS2 from Nevada-based Aerion, which was founded by businessman and philanthropist Robert Muse Bass in 2002 and last year announced a partnership with European aerospace giant Airbus, manufacturer of the A380 superjumbo. The AS2 will carry eight to twelve passengers and its first flight is planned for 2021, with commercial services slated to begin in 2023. The Mach 1.5-capable jet will use an engineering innovation called laminar flow wing aerodynamics.
Research for Aerion has indicated a market for around 600 supersonic business jets over the next twenty years — more than enough to launch a production programme, according to its marketing boss Jeff Miller. The company has confirmed a sale of twenty AS2 aircraft to charter operator FlexJet, priced at a cool $120 million apiece.
Aerion says it's using existing state-of-the-art and proven technology. Airbus is designing a fly-by-wire control system for the aircraft based on its extensive experience in digital flight controls on its airliners. Large carbon fibre airframe structures, like the wings and fuselage on the latest A350, will also be used.
The next stage of the programme this year involves choosing a suitable engine. Rolls-Royce, which helped design Concorde's engines, is surely among the bidders. Aerion will also select a site in the US for final assembly of the AS2, which has already had extensive flight testing of its laminar flow wing design
by Nasa.
One potential pitfall for supersonic flight is sonic booms, the thunderclap-like phenomenon which results in a bang heard on the ground when the aircraft passes through the sound barrier. It can cause damage, such as broken windows. Also, even at subsonic speeds, Concorde was notoriously noisy. So serious was the issue when it first entered service that it was almost banned from flying to New York's JFK Airport. Supersonic flight over land remains prohibited in most countries, meanwhile.
Aerion reckons the AS2 will meet the latest noise regulations for takeoff and landing and will fly efficiently where supersonic speed is permitted, mainly over water. By combining this with subsonic flight above land, the AS2 will cut journeys by around 40 per cent compared with a standard airliner.
Potential environmental impacts are also a worry. Nitrogen oxide emissions produced by supersonic aircraft would be closely monitored because they fly much higher than normal passenger jets and are therefore more damaging. Concorde flew at 60,000ft (compared with a Boeing 747's usual 40,000ft).
Nevertheless, advocates of supersonic flight believe such hurdles will be overcome. Ex-Concorde captain Mike Bannister reckons his airline pilot daughter will one day fly a supersonic jet like he did.
'The human race does not take backwards steps for very long,' he says. 'There is pressure to complete things quicker than we have before. The technology is there and there is clearly a gap in the market.'
So while various Concorde aircraft continue to gather dust in aviation museums, symbols of a bygone era of glamorous travel, a new era in supersonic passenger flight is drawing closer. Few airliners before or since have attracted such publicity or enthusiasm. There is little doubt a modern supersonic passenger jet would quickly lure a keen band of business people, HNWs and celebrities as passengers. And perhaps one day I will get to join them.