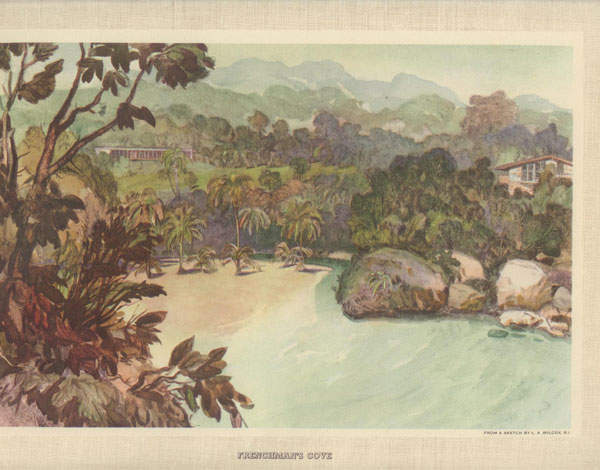 As somebody who has 'previous' when it comes to honeymoons, I wasn't taking any chances third time around with the location, the luxury accommodation or the weather. So I chose the famously 'old world' charm of the Round Hill resort in Jamaica as the starting point for a tour of Jamaica.
On my first honeymoon, which involved a bumpy safari around the Masai Mara in Kenya in a Land Rover whose suspension springs felt as if they had been removed, my Italian wife got food poisoning as well as a fever from a hole in our mosquito netting. She spent most of the safari in an Out of Africa-style hospital tent.
On my second honeymoon, on the Amalfi coast, it rained most of the time. Nice, warm Positano rain, but I could have gone to Portmeirion in north Wales had I wanted to admire pretty pseudo-Amalfi architecture under an umbrella.
Back in January, a month before my third wedding, I had booked a private island in the Seychelles but cancelled after I had opened up my Debrett's Wedding Guide to read that the Seychelles was on the Debrett's 'Honeymoon Black List' for February and March due to regular cyclones. Matters were also not helped by the fact that you could only get to the island by private plane, and I hate tiny planes and helicopters, even when they are not attempting to navigate through a tropical storm.
Honeymoons are not a time for travel adventure. You require rest, relaxation, luxury beds, room service, fine cotton sheets and — if you are heading to the Caribbean — the best mosquito nets. I thought it might have been a clever idea to smuggle a bottle of expensive 1982 Château Margaux wine in my suitcase to open on our first night in our suite in Cottage 16. However, when I opened the case shortly before dinner on arrival, I discovered that the bottle had exploded, soaking every item of clothing in claret.
The only clothes I had to wear for dinner on the first night — a Jamaican lobster barbecue with romantic candles decorating the tables set up along the beach — was the navy wool suit I had worn to 'go away' the day before. So the first test for the Round Hill resort staff was how quickly they could get me fitted out in new clothes while my clothes were sent to the laundry. Half an hour was the answer, proving that Jamaican time is not always slow.
I had been to Round Hill before, and so it was reassuring to be greeted again by the Caribbean's most senior bellman, who is in his eighties and was hired by the hotel founder John Pringle back in 1952. His years of service have won him the right to be the only staff member permitted to wear a Babycham-pink tuxedo jacket. The other staff wear Ralph Lauren white polo shirts. Lauren is a Round Hill cottage owner who sits on the board and also designed the hotel's Polo Bar.
Round Hill is today run by Josef Forstmayr. Josef knows everybody worth knowing and is the sort of person — judging from his knowledge of the social history of the island — who has copies of the Almanach de Gotha and Debrett's on either side of his bed.
Round Hill was conceived as a sort of Annabel's-on-the-sea by Pringle, whose mother owned a small hotel in Jamaica and was a social figure around Montego Bay in the 1940s and 1950s, after he persuaded Lord Monson to part with around 90 scrubby acres (formerly a sugar plantation) and a small beach. Monson owned much of the peninsula and was happy to oblige, with 29 acres being set aside for the new private members' resort.
Bizarrely, as I sat eating breakfast on our first morning by the villa pool, I noticed a pale middle-aged English-looking figure with a waistline to match my own plunge into the pool with an almighty splash. On closer inspection it turned out it was an old Irish pal — a private-equity world friend — from London who was on holiday with his wife. They were staying in the next-door suite. Sharing a fridge and housekeeper was one thing, but we also shared the villa's huge swimming pool.
The oddest thing was that this James Bond-esque pool had a secret window built into the deep end so that if you put on a mask you could dive down and peer through the window into my friend's bedroom. 'Thank God it's their bed on view rather than ours,' was my wife's only comment after she surfaced for air.
Today, Round Hill is partly a hotel and partly a super-exclusive club for the owners of the villas (called 'cottages') such as Ralph Lauren, Guy and Lady Rose Monson and Caroline St George. The resort has many fewer villas than Mustique but it remains just as exclusive in many ways, with a similar weekly cocktail party for guests and owners hosted by Josef. For any Spear's readers looking for a beach home, villas are still yet to reach the crazy prices being paid in Mustique or Jumby Bay.
Go Weston
For the past decade or so, too many people were probably put off choosing Jamaica because of the violent headlines. Indeed, on my last visit back in 2010, the Daily Gleaner newspaper kept a running total of the number of people murdered, updated every day. As you sat eating your banana waffle and sipping a fresh breakfast smoothie, such figures would not have inspired you to hire a car and explore the island.
That has all changed, and after a week at Round Hill we were ready to see the rest of the island. There is no question that the Caribbean coast around Port Antonio is among the best secret coasts.
The only two places to stay (and we stayed at both) around Port Antonio are the famous Frenchman's Cove resort and beach and the super-hip Geejam hotel and spa. Frenchman's Cove (pictured below), which was voted one of the best beaches in the world by Condé Nast Traveller, was built in the 1950s by the Canadian Weston family, who had made a fortune out of cookies, real estate and retail.
At the time, the resort was the most expensive in the world, with guests including the Queen and film stars like Elizabeth Taylor. Today it is managed by Galvin Weston, the chairman of the Charbonnel et Walker chocolate empire (founded 1875) and the grandson of the original Weston who built Frenchman's. We will be profiling this low-key but influential member of the Weston family in a rare interview in the next issue.
Like Frenchman's, Geejam is part of the old San San Estate. During the Fifties and Sixties Port Antonio was a fashionable resort for the new celebrity-tourist class who would arrive by seaplane and leave with the deeds to a swampy island or peninsula in their pockets. The six-acre estate, built into the side of a subtropical forest jutting out towards the sea, is a collection of hip bungalows, cabins (some with hot tubs), cottages and private villas, all decorated individually in a minimalist zen-like white chic, with Wifi and spectacular views over the sea.
The hotel is so funky that it has its own recording studio. This means that during dinner you may find yourself looking up over your coconut crab cakes to see a music star shuffling on to the small stage to try out a few songs. There is also a yoga spa and an open-air fig garden. The hotel is understated and unique. When Grace Jones stayed recently, she wrote in the guest book: 'I came. I saw. You conquered me!' I feel very much the same about Round Hill.
Rooms at Round Hill start at $389