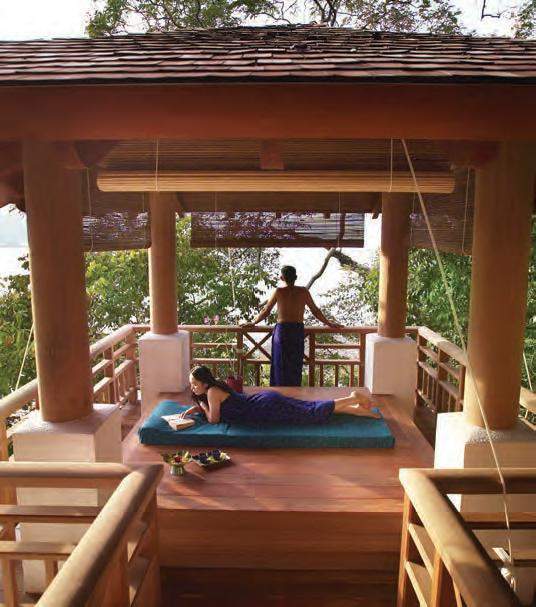 Pure luxury in a tropical location hidden away on Datai Bay between a ten-million-year old rainforest and the translucent turquoise of the Andaman Sea, the Andaman, A Luxury Collection Resort, Langkawi, offers everything that a discerning holidaymaker might want.
Should you want jungle experiences, they are on hand. Perhaps you prefer being on the water — there is swimming, snorkeling, sailing and cruising. If wildlife is what you're after, then there are any number of excursions to see birds, butterflies and whale sharks. And should you simply want to relax and do nothing at all, there is the beach, which according to National Geographic is the ninth best in the world.
As if all that were not enough, there's also the V Botanical Spa, with some of the best programmes, rituals, treatments and therapies you can find anywhere in Southeast Asia, alongside such fitness offerings as kinesis, personal training, yoga and mindfulness meditation. The designated Beach Clubhas a special yoga platform where sunrise yoga is practiced. The more active can enjoy early-morning runs along the beach, while in the special cabanas you can book a couple's massage by moonlight. Meanwhile families love the Young Explorers Club, where a host of beach activities and educational excursions are available.
WHO
Families and couples, including honeymooners, fall in love all over again when they reach Datai Bay and the Andaman. They come from Europe, Singapore, Hong Kong, Australia and of course Malaysia. They come to relax, to enjoy time with friends and family,to explore and of course to be pampered.
WHEN
Because of its location in the north-west of Malaysia,it is relatively sheltered and has a stable climate, rarely moving from the low-thirties Celsius throughoutthe year. September and October are the wettest months, while from January to April there is a little light rain but this is considered to be the best time of the year to visit.
HAVE
If you are looking for a serious lifestyle enhancement programmes, V Botanical Spa offers five core programmes that go far beyond pampering and indulgence to deliver results. Each programme includes an array of carefully selected treatments that work in synergy to deliver results and help you reach a state of complete well-being.
For the ultimate pampering experience, enjoy award winning signature spa treatments such as the Chi Nei Tsang, Kahuna Wave Massage and Indigenous Rainforest Treatments that include ancient healing and beautifying treatments practised by midwives and spiritual healers.
You can also organise a lifestyle assessment, which tests blood pressure, body weight and pH, or choose from the extensive menu of massages — everything from traditional Malay to Thai. There are wraps, including a glorious Sea Masque wrap using local clay mixed with rose, plus reflexology, four-handed massage, hot stone and lymphatic drainage. A number of the facials and body treatments incorporate traditional ingredients and strokes. There iseven a visit to the home of an indigenous healer (for women only).
DO
A number of experts are on-site to guide guests through the rainforest on special nature walks,which take place both during the day and after dark. They take guests whale shark-watching (from November to February) and organise jungle treks, photographic outings, bird watching and even butterfly spotting.
The resort also has its own coral nursery, where damaged coral is rehabilitated and new coral is grown — the first of its kind in Southeast Asia. Guests are invited to help with the coral feeding, while the Young Explorers Club are taken on tours to learn about conservation.
There are also outings to the mangrove forest, or you can opt to head off into town and take the cable car to the peak of Gunung Mat Cincang. The town itself is also worth exploring, especially the night markets. For golfers, Els Club Teluk Datai Golf Club is a four-minute drive away.
BEST
A nature walk is a must, especially with an expert guiding you, as is a visit to the Coral Nursery. Then head back to the spa and plump for a traditional wrap — Barut Gamat Awet Muda is a mixture of lemongrass, ground rice, sea cucumber and galangal smoothed on to the body while the head and face are massaged with coconut oil and aloe vera.