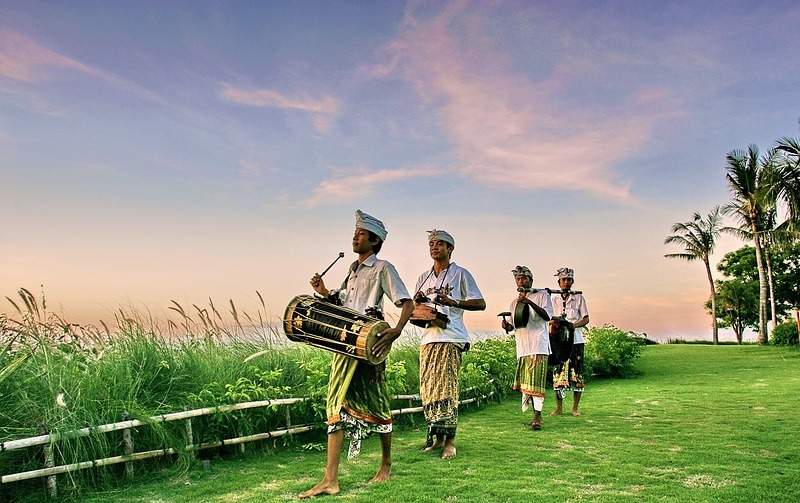 AYANA – Bali's only integrated resort, is offering luxurious stays during one of the world's most unique cultural events
AYANA Hotels in Bali have come up with an array of unique cultural activities for Nyepi – the most important day in the Balinese Hindu calendar and one of the world's most unique cultural events. Guests at AYANA will have access to 90 hectares of five-star dining and recreational facilities including 19 unique restaurants, bars and entertainment venues; an award-winning AYANA Spa; the secluded white sand Kubu Beach; 12 magnificent swimming pools; 18-hole golf putting course; two kids clubs and a Balinese Cultural Center, Kampoeng Bali.
Known as the 'Day of Silence' and marking the new year of the Balinese calendar, Nyepi is celebrated with fasting and meditation for the Balinese. Over a 24-hour period the entire island of Bali comes to a halt in order to participate in an island-wide purification ceremony. From 06:00 on March 25 until 06:00 on March 26, lights are forbidden, the airport comes to a standstill with no flights allowed in or out, shops close, machinery and vehicle usage is on pause, no work is allowed, and people across the island are asked to stay in their homes and hotels. This one-of-a-kind ceremony follows an age-old tradition whereby the island's inhabitants go into complete silence.
Staying in Bali during Nyepi is a once-in-a-lifetime experience. The energy radiating over the island is hard to describe. There is a great sense of peace and a notable calmness throughout the day, and come nightfall, the stars light up the entire sky. It is truly the best time to be in Bali, especially when staying at AYANA or RIMBA, this being one of the few resorts in Bali that offer traditionally cultural activities while still operating many facilities on this special day. Although the hotel minimizes lighting and power and keeps noise to a minimum, the resort still opens many of its 19 restaurants, bars, pools and spa.
To celebrate 'Silent Day', AYANA has created a very special stay package, 'Thousands of Stars Nyepi Escape', that intertwines a relaxing holiday with a one-of-a-kind cultural experience. Guests will enjoy elegant accommodation at RIMBA. They can also savour lavish international food selections with daily sumptuous breakfast, join the Stargazing picnic and participate in the famous Ogoh-Ogoh parade.
Dressed in Balinese-themed attire, guests can participate in the 'Ogoh-ogoh' Carnival, a procession where the locals parade demonic statues made from bamboo and paper symbolizing negative elements or malevolent spirits. The ritual ends by burning the 'Ogoh-ogoh' to symbolize that the evil spirits are driven away.
For bookings, please contact AYANA's Reservations team or visit ayana.com
Read more:
Four Seasons at the Seychelles: A force of nature
'If you ask the price, you can't afford it' – Waldorf Astoria's new Maldives retreat reviewed
Mustique: Inside the Carribean's most luxurious private island getaway