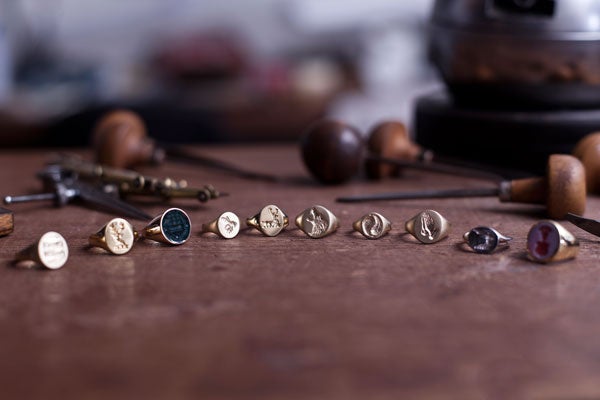 The sign on the wall read 'Keep focused and get a massive amount of shit done'. 'It doesn't work,' joked Emmet Smith, founder and owner of Hatton Garden signet ring specialist Rebus, as we walked around his workshop.
The sound of filers and polishers filled the air as I inspected the variety of hand chisels and ancient tables that the team use for the majority of their work. Any memories of your grandfather's old tool shed wouldn't be a million miles away, if it weren't for the large hunks of gold lying round.
Signet rings might be thought to have gone out with the Hoorah Henrys of the Eighties, but Rebus is evidence of a revival in interest. 'We noticed the change in people's attitudes towards them probably about six years ago,' says Smith. 'Ten to fifteen years ago it would have been parents dragging in their uninterested teenagers… Quite often it's the kids dragging in mum and dad.'
The internet has given craft companies like Rebus greater visibility, while fashion among women (the vintage look) and men (the aristo look) have brought back signet rings. Recent films like Kingsman: The Secret Service, with its emphasis on classic English style, are doing a lot to help business.
When I picture a signet-ring wearer, two very distinct types of person come to mind: the landed aristocrat who wears his family history proudly on his little finger, and the slightly dodgy BMW Z4-driving geezer from Essex. Smith quickly disabuses me of this idea.
'People, especially young males, just wanted some jewellery that wasn't big chunky lumps of silver,' Smith says. 'There's nothing in the market in between, and I think signet rings are just such a classic – fairly understated. It's just an ideal choice.'
The entirety of the manufacturing process is done in-house at Rebus, with only a fraction of the shop cordoned off at the front for customers. What struck me most about the shop and workroom was the complete lack of pretension of Smith or any of his staff. Nor does he want cheap glitz: Smith tells told me of his plans to refit in a couple of weeks, 'avoiding shag-pile carpets and offering glasses of champagne. It's a working environment, not a showroom.'
However, the lack of what you might call luxury on the work floor certainly doesn't detract from the beauty and precision of the work Smith does. Each ring takes between half a day and four days to craft, with purer fourteen- and eighteen-carat gold popular among the high-end market, for whom it is an investment for generations to come.
The sign on the ring itself is obviously the area of most variety, and not everyone wants something traditional, as you might expect. 'They're not really interested in whether it's got a family crest on it or not. It's like a pair of jeans, it's everyday jewellery,' says Smith. (Although one would hope a signet ring lasts slightly longer.)
Rebus does attract armigerous customers (those entitled to a coat of arms), but the majority come without a coat of arms granted to them, including an increasing number from abroad wanting a slice of British tradition. 'They just want an image, or a symbol put onto the ring, and they're very open as to what that symbol's going to be,' Smith explains. 'All we're supplying is a really good quality blank canvas. Once people get their head around that they think, "Ah I can do whatever I want with it."'
This crossover of heritage and modernity is clear to see: as well as a host of beautiful Victorian reference books, containing thousands of traditional family crests, the shop has a Pinterest board with ideas for engravings for a less heraldically-inclined clientele, with Simba from the Lion King making a rather unexpected appearance.
Many people also choose to use a crest associated with their surname, regardless of whether it has ever applied to their family. The medieval College of Arms, which is the sole establishment in the country with the power to grant new coats of arms, can get 'a little bit aggrieved', says Smith, by the new willy-nilly appropriation of ancient tradition.
'I was up at the College of Arms and a herald told me that this family had been wearing this signet ring for generations, and the guy went there to do a bit of research and discovered it actually wasn't their family crest, and [the herald] was outraged.'
Smith himself, however, is decidedly less puritanical: 'It had just become part of the family tapestry, and then it doesn't matter. It's just symbolic. The crests are all associated with that name, but whether it's you or not doesn't really matter anymore.' Reflecting such a casual attitude to history, perhaps signet rings really are signs of the times.