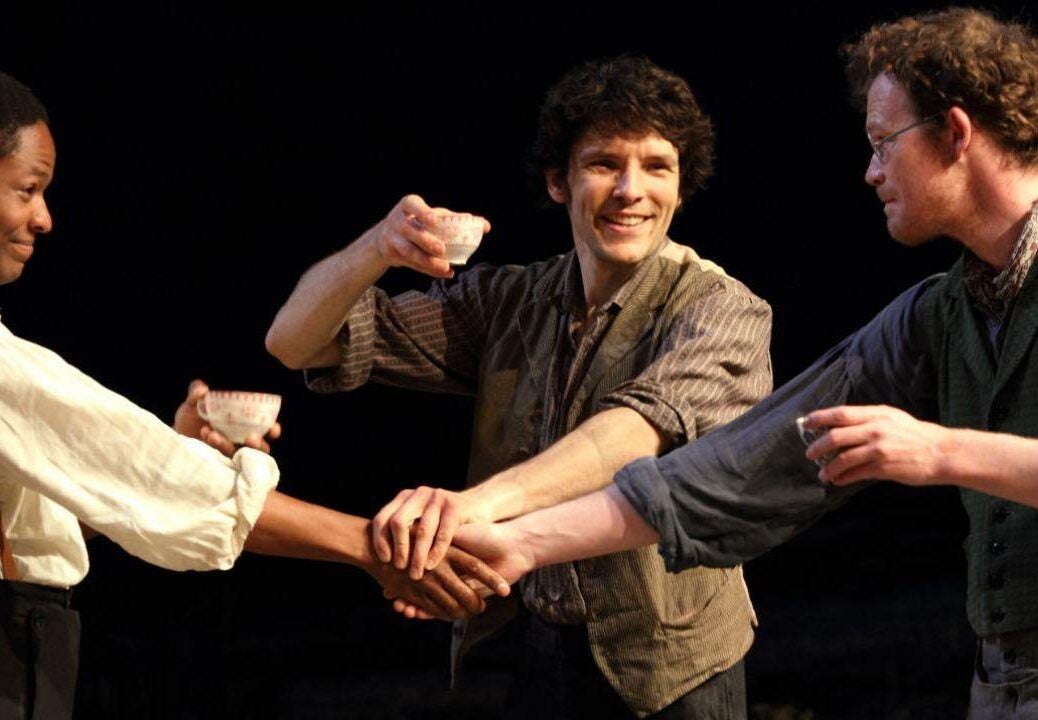 The powerful and compelling new production of Brian Friel's 1980s masterpiece is a triumph, says Alec Marsh
It's a safe bet that Arlene Foster will not be troubling the National's box office for a ticket to Translations, its compelling revival of Northern Irish Brian Friel's widely regarded masterpiece about British rule in 19th century Ireland.
Hailed by critics as 'a magnificent revival' the play is set in the local school of a rural Donegal village and concerns itself with the arrival of a British army mapping team, whose task is both to geographically clarify but also to rename the territory in hand, to bring it into line with the English-speaking rulers.
What follows is a sombre confrontation of what it means to be truly occupied — both territorially, and then in terms of identity, when the words and meanings of the world around you are reconfigured for a conquering power. You don't have to be an Ulster unionist to find this uncomfortable viewing.
The set — imagine looking up at a smoky peaty hillside with schoolhouse in foreground — conveys the rustic idyll, as well as the sinister intentions of the British engineers, whose arrival in pristine uniforms is starkly alien. Redcoats have seldom been so chilling or threatening. They're reminiscent of Tarantino Nazis.
The powerful cast is led by the excellent Ciaran Hinds, known best for his parts in the Harry Potter films or Tinker Tailor, who is the Irish-speaking schoolmaster, Hugh, confronting a world now told in English; this translation, so to speak, is underscored by his own cultural hinterland which is in Latin, Greek and the ancients. The action begins with a homecoming of this schoolmaster's son Owen, played by Colin Morgan, (seen in Humans and Merlin on the box) who brings with him the soldiers, acting as their translator and assistant. It's a conflicted homecoming, as you would imagine.
Working alongside his English army superior Lieutenant Yolland — played by Adetomiwa Edun — Owen works on the mapping and renaming project, in what unfolds as an exploration of identity through the systematic eradication of historic Gaelic place names and their replacement by Anglicised forms. In the process, though, Yolland falls in love with the landscape that he is reshaping linguistically and one of the people in it — Maire, played by Judith Roddy. Dramatic consequences follow, around which the plot turns, as well as questions about the nature of power, seduction and attraction. Is Maire's love of Yolland a form of Stockholm Syndrome?
So it's thought-provoking stuff, alright. But amid all this there is light, and comedy and, ultimately, the joy of word-play throughout. What should a place be called; how ought that be spelt, who gets to decide, and what does it really matter anyway? This is a journey into the soul of words.
Which is presumably why the playwright insisted that it was 'a play about language and only about language'. For all that, it would be hard not to come away with a rather different complexion, as director Ian Rickson's production, particularly with it's dramatic, rather threatening close, makes clear.
After the production at the post party drinks, Friel's widow privately expressed surprise that so many people would be interested in this play — but the themes of language and power are universal and important. The Romans gave us Colchester — and much else, beside. They also left their mark across Europe and the Mediterranean in the words they left; the Vikings made their mark too in countless place names: in this sense, therefore, Translations is the story of the identities of all conquered people or languages, and about the tides of linguistic advance and retreat. 'Remember,' says Hugh, 'that words are signals, counters. They are not immortal. And it can happen – to use an image you'll understand – it can happen that a civilisation can be imprisoned in a linguistic contour which no longer matches the landscape of… fact.'
Translations by Brian Friel is at the Olivier Theatre, the National Theatre, Southbank
Related