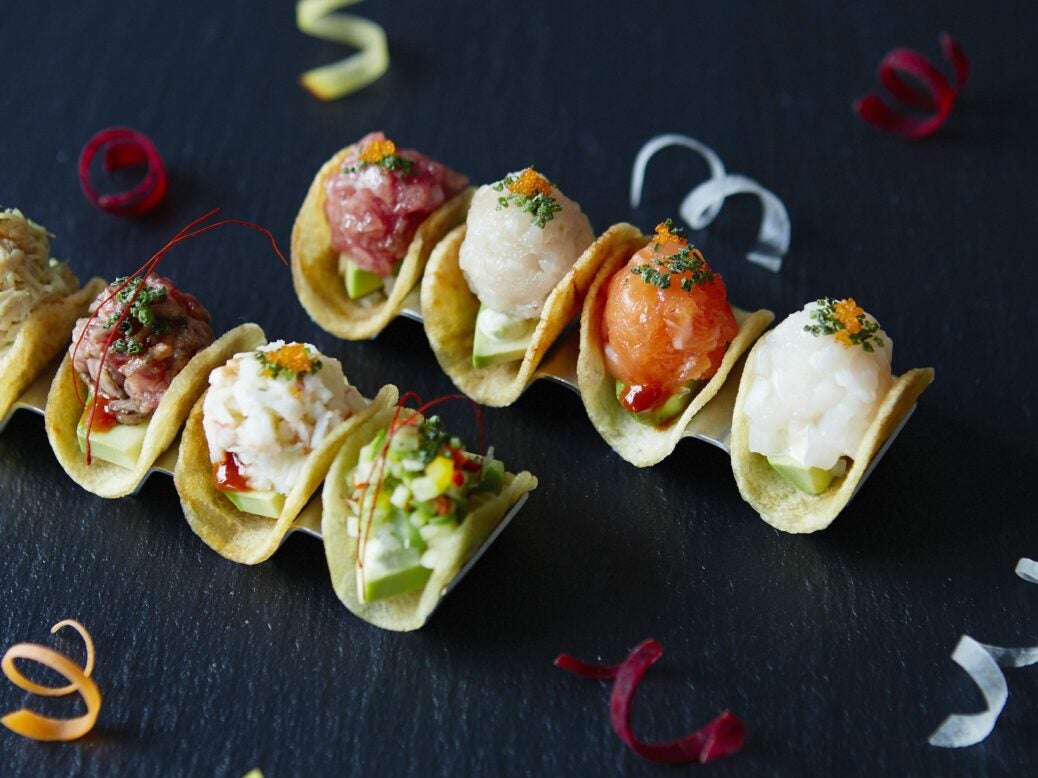 Christopher Jackson finds great happiness in a mews house in Knightsbridge: the latest venture of the good people at Dinings
I freely confess that there have been times over the winter when I have found myself worrying about Jamie Oliver. This is a man to whom I have reason to be grateful: with his straightforward recipes he taught me how to cook, moving me out of the ranks of desultory sous-chef to my wife, to semi-confident creator of meatballs with crushed Jacobs' crackers in them.
It now turns out that at the same time that he was salvaging my life, he was ruining his own. How was he doing this? By expanding too quickly. Jamie's restaurants are now closing at a terrific rate; the company's debts are in the region of £70 million plus. He's knee-deep in loans which I fear, in certain dark moments that I almost imagine I share with him, he may struggle to repay.
Happily, I am now in a position to return the favour and help the great man. If he, Oliver, were to head south out of Knightsbridge tube towards Walton Street, he'd find out how expansion's done. And he'd find it where he'd least expect to – on a mews road, which looks more suitable to hold a carriage-and-six than a Japanese fusion restaurant.
This is Dinings SW3, only the third in the Dinings franchise, which aims to 'push the boundaries of Japanese cuisine' with 'a unique style of Izakaya dishes': Izakaya being essentially a kind of Japanese pub food. That's the concept and one mustn't rush in fright from it.
The first Dinings opened in Harcourt Street, Marylebone. The second, eschewing what one might have expected, opened in Tel Aviv and is no doubt a point of cheer in that troubled land, where the ingredients are Mediterranean-fresh.
This third venture, not too far from Sloane Square, is as carefully considered as a grandmaster's chess move – and somewhat distinct from Oliver's more Napoleonic approach. It immediately works. There's a convivial bar on the way in. I recommend the Ha-Do-Ken – a 'raspberry-infused gin with a lemon twist'.
Soon we were escorted downstairs into a corner table: this neighboured a quadrangle which must be agreeably leafy and light-admitting in spring and summer.
What ensued was a sort of heady gastronomic ski run whose theme was sake – this would weave itself, a liquid slalom skier, in and out of the various flags of a tasting menu. Everything was chosen for us by a splendid man by the name of Maximilien, whose role in the evening was primarily to present us with very marvellous things, like some sort of Gallic fairy godmother.
Our sashimi came nestled in three crackers – cheerful folds of salmon and tuna screaming colour up out of an earthenware plate. It was the sort of food that makes one mutter in a portentous voice: 'Now, this is good.' But Maximilien was only just beginning.
A moment later he appeared with an oblong plate of sea bass. This was served with tosazu jelly (a sort of vinegary affair) and lightly dusted with fresh truffle. My friend announced that he would abstain from truffle, and also delivered a brief oration about the perfidy of all truffles, and the madness of eating them. I took this news with the philosophy of a man who now has a plate of truffles to himself and ate them all.
After this, as if the evening were determined to be a sort of condensed highlights package, Maximilien, spinning theatrically, descended on us with a plate of A3 Japanese Wagyu beef mini-burgers. These were eaten with great alacrity and we agreed that we would happily eat another twelve, if it were required of us.
Instead, we ate an assorted seaweed salad with kombu vinaigrette – a kelp dressing. Another supreme dish followed: this was the seared A3 Wagyu beef with sea salt and pepper, which came to us raw, next to a hot plate. We cooked it for ourselves – four seconds of sizzle and crisis was all it took to render these morsels delicious. This was followed by Dinings' famous grilled chilli garlic black cod, and great lashings of assorted sushi – and an amazing haul of three puddings.
We made a reluctant decision to leave: at this point I was so rotund that I could have been rolled like a bowling-ball all the way down to Victoria Station. Instead we received a kindly farewell from Maximilien, and had a pleasant conversation with Sammy the reception manager. For some reason I made a note on my phone to mention her in this review – this I now do, the promises of the inebriated being sacrosanct and essential to the ongoing glory of the English.
Outside, standing in the street, an overcoated figure could be seen regarding the restaurant with great interest. I will admit that it was dark, and that I couldn't be precisely certain of his identity. But I like to think it was one James Trevor Oliver in mild disguise, trying to learn from afar how it's done. He'll bounce back – and I bounced home.
Christopher Jackson is deputy editor of Spear's