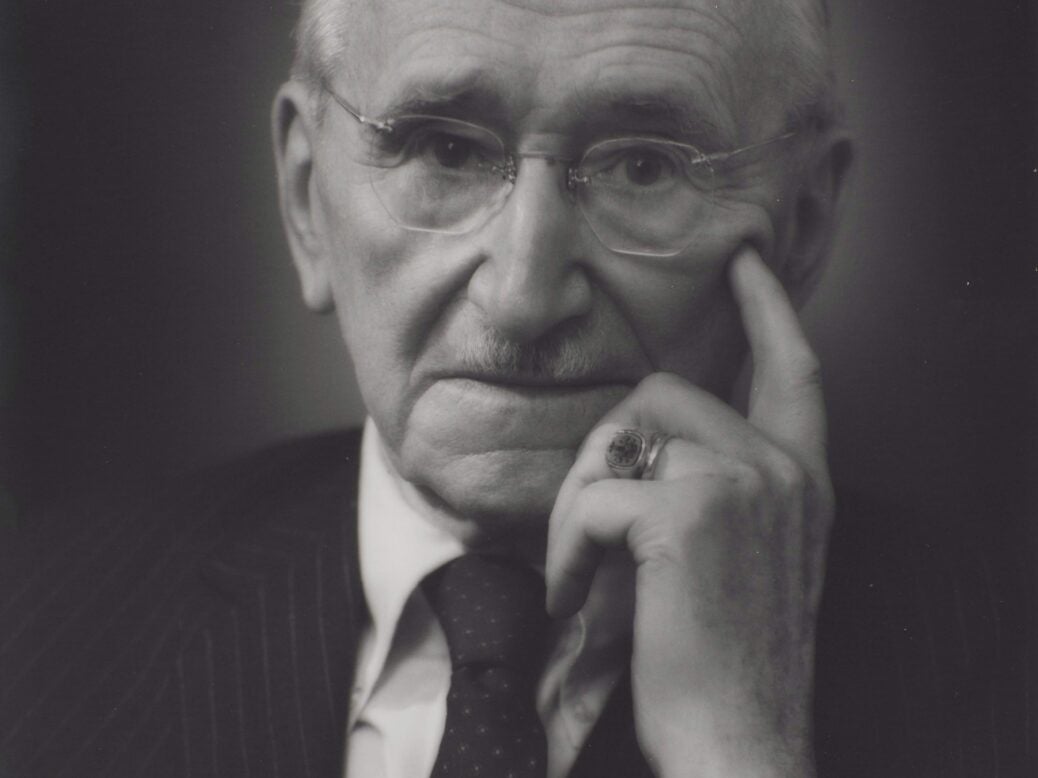 Private items of Freidrich Hayek set a new record for online auction sales at Sotheby's this month, reports Arun Kakar
Friedrich August von Hayek's admirers range from Margaret Thatcher to Lizz Truss, the 20th centuries king of free markets who was known for such zingers as 'Emergencies have always been the pretext on which the safeguards of individual liberty have been eroded', and 'A claim for equality of material position can be met only by a government with totalitarian powers'.
As his landmark text The Road to Serfdom turns 75, Hayek's private possessions were auctioned in a record-breaking online sale led by the thinker's Nobel Memorial Prize for Economic Science.
The £1.1 million medal, which was awarded for Hayek's 'pioneering work in the theory of money and economic fluctuations' in 1968, sold for three times its £400,000–600,000 estimate.
The medal is the most valuable item ever sold in a Sotheby's online-only sale, besting the $800,000 paid for the complete archive of Supreme skateboard decks in January.
'It was really special material, we knew it would be exciting to people but clearly, it did surpass our expectations,' Spear's is told by Gabriel Heaton, a director at the auction house. 'We had really strong bidding from five continents and many of the prices were far higher than we expected.'
The white glove sale totalled £2.04 million, four times the pre-sale estimate £445,000–670,000 and a testament to the contemporary vitality of a man hailed by George HW Bush as 'one of the great thinkers of our age .. [who] revolutionised the world's intellectual and political life'. Indeed, the Presidential Medal of Freedom presented to Hayek by George HW Bush in 1991 sold for £112,500. Even a collection of 'desktop ephemera', estimated at a mere £200-300 reached £87,500.
'What really marks Hayek out is the deep questions that he asks,' Heaton tells Spear's. 'He comes to these free market answers easily, but by asking real questions about the limits of human knowledge and issues like that.
'That's why his influence is so much deeper. He's not simply a party mouthpiece, he's a profound thinker.'
Other notable items in the sale included Hayek's portable typewriter (£18,750),  a Royal Dolton Winston Churchill toby jug (£70,000) and a personal copy of Adam Smith's Wealth of Nations, which fetched £150,000.
'It's chiefly underlinings rather than the detailed annotations, but what we can see is where he saw particular importance in Smith's work,' Heaton says. 'For example, key passages on the division of labour are underlined.'
The sale was also accompanied by a talk at the auction house with Tory MP Kwasi Kwarteng, Philip Booth of the Institute of Economic Affairs and Adam Smith Institute director Eamonn Butler discussing the influence and impact of the free marketeer. According to Heaton, it was wide-ranging, yet refreshingly clear of politics.
'We weren't talking about Hayek and Brexit,' he says with relief.
Arun Kakar writes for Spear's