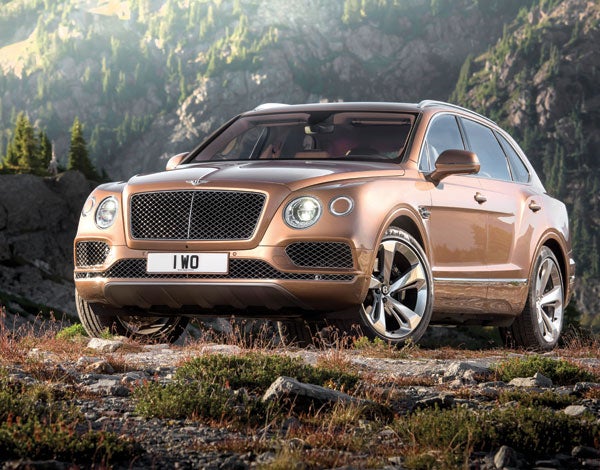 William Cash says Bentley's much-anticipated luxury SUV, has a muscular haunch specifically designed to match 'the tailored shoulder contours of a British hunting jacket'
Four years ago, beginning with port served in a muddy field in Cheshire, Bentley hosted a VIP client shoot for eight of its UHNW Manchester-area clients. Today, a framed photo of the assembled cars of Bentley's VIP guests hangs in the Crewe office of Peter Guest, Bentley's product line director.
'The shooting invite was from Bentley, but all our guests showed up in Range Rovers, Land Rovers or Cayennes,' he says. 'There was not a Bentley in sight. 'Almost all our customers have at least four cars, so they kept the Bentley at home. But it was a eureka moment for us — we had already been thinking of creating a super-high-performance luxury SUV that would be the fastest of its type in the world. But seeing all our clients parking up in that field and not a Bentley in sight was the moment that really reinforced the idea that the time had come for the Bentayga to become a reality.'
As Guest tells me this anecdote, we are standing at the rear of a top-secret development garage at the Bentley factory in front of one of the very first Bentayga cars to be unveiled to the world. I had seen the prototype of the Bentayga at the Geneva Motor Show in 2012 and liked it — but the critics were less impressed, thinking it looked like an aquamarine Liquorice Allsort on wheels.
This new car is a very different beast — much more refined and elegant, with a muscular haunch that looks as if it is set to rocket out of the starting blocks.
What first strikes you about the car is the combination of a powerfully aggressive V12 nature but with sleek lines that give it such a sensual feel — especially when your hand touches the delicate body lines, as if sculpted by Anish Kapoor — no, let's make that Henry Moore. It is a true metallic motoring master- piece, a triumph of grand torque (608PS) over any trophy garage car.
Only when you step inside do you realise that the driver's dashboard area is oversized to make the driver feel as if he is the centre of the polished walnut cockpit; it seems like you are stepping into a Linley- designed humidor.
'We designed it as a "driver- focused" car,' says Sang Yup Lee, Bentley's head of exterior and advanced design. 'I prefer the words "very powerful and very elegant",' he corrects me as we admire the finely cut ribs of the metallic lines. 'This is all about being very fast, along with true sophistication and understatement.'
Although the Bentayga was making its official debut at September's Frankfurt Motor Show, Spear's was invited up to Crewe to get a sneak preview of the car that is certainly going to be the chicest and most talked-about luxury SUV 4×4 for many shooting seasons to come. But don't think the Bentayga is just twin-turbo-charged motoring eye candy (capable of 187mph) for Rich Listers who want the quickest car on the road to reach their Yorkshire grouse moors or double-gun partridge days in the wilds of Devon.
Yes, the car can be fitted with a bespoke aluminium gun case on a pair of 'luggage rails' (on slick rollers) that allow the gun case to pull out of the boot. But other customised storage boxes have also been designed to carry scuba-diving suits and equipment, including a surfboard, or skis on the roof, as well as multiple golf bags, riding equipment and customised picnic sets which include a heated lunch box and a refrigerated box for cold drinks or for keeping the foie gras from melting.
The Bentayga has been designed and made with paramount consideration for the lifestyles of Bentley customers — for the pinnacle of performance in the town or in the country.
'This is all about stretching the limit of what a utility car is capable of with an off-road element as well,' adds Guest.
'Whether our customers will actually take the car off-road… is up to them. But the important thing is that the car has been tested to perform in an extreme environment. If the client wants it to drive along a beach with sand dunes, this car will do it — this car will get you out of situations, any situation, as it has more than enough power in reserve. If you don't ever get into those situations, of course, and you never get to learn what it is like to set the car to its Responsive Off-Road setting, it's not a problem.'
A twin-turbocharged 6.0 W12 engine delivers 600bhp and 0-60mph in four seconds flat. There is also a new range of hi-tech features that will appeal to the Bentley Bond gadget freak. The best include something called Predictive ACC, which digests traffic information along with sensors and cameras to predict upcoming corners, city limits and speed cameras and can 'modify the vehicle speed accordingly'.
Another I am looking forward to experiencing is Traffic Sign Recognition, which allows the car to adjust performance according to whether there is a lollipop man ahead on a zebra crossing or a horse likely to slip on a new tarmac road.
At '160,000, your average Bentayga is more likely to be seen parked up collecting the kids from a posh London school than climbing any Alpine peaks.
It has been designed very much as an 'owner-driver' car rather than as the sort of traditional Bentley where you get to watch House of Cards on the rear seat TV while checking your emails via the onboard wifi.
A few years back, Bentley gave me a chocolate-coloured Mulsanne to drive up to Mulgrave Castle in Yorkshire, where Arki Busson used to have his shoot. I have to say, the car's performance in the muddy Yorkshire fields and on the beaches of Whitby was not bad. I never actually got stuck. But the Mulsanne — a whale of a car — was never designed as an off- road shooting brake.
The only time I did get stuck was when I parked in a pub car park by the sea (the shoot includes a drive in which the guns stand on the edge of a cliff top) and found myself squashed in by two transit vans, so for the rest of the day's shooting the Mulsanne had to retire from the action as it was immobile. Had such an unfortunate event happened with the Bentayga, I could always have taken the beach option to escape the car park.
Just to make sure the Bentayga will have no difficulty negotiating the cowpats in a muddy Cheshire shooting field, the car was tested over 400 laps of the iconic N'rburgring circuit that winds through the Eifel mountains in Germany. The circuit was chosen as it includes the North Loop, which has a 1,000- metre elevation change. 'The variety of surface grip levels and wide range of cornering speeds make the N'rburgring the perfect place to develop the fastest, most powerful SUV in the world,' Bentley says.
There is already a long waiting list for the Bentayga. Still, as with British bespoke tailoring, you expect a wait to get the best. Indeed, I was told that the car's sleek, muscular haunch has been specifically designed to follow the tailored shoulder con- tours of a British hunting jacket. Of course.