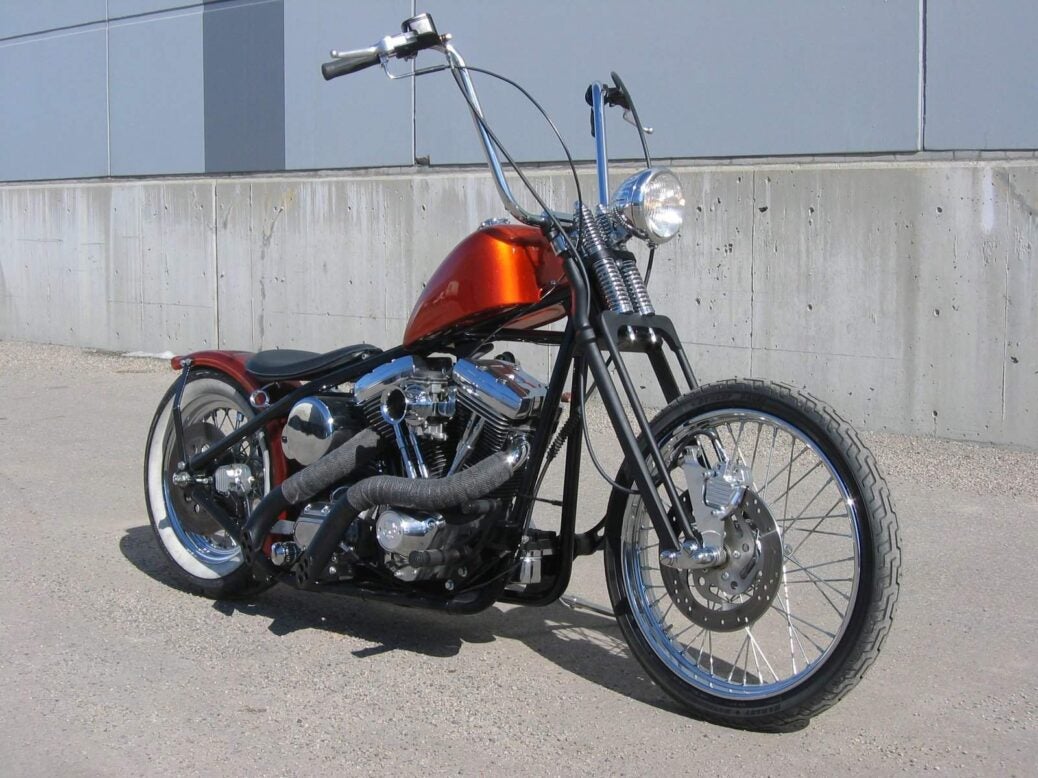 Bobber Job Man Motorbike-mad Henry Cole describes his mission to bring the Bobber back to life as a symbol of Britishness and individuality
Motorbike-mad Henry Cole describes his mission to bring the Bobber back to life as a symbol of Britishness and individuality
THE IDEA OF individuality seems to terrify some people: the chattering classes, the politically correct, are frightened of tall poppies. They'd prefer easy conformity, not difficult individuals.
For my part, alas, I had no hope of being anything other than an individual. My father was a gloriously eccentric, handlebar-moustached army officer who had a penchant for throwing off his commuter train bearded people in cheap suits who dared to sit in his first-class smoking carriage and not smoke. Then there's my mother, a divine incarnation of a Fifties BBC presenter, stoically aristocratic yet hell-bent on playing down links with our family, the politically notorious Gladstones.
For my part, at the age of 49, I've tried anything and everything to fulfil the craving instilled in me by my parents for that coveted utopia of individuality. I had the dubious honour of being the first Mohican punk at Eton College; I tried heroin addiction; I was a session drummer, a war cameraman, a movie director and TV presenter; I lived a rock 'n' roll lifestyle by filming every heavy rock band in existence — anything that could take me away from the horror of the conformity derived from an everyday existence.
There has only been one drug that has never failed to make me feel like an individual: riding a motorcycle. I knew that at fifteen, so why the hell did I have to go through all the above to find out something I already knew?
Where does all that leave me today? Well, with 25 years of sobriety under my belt I am now a workaholic rather than a drug addict. I reside in a period gaff in the Cotswolds and have a couple of young boys, who fortunately show no signs of my affliction, and a long-suffering wife. I am the boss of a TV production company, HCA Entertainment Ltd, and am the presenter of two long-running motorcycling series, World's Greatest Motorcycle Rides and The Motorbike Show, for ITV and Travel Channel Worldwide respectively.
Content? Like hell — I'm at last going to fulfil a boyhood dream and launch the first British motorcycle brand since the demise of Lord Hesketh's endeavour in 1984. Like Hesketh, I'm aspiring to create a high-end, bespoke and exclusive range of motorcycles complemented by a range of lifestyle accessories and clothing which encapsulate true British individualism and eccentricity. In short, I'm out to attract the discerning hooligan like me.
What to call the brand? That's the easy part. I may be related to Gladstone the prime minister but it was another Gladstone who left an indelible impression on me at the tender age of twelve.
His name, at least to me, was Uncle Dick 'Red Beard' Gladstone. Born in 1898, he was a true British eccentric who lived in our home city of Liverpool, fettling and riding the best of British motorcycles. The likes of Brough Superiors, Triumphs and BSAs jostled for position with abandoned carcasses of 18th-century furniture in his musty and mystical garage. When I gallivanted round his sacred shed as a boy I knew the feelings that it inspired would constitute a key part of my life at some point, and now they shall.
Henry Cole designed this Gladstone No 1
So the company will be called Gladstone Motorcycles, and the logo will be designed around the family crest that my branch of the Gladstones inherit. We're going to fabricate and build the most exquisite limited runs of the quintessential British custom-made motorcycle. We will combine my vision with the most famous British engine and frame manufacturers, aspiring to create individualism on two wheels.
Gladstone will make British Bobbers. The Bobber style of bike was devised and built in the late Forties and Fifties by demobbed military types on both sides of the Pond. In the UK the Bobber was powered by a Triumph engine, and in the US by a Harley-Davidson.
The bike-mad squaddies and GIs couldn't afford to buy civilian machinery, so they acquired unwanted military dispatch bikes and 'Bobbed' them — cutting off the unwanted bits and bobs to make them as light as possible for racing. The prerequisite of any Bobber was a rigid, framed, minimalist approach to motorcycle design. It was built for go, not show, so anything that didn't constitute a necessity wasn't on it. The Bobber was then later developed into the Chopper in the Sixties.
In the America of today, however, garishly painted, raked-out custom Choppers, all the rage before sub-prime mortgages, are now very much a thing of the past and so 2007. Most of the big manufacturers of these custom bikes are bust, while the minimalist Bobber-style bike is having a resurgence. One of Harley-Davidson's best-selling bikes last year was the Forty Eight — as close to a mass-produced Bobber-style machine as you'll get. Consequently the Bobber is heavily influencing motorcycle design yet again in another period of austerity.
Henry Cole was born to ride, but never found the perfect bike
THAT'S THE MANTRA, then — here's the business deal. In homage to Uncle Dick Red Beard's birthday, we will build a first run of 22 Triumph-powered Bobbers called the Gladstone No 1, which will be launched to the public alongside our inaugural collection of clothing and accessories at the Syon Park Salon Privé from 4–6 September. However, after eighteen months of development and a six-figure personal investment, the bike will actually be ready during March, so we are inviting our ever-growing list of discerning clients to their own private views.
We will spend 2013 and the first quarter of 2014 building and delivering the 22 bikes and then we will roll out the Gladstone brand and lifestyle product range to a Far Eastern and American boutique market.
The Gladstone No 1 has been developed with one of our key partners, the iconic British frame builder Metisse Motorcycles, whose legendary Desert Racer was described by Steve McQueen as 'the best-handling bike I've ever owned'. Metisse is one of the most enduring British bike brands with an impeccable lineage dating back to the Sixties, so it's a huge privilege and a serious coup that they have joined us in the creation of the Gladstone No 1.
Is the market ready for Gladstone Motorcycles and for my unwavering passion for individualism? Or will I become that man immortalised by Tom Petty's lyric as 'just another clown working on something big'?
Very soon I'll find out.

Read more on Motoring
Don't miss out on the best of Spear's articles – sign up to the Spear's weekly newsletter
[related_companies]