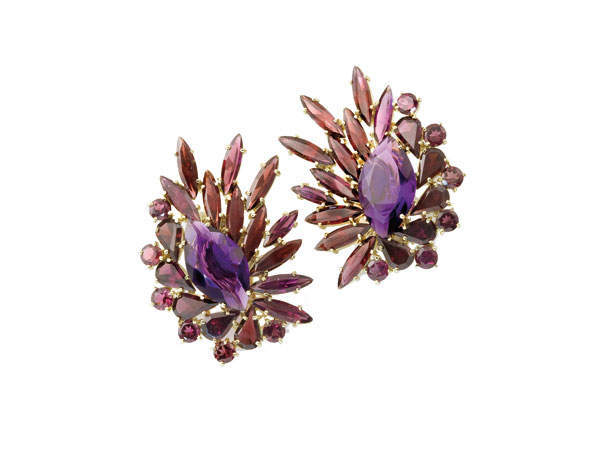 STARS IN THE MAKING
Fine jewellery is no longer the monopoly of the great houses (glorious as they are), writes Alice Holland. London is abuzz with contemporary jewellers making beautiful pieces of real value that are unmistakably modern
They've trained at the Royal College of Art, Central Saint Martin's, the GIA (Gemological Institute of America) and Parsons, if not all the above. They use social networks to wire into growing overseas markets and access an even younger audience along with their serious buying power, and they are both socially and environmentally responsible.
Now they have healthy profits under their belts (or on their wrists), the big boys such as the Dover Street Market, Liberty, Browns, Matchesfashion.com and Harrods are taking note — the last of which is adding droves of new jewellers to a specially expanded Fine Jewellery room opening in November. Here are our top ten to watch…
THE ARCHITECTS
Sybarite
Before founding Sybarite just a year ago, Ukrainian-born mother-daughter team Margarite and Alyona Prykhodko were both successful architects. Together their jewellery is intricate but whimsical. There are rings made into tiny, fully working kaleidoscopes and rotating merry-go-rounds with miniature gold horses. Their easy approach to fine jewellery at Sybarite is refreshing and even in the more static, traditional pieces such as the 'Believe' ring there's a sense of humour in their oversized scale. But it's the 'Opium' rings in diamonds and rubies that really show their clout as fine jewellery makers.
THE SOCIAL NETWORKER
Eternamé
Eternamé ('Make me eternal') is an internet sensation — you'll learn enough about social networking in five minutes with Paris-born founder Sarah Besnainou to put a tech-savvy teenager to shame. Fans order her titanium cuffs laced with intricate pavé and carved wooden earrings sliced with polished yellow gold the minute they debut on Instagram. Besnainou turned to jewellery after commissioning a pair of cufflinks for her boyfriend and deciding to take on the task with her own fair hands. Eternamé is stocked at Harrods as well as a stand-alone store in the Burlington Arcade.
THE BOYS (pictured above)
Faraone Mennella
After meeting at Napoli Law School, Roberto Faraone Mennella and Amedeo Scognamiglio both quickly realised a more creative calling beckoned, so in 2001 they founded Faraone Mennella. Their big break came when they stumbled across super-stylist Patricia Field on the set of Sex and the City and convinced her to look at their collection. Field immediately fell in love with the brand's aesthetic — a combination of Tuscan goldsmithing, Renaissance Florence and New York cool. Now stocked in Harrods' fine jewellery room, the only way is up for these two.
THE SILVER SURFER
Daisy Knights
Daisy Knights is British through and through — her collections, inspired by the seaside (the Isle of Wight, where she spends summers) and nature (the Cotswolds, where she grew up), are made entirely in this green and pleasant land. New collections of bows and arrows and planes with diamond headlights were a knockout
success at London Fashion Week in September, but it's her skull collection that she's best known for — there's barely a fashion blogger or pop star without a piece or two.
THE ANTIQUAIRE
Jessica McCormack
There are so many magical things at Jessica McCormack's impressive 7 Carlos Place 'home', as she calls it, that it would be impossible not to fall in love. New Zealand-born McCormack is the daughter of an auction house owner and grew up around beautiful things from the past, but there's nothing overly traditional about her jewellery. Diamonds, which form the core of her collection, are turned on their heads (literally) — inverted in her Torpedo earrings, shaped into oversized heart cocktail rings and jutting up in her Serif earrings.
THE STONE HUNTER
Lauren Adriana
If you're looking for a one-off, with a coloured stone you've never heard of, set in a way you'd never even thought of, you've come to the right place. At Lauren Adriana's Notting Hill Boutique, you'll enter a cobalt, suede-covered world, filled with things like carved rhodonite and bespoke-cut spessartite, all wrapped up in an amethyst pavé bow, and you won't know what's hit you.
THE POET
Sophie Bille Brahe
Inspired by the reflections created by precious stones and metals, Sophie Bille Brahe's jewellery is understated in the extreme. For the Copenhagen-born designer, her pieces are not status symbols but an opportunity to indulge her love of storytelling. Collections such as Claire du Lune and Cheval de la Mer are minimalist works of art. She also creates pieces by hand for her closest clients. Stocked at purveyors of all things hip, the Dover Street Market, Bille Brahe's brand of low-key cool won't stay an underground hit for long.
THE SURREALIST
Delfina Delettrez
As the daughter of the woman who created the Fendi Baguette, Delfina Delettrez has some impressive creative heritage. However, her bonkers designs speak for themselves. After a brief stint in costume design, Delettrez moved into jewellery and has never looked back. Her designs are hand-made from ceramic, exotic wood, glass, resin, pearls, bone and cut stones — earrings with Dali-esque mouths or eyes are sold separately. Sold online at Matchesfashion.com and at the Dover Street Market, her captivating, colourful designs are almost disorienting.
THE IT GIRL
Noor Fares
There's no doubting that Noor Fares's jewellery is a hit — she's stocked in the Dover Street Market, Browns, Matchesfashion.com and Couturelab, not to mention collaborating with Zaha Hadid on a conceptual pop-up store in the summer. The brand is barely four years old: London-based, Lebanese-born Fares has previously collaborated with best friend Eugenie Niarchos but her latest collection, Geometry 101, which artfully combines small-scale graphic shapes in pavé set blackened metals with contrasting chains, is her strongest yet. It's delicate, bold, beautifully made.
THE RULE-BREAKER
Ana Khouri
Even if you haven't heard of Ana Khouri, you've more than likely gawped at her beautiful creations. Now based in New York, the Brazilian-born designer launched her brand in Sao Paulo before she'd even graduated. Khouri has a truly contemporary take on traditional fine jewellery, from tiaras that look like futuristic headdresses to diamond-encrusted hand bangles (yes, they're a thing). Sold in the UK on Net-A-Porter, her exquisite collections are all either one-off pieces or numbered editions.