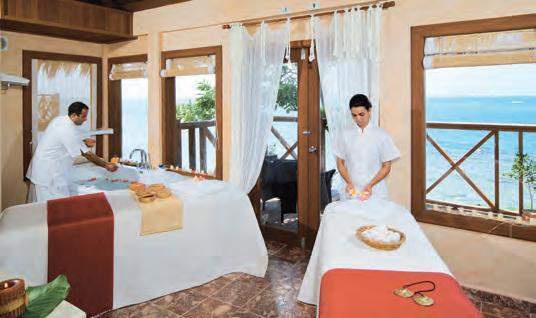 So full of life, colour, history and legend, Cuba intoxicates and seduces the traveller. And while the people of the Caribbean's largest island are descended from a mélange of indigenous Arawak and Taino Amerindians, they have over the centuries merged with the influx of Spanish colonists, African slaves and communist adherents and retain elements of all. A survivor among nations, both the place and its people embody the fun and life of this dramatic island, not to mention its music… and, of course, rum and cigars.Sailors, pirates, fishermen, musicians, writers, entertainers and travellers have fallen in love with the place and its people, which is why it is one of the hot-favourite holiday spots. To cater for these discerning travellers, luxury hotel groups have opened opulent places for them to stay. One such company is the Spanish Meliá group, which has hotels throughout the island, bringing with it its international wellness brand, Yhi Spas.
Yhi was the legendary aboriginal goddess who entered a world of darkness and brought with her the light — which is how these pampering spas are perceived throughout the island. They can be found in the beach resorts of Esmeralda, Cayo Santa Maria and Varadero, all edged by the palest gold sand and the warm Caribbean.
Varadero has been attracting visitors for almost a century, one of the most famous being Al Capone, who had a gorgeous hacienda close to the beach, while a short journey away is the house of Ernest Hemingway, where America's literary giant wrote many of his books, fished for marlin and drank copious amounts of his favourite daiquiris and mojitos. However, those wishing for a healthier stay can head to the Yhi spas in Paradisus Varadero, Paradisus Princesa del Mar and Meliá Marina, as well as Meliá Buenavista, Meliá Cayo Santa María and Paradisus Río de Oro, where they can indulge in a host of body treatments, scrubs, wraps, facials as well as a selection of full and half-day pamper packages.
WHO
Couples, families, groups of friends, honeymooners, music lovers and salsa enthusiasts from Europe, South America and Canada.
WHEN
Just south of the Tropic of Cancer, Cuba's climate is tropical, with daily high temperatures ranging from 26-32°C throughout the year. High season is in the driest months from November to April, while the rain comes May to October, although it rarely lasts for long.
Hurricanes — should they happen — choose to arrive mostly in September or October.
HAVE
Indulge in bathing therapies using sea salt and marine plants alongside crystals and aromatic oils, or try scrubs and wraps using indigenous herbs and oils as well as ginger and raw sugar. There is even an Oriental option which uses nutmeg, saffron and cinnamon.
Have the Yhi hydrothermal circuit, where different jets at different temperatures massage different parts of the body, or be a complete sybarite and ask your butler to prepare a relaxing bath in the privacy of your own suite using aromatic oils, fresh flowers and scented candles.
DO
Dance: everybody dances in Cuba. Wander through the main streets of Havana or the narrow lanes of villages, and wherever you go you'll hear music. Visit one of the many salsa clubs and join in. You can walk and hike in the hinterland, visit the museums and galleries (spot Che Guevara's Chevrolet in the motor museum) or simply marvel at the buildings of the Malecón, Havana's grand esplanade.
The 16th-century city of Trinidad is a joy and the book market at Plaza de Armas is a must, as is a visit to a cigar factory, followed by a daiquiri.
BEST
Being there — the light, the colour, the people and the music. Take a ride in one of the 1950s US classic cars for a taste of Cuba's