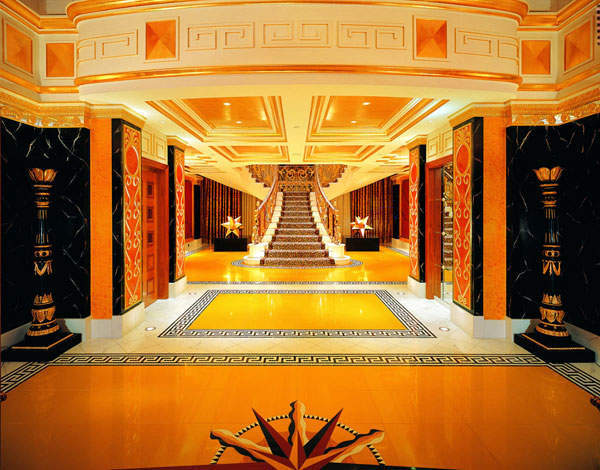 'What Is Luxury?' asks the name of the new exhibition at the Victoria and Albert Museum in London. Good question. Most readers of this magazine can be expected to have some acquaintance with luxury — whether in the form of the royal suite at the Burj Al Arab (£5,700 a night) or an Iceland Luxury Lemon Pavlova (£2). But the diversity of that acquaintance does suggest the word's meaning is out of control. It's all over the place, like Tom Selleck's bikini-line.
For the V&A, it appears to have something to do with expensive home furnishings and high-end theoretical waffle: 'Luxury has the potential to unlock dreams of being somewhere else or someone else. It exists at the boundaries of daily routines and systems but relies on notions of breaking out. The acquisition of luxury objects has always fulfilled aspirations. In a busy and intrusive world, people increasingly value time and space for enjoying special moments and extraordinary experiences.' That, I can confirm, admirably describes Iceland's Lemon Pavlova.
But in 2011, my colleague Sophie McBain reported on the hilarious case of a man who complained to the Advertising Standards Authority because his holiday at one of Virgin's Sandals Luxury Included® Resorts did not, it seemed to him, merit the term. He was given a cheese and egg roll on the flight out and suffered other indignities including malfunctioning patio doors and a grubby air-conditioning vent. The ASA rejected his complaint on the grounds that 'luxury' is 'widely used in the travel industry and… not objectively defined'. It might have added that Sandals merely promised it included luxury, perhaps in the way a box of Terry's All Gold includes some edible chocolates.
If we're to get to the bottom of this, though, we need to go further back than 2011. 'A man, a man! […] that doth snort in fat-fed luxury […] in effeminate invention,/ In beastly source of all pollution…' So wrote the poet John Marston in 1598, and one can't completely make out what he's on about but it's pretty clear he doesn't mean 'luxury', in that context, as a compliment.
So to those who are forever writing to the Daily Telegraph about 'the corruption of the perfectly good English word "gay"' — a queer pastime, but each to their own — may I suggest a fresh diversion? What about the corruption of the perfectly good English word 'luxury'?
The point is, it didn't used to be a good thing. It used to mean a slovenly, incontinent and sinful wallowing in pleasure; the sort of vice (before that word meant something different) that puritans (before that word meant something different) thought would consign you to eternal (before that was the name of a band) damnation (before that was just a slightly quaint swear). Gee whiz: this could get difficult.
But now — having undergone what linguists call a functional shift — 'luxury' has ceased, on the whole, to be a noun and has become an attributive adjective. Exhibit A: 'Morrisons Luxury Dried Fruit'. Exhibit B: 'Schwartz Luxury Bread Sauce'. It's seldom used predicatively — as in 'That bread sauce was luxury, wasn't it? Couldn't have been more luxury if it had dried fruit in it…' — though no doubt we'll get there. It is even spotted, sometimes, in the Frenchified form 'luxe' — which will impress those, I suppose, who think that if their cosmetics contain 'aqua' rather than boring old water they will be that bit better for the skin. But in all its forms it wants to tell us that whatever it's attached to is a little bit special, a little bit high-end, a little bit money.
Or so the idea might be thought to go. It has, in fact, passed beyond good and evil. It used to mean something nasty. Then it meant something nice. And now it doesn't mean anything at all. It has become a marketing term of quite exquisite naffness, intended to connote something classy or posh. But as anyone who's actually classy or posh knows, the classy and posh words for 'classy' and 'posh' are 'smart' or 'grand'. Luxury mostly just means honking vulgarity, like a collection of yoghurts 'curated' by Marks and Spencer, or a lump of fish from Waitrose with 'bespoke' breadcrumbs (true story).
The problem is clearly that, in a secular age, luxury has lost that delicious salty flavour of damnation. It's the ghost of itself in a world where 'sinful' means a choc-ice, 'wicked' a pop song and the horns and tail of Beelzebub are no more than dress-up for a hen party in a city-centre Wetherspoons.
I think we're sunk. Sydney Smith thought that heaven would consist of eating pâté de foie gras to the sound of trumpets. For our own age, I am struck by the gloomy realisation that our best hope must be that it will consist of sitting in a royal suite in the Burj Al Arab eating frozen lemon pavlova.