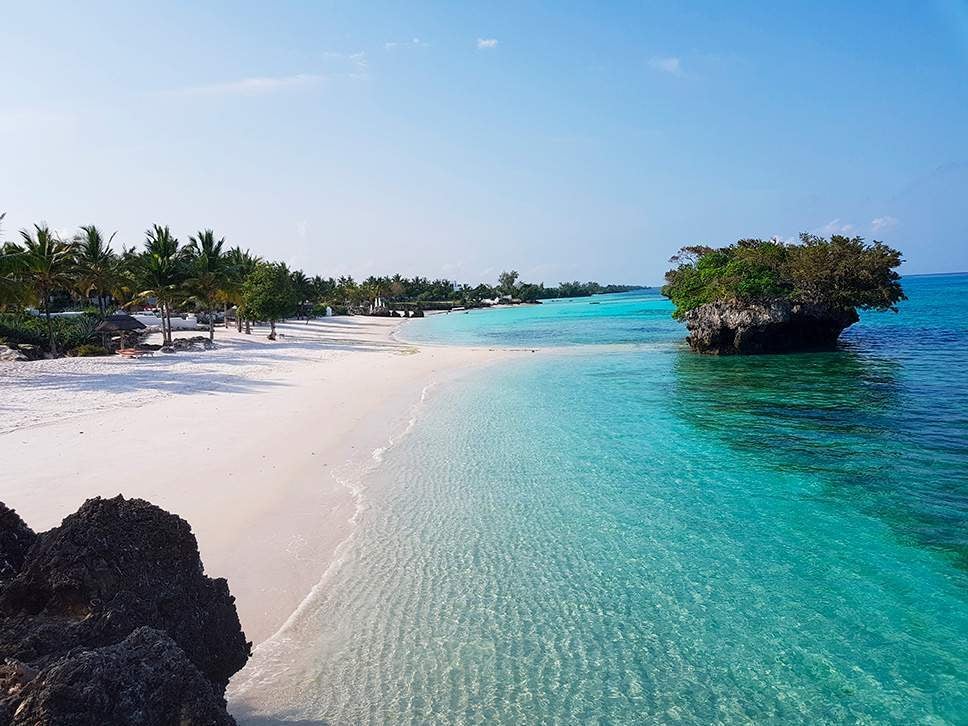 A boutique luxury resort on Pemba Island, part of Tanzania's Zanzibar Archipelago, impresses and charms Victoria Brittain
When a very successful landscape architect and gardener from Mauritius, who had also worked in Zanzibar, came to explore the northern tip of the more remote island of Pemba he fell in love with the untouched purity of its Indian Ocean beauty. There was no power, no phone, little access and he reflected that only someone insane would invest here. In that moment he knew he was that someone.
Ten years on the purity looks and feels miraculously untouched by the impact of this luxury hotel. The only sounds are the sea, the wind in the trees, and the calls of birds. The traditional life of the fishermen in their dhows, and the villagers gathering seaweed at low tide is changed only silently by the new school and new jobs this unique hotel has brought the village of Makangale.
Every villa gives onto the beach and has its own small shady swimming pool. The rooms are spacious and simple with high ceilings and big bathrooms with showers both inside, and outside under the bougainvillea and the stars. Expect flower-coated patterns and messages written in grasses on your bed every day. And at the beachside entrance to the villa are patterned tin bowls of water with bright flowers floating under the half-coconut scoop to wash your sandy feet.
Some evenings you may find flowers carefully spread close together on the sand to make a red carpet towards dinner which has been moved impromptu from the terrace to the sea.
The Mauritian gardener, Ashok Narainder Sungkur, has brought here echoes of traditional African Islamic and Asian architecture, built by local villagers from local materials using the most ancient of techniques. No international contractors, architects or engineers were involved.
Five masons came from Mauritius and despite not speaking Swahili, got on well working alongside the villagers who soon picked up some creole, which even small village children now speak. Pemba's own carpenters made the simple furniture and great Zanzibar doors, both inside and out. Brilliant white lime-washed concrete stupas and courtyards now stand in gardens whose species Ashok brought from gardens he knew in Mauritius, Thailand, the Champs Elysees roundabout in Paris, and villages across Tanzania. Among the plants are dotted old dhows made from a single mango tree and now stood up on the prow and next to modern sculptures mostly made from found objects by Ashok.
Pemba is all coral and above the hard stone are only 200 millimetres of topsoil, but the team of local gardeners trained and led by Ashok have coaxed brilliant displays of colour up and around the 30 white villas around the bay. A donkey tethered on a stretch of grass above the beach works hard at keeping the grass down and provides manure for slowly maturing beds.
Villagers who spent six years breaking coral by hand and building the hotel have become skilled gardeners, cleaners and waiters. Leftovers of aggregate from the nearby stone quarry – all broken by hand – are now classy floors and walls in bathrooms reminiscent of venetian terrazzo. Corals and shells of long extinct sea creatures, squeezed into solid masses of calcium are transformed into a modern practical and decorative material. Alongside them are beautiful slabs of marble brought from Tanzania's marble quarries, while large white polished pebbles which are a feature in the villas' small private gardens were brought from faraway Jogjakarta.
Ashok's favourite part of the hotel is the spa, which they made with a material extremely close to home – 100,000 coconut brooms form the roofs. It is cool and airy, inspired by the local makuti (coconut palm naturally drying leaves) huts in the village. The spa is called 'Maji', meaning water in Swahili and has water lily pools and little paths among the plants. Best of all are the quiet young women who give a massage with local flower oils so relaxing you can easily drift into a snooze.
The hotel offers plenty of water-based outings on small dhows sailed by two men, where four or five passengers can fit in the narrow tree-trunk and with the sail flying head west to mangrove swamps where you can paddle in a kayak between the trees and their spectacular triangular branches growing out of the water. There is snorkelling, long beach walks, and trips to a sandbar far into the ocean, or to local villages offered enthusiastically by almost everyone you meet.
In the Aiyana's open bar, next to an infinity pool overlooking the ocean, you can watch the fishermen go out in the silent dawn or see the sun slip into the sea in the evening. And you can drink any kind of fancy cocktails you can think of or get addicted to homemade drinks made of tamarind, lemon grass, watermelon or coconut.
The chef, from Mauritius, makes imaginative and delicious meals with a menu which changes every day and features a lot of local fish and vegetables from nearby villages. Bread, croissants, pain chocolate, cakes and biscuits are all made in the hotel's kitchen. This may be the best food in Tanzania – a world away from the standards of many of the more commercial and conventional Indian Ocean hotels in much better-known places.
In the hotel gardens in the evening you might see Pemba's endangered species of orange or brown flying foxes or hear the noisy Galago Bush Baby in the palm trees or on the villa roofs. In the day if you are lucky you will see on the flowers the breathtaking little Pemba sunbird with its iridescent turquoise/blue/green/purple back and wings.
A half hour from the hotel by car, down the dusty pot-holed road is the centuries-old Ngezi Forest Reserve of 3,600 acres. Here you can walk with a knowledgeable forest ranger under an extraordinary dense canopy of trees around several small lakes. One species grows as high as 60 metres, and many other endemic trees have strange and exotic shapes like the sausage tree, with its giant 10-kilo fruits, and the bunga, with its winding lianas. You can catch the scent of cloves from an occasional wild bush. The flying foxes are at home here, plus vervet monkeys and red colobus monkeys, which hide high in the trees and scatter the seeds and skins of the fruits they live on.
In centuries past most of Pemba was covered with this forest, which was not protected until after independence, and the ghosts of harsher times are here – German post-colonial links and 19th-century slave trading. In one clearing stands a German logging company's rusted equipment, and by the road is a simple stone memorial to Sharif, a local leader who successfully outwitted Portuguese slave traders.
Pemba withstood these various incursions by powerful outsiders. The Aiyana with its eco-friendly ethic and its roots in local skills which have developed as the hotel took shape is a place where new outsiders can have a taste of luxury conceived in tune with a simple way of life. Luxury tourism does not have a good image in respecting host communities. But the Aiyana's roots make it unique in managing this balancing act of luxury which is not exploitative of the people of north Pemba who decided to share their home.