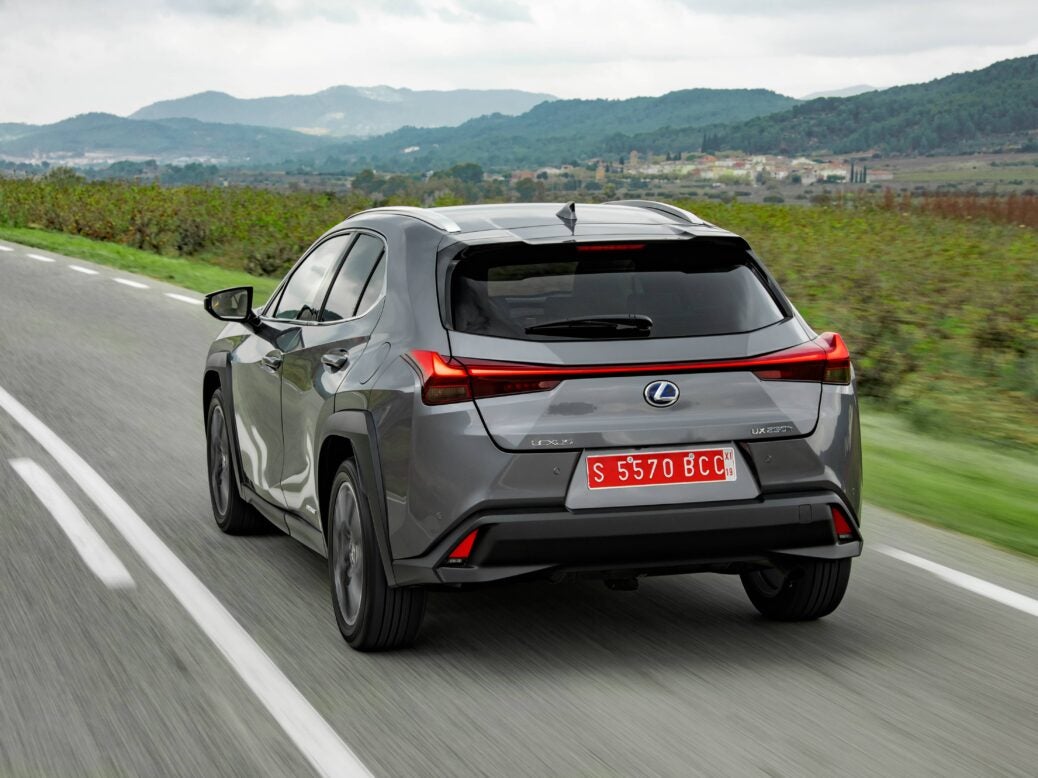 The small luxury Lexus UX hybrid makes a big impression, writes Gareth Herincx
Looking to downsize your big SUV for a more compact, greener alternative better suited to the city, but don't want to sacrifice luxury? If so, the Lexus UX could be right up your street.
The all-new baby of the Japanese premium brand's 4×4 family slots in below the RX and NX in the range.
Lexus expects the UX (Urban Crossover) to take over as its most popular car within the year and lower the average age of its customer base thanks to the car's cutting-edge design, technical advances, comfort, craftsmanship and attention to detail.
If so, the UX could be a game-changer, helping Lexus reach a target 20,000 cars in the UK by 2021 (in 2018 the brand sold 12,405), making up a fifth of an intended 100,000 sales in Europe.
Lexus is bullish because diesel sales plummeted by 30% in the UK in 2018 and the UX is only available as a petrol-electric hybrid or conventional petrol.
The UX is marketed as a "self-charging hybrid", which means that it can't be charged overnight like a plug-in hybrid (PHEV) – instead, you simply drive it like a conventional car and the system does all the clever stuff smoothly and out of sight.
In real-world driving, Lexus claims in can use electric power for some 55% of the journey.
When cruising or gently accelerating the electric motor at the front (there's an additional unit at the rear on 4×4 models) can propel the car silently with electricity supplied for the battery
At higher speeds, under heavy acceleration or on uphill stretches of road, the 181bhp 2.0-litre petrol engine imperceptibly kicks in, while still receiving a boost from the electric motor/s when needed.
Under braking or when you take your foot off the accelerator, regenerative braking charges up the battery.
The result is fuel economy of up to 53.3mpg (front-wheel drive) or 48.7mpg for the al-wheel drive version.
It's no slouch either with a 0-62mph time as quick as 8.5 seconds and a top speed of 110mph.
Starting at £29,900 for the entry-level UX, the F-Sport costs £33,9000, while the flagship Takumi we're concentrating on will set you back £39,100.
Named after Lexus's skilled takumi craftsmen, this top-of-the-range version offers everything you'd expect from a compact luxury car including a 13-speaker Mark Levinson premium surround sound system and leather upholstery with stitching inspired by the Japanese sashiko technique used for making judo and kendo outfits.
Before we get too deep into the detail (and there's plenty if you're up for it), let's go back to basics and get some perspective on where the UX sits in the marketplace.
In terms of size and price, its most obvious rivals are the Audi A3, BMW X1, Volvo XC40 and Mercedes-Benz GLA.
However, it looks like no other SUV in its class with bold, sculpted lines, a full-width rear lightbar, roof spoiler and that unmistakable Lexus mesh front grille. It looks particularly stunning in Celestial Blue and Terrane Khaki.
Slightly lower than most competitors and sporting a coupe-like profile, it's full of innovative features including wheel arch mouldings which not only protect the bodywork, but also have a secondary aerodynamic function, just like the rear lights and the special five-spoke 17-inch alloy wheels.
Inside, the UX oozes class. There's plenty of room up front and though it's not as spacious in the rear as some rivals, four adults (five at a squeeze) adults can sit quite comfortably.
Luggage capacity is a reasonable 438 litres (401 litres in the 4×4 because it has an additional rear electric motor), or 1,231 litres (1,194) with the back seat folded down.
The cabin itself is stylish, beautifully finished and very Lexus with incredible attention to detail. Up front it's very driver-centric with the instrument panel, switchgear and big 10.3-inch touchscreen subtly angled away from the passenger.
The front seats are eight-way power adjustable and very comfortable, while the headlining is claimed to eliminate distracting shadows from the top of the windscreen.
The instrument panel is black with inlays sporting a grain finish inspired by washi – the grained paper used to make the traditional sliding screens found in Japanese homes. Not only does it look unique, but it's tactile too.
The doors are worth a mention too. Apparently, engineers worked with neural scientists to create the most satisfying and reassuring door-closing sound. It gets better – every vehicle is then checked in a dedicated quiet room by the takumi (and adjusted if necessary) before leaving the plant.
The 7.0-inch digital driver's display, centre infotainment screen and head-up display certainly look slick and state-of-the-art. The only slight issue is that the navigation for the screen is controlled via an initially fiddly touchpad down beside the gear selector.
Unless you floor the accelerator, you're more likely to set off in the silence of pure electric EV mode. If you take it easy and stay within 28mph, this can last for up to 1.2 miles, otherwise the engine will kick in smoothly.
The engine refinement and overall cabin environment is extremely refined, and it's only when you accelerate hard that the 2.0-litre petrol unit makes itself known. For those familiar with CVT gearboxes, this is no surprise. If you want to avoid these short doses of high engine revs, then your best bet it to drive smoothly, which is arguably what you should be doing to make the most of a hybrid in the first place.
On the road, the UX handles well, offering a good balance between comfort and enough body control to give you confidence in its abilities.
The steering is light and responsive, while the turning circle is tight, making it perfect for city driving. There's plenty of grip, but opt for the all-wheel drive version if you want that extra bit of traction or you venture out in more extreme conditions.
It comes with three drive modes (Normal, Eco and Sport) controlled via a knob on top of the dashboard. If you prefer things sportier, go for the F-Sport (Eco, Sport S, Sport S+ and Custom) and upgrade to the top-of-the-range Takumi equipment package.
Needless to say, the UX is also packed with the latest safety and driver assistance technology including Autonomous Emergency Braking (AEB), adaptive cruise control, lane keep assist, lane departure warning, road sign recognition and rear cross traffic alert.
Finally, for that little extra peace of mind, Lexus already scores highly for reliability and customer support, while the car itself comes with a three-year warranty and the hybrid tech gets an extra two years of cover.
The Lexus UX may be late to the party, but it's more than welcome. While its competitors are restricted to conventional engines, the UX arrives as a fully-formed hybrid. Compact, classy, comfortable and economical, it's engaging to drive, distinctive and oozes badge appeal.