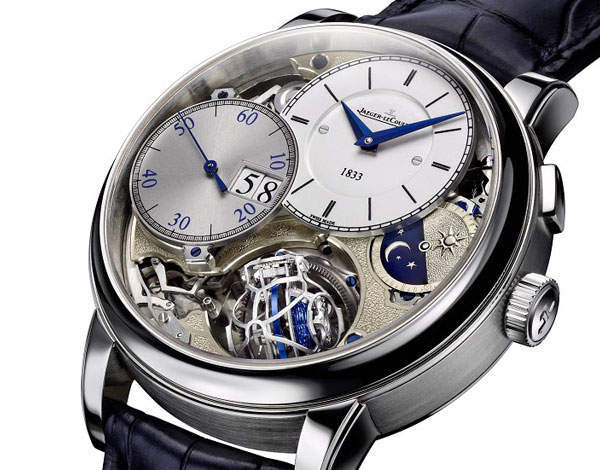 JOUX TO THE WORLD
Switzerland's watchmaking region, some- times known simply as Watch Valley, exists in a narrow strip that runs for 150km along the French border, curving its way from Geneva in the south through the Jura mountains to Biel/Bienne in the north. Even within this stretch, divides still exist that derive from the industry's origins in the Jura farming com- munities, where different villages and valleys would specialise in particular watchmaking disciplines during the winter months.
The neighbouring towns of Le Locle and La Chaux-de-Fonds, in the north of the Jura, are still known for chronograph manufacturing and accuracy, while Geneva's fame has always been for the most decoratively beautiful watches. In the mountains between the two lies the Vallée de Joux, a tranquil area of green pastures and tiny villages that remains the home of the highest-level, most complicated watchmaking.
If you want a minute repeater (which chimes out the time at the pulling of a lever), a tourbillon, a perpetual calendar or combinations thereof, this is still where you come. It is here that Jaeger-LeCoultre's factory has been situated since the company's founding 180 years ago, and it is a locale from which the brand, according to its marketing and technical director Stéphane Belmont, still derives its character. 'It's absolutely crucial, because when you buy a Jaeger-LeCoultre watch, you are buying a Vallée de Joux watch,' he says.
'If you tried to relocate the company to Geneva, it would be the end of it — it would lose all its essence. People up there are living at the pace of the seasons, you feel very close to nature — if you spend a whole day concentrated on intricate watchmaking, when you finish you go out, breathe in that air and relax. The city drains your energy, and you cannot be passionate with no energy.'
Antoine LeCoultre established his firm in the valley's village of Le Sentier in 1833, building it into the area's largest manufacturer of complicated watches and watch movements. LeCoultre & Cie, as it was then, supplied movements to other top-level firms besides putting them in its own watches (Cartier and Patek Philippe were among its clients), before enter- ing into a partnership with Paris-based watchmaker Edmond Jaeger in the early 20th century, which was formalised in the company name in 1937.
Reverso psychology
Jaeger brought an aesthetic refinement to LeCoultre's & Cie's technical virtuosity, a combination well illustrated by the company's 1931 classic, the Reverso. The rectangular watch, still Jaeger-LeCoultre's best- seller in its various forms, could be slid sideways and flipped over (with a satisfying click) — ostensibly to protect it from knocks on the polo field, but also pro- viding a reverse surface for engravings, decorations and latterly second dials and other complications.
Belmont says this kind of canny innovation, backed by the know-how that comes from 180 years of creating first-rate watches (with over 400 patents in that time), is crucial to understanding Jaeger- LeCoultre, a company whose conservative style belies its constant technical prowess.
'When you see a Jaeger-LeCoultre watch, you see something that seems to be a regular watch, but it's full of features that are totally different and unique,' he says, taking the company's Master Tourbillon Dual Time as an example. Ostensibly this is a timekeeper with an extra hour hand for a second time zone, with an attractive tourbillon — the prestigious precision- aiding device, developed in the pocket watch era, which keeps the escapement rotating in a cage construction — visible through an opening in the dial.
The true ingenuity of this watch's design, however, reveals itself through a series of unorthodox details: the watch is self-winding, which few tourbillons are; the hours can be conveniently adjusted independently of the minutes; the date hand, pointing from the centre of the dial to date numerals around the periphery, jumps from fifteen on one side of the tourbillon to sixteen on the other so that it never rests across the tourbillon opening; and that latter mechanism is itself exceptionally precise thanks in part to a tourbillon cage made of lightweight titanium, an unusual material for parts of the watch movement.
'These are all tiny details, but together they add up to something that is much more than you expect at first,' says Belmont. 'We have that knowledge, a savoir-faire, from our history; but from this we can create something new, something different to what went in the past. The point is not simply to rely on tradition, but to add to it new ideas that always make things more interesting than simply repeating what's been done in the past.'
Crystal clear
Jaeger-LeCoultre's modern innovations include a chronograph that is activated by pressing the crystal dial covering instead of pushers, a version of which — developed for Aston Martin's DBS supercar — has a transponder for locking and unlocking the vehicle; an experimental tourbillon movement requiring no lubrication; and the famous Gyrotourbillon, in which a spherical tourbillon carriage rotates on two axes at once, tumbling impossibly and bewitchingly.
This year has seen the Gyrotourbillon presented in its third incarnation (the first was in 2007), as part of a trio of collectors' pieces celebrating the firm's 180th anniversary. Titled the Jubilee Collection, these include the Gyrotourbillon piece, which adds to that remarkable function a chronograph with a digital minute display (not digital in the electronic sense, but in that the chronograph minutes are displayed by numbers rotating through an aperture, which requires significant mechanical power; a perpetual calendar tourbillon piece, or the Master Grande Tradition Tourbillon Cylindrique à Quantième Perpétuel Jubilee, to give it its full name; and (much simpler in concept if no less so in execution) the thinnest manual-wind wristwatch ever made, the Master Ultra Thin Jubilee, which is just 4.05mm thick and contains a mechanical movement measuring a mere 1.85mm from top to bottom.
'We're very close to our clients — we meet them, listen to them, see what they are asking for, and bring back home all the ideas and proposals and start planning,' says Belmont of the creative process by which such uncommon and stupendous watches are born. 'Every time we create something, half the work comes from that listening process, and the other half is our own innovation and requirement to be different. That's how it always was in the past, and we carry on in the same way.'
Keeping watch
The difference nowadays is that while the Vallée de Joux may be the traditional home of such complex watchmaking — to the extent that Geneva brands such as Vacheron Constantin and Patek Philippe maintain factories here for their most complicated watches — it will increasingly have competitors internationally. The Swiss industry has a wary eye on China in particular, where plenty of investment is being made to tap in locally to what has become the biggest market for haute horlogerie.
'Many people are asking us if we're not afraid of countries like China developing their watchmaking and making their own tourbillons and other things. And sure, if you have more competitors it's more of a challenge, but that's a good thing, because you have to be more innovative,' says Belmont.
'But there's something they cannot copy and that's the origin — nobody can take the Vallée de Joux back to China. They can copy our products, but they cannot have the place, or the spirit that comes from it. And that's what is the essence of Jaeger-LeCoultre.'