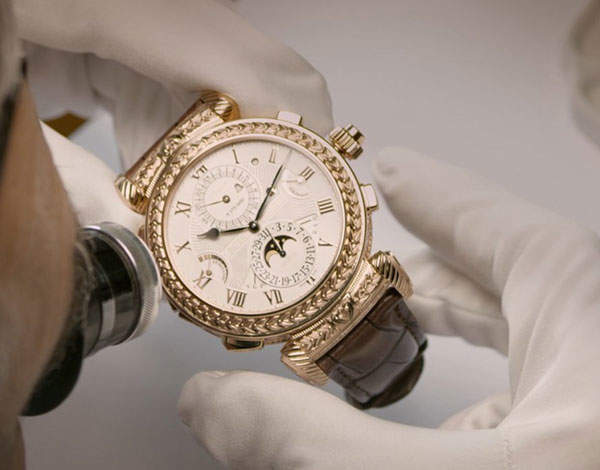 Complex watchmaking can be… well, a time-consuming business. In 1782 the virtuoso French watchmaker Abraham-Louis Breguet was commissioned to build, as a gift for Marie Antoinette, the most lavish and complicated watch in history, squeezing in an abundance of labyrinthine functions. Neither Marie Antoinette nor even Breguet himself was around to see it completed — the watchmaker's son finished the job in 1827, a mere 45 years after the original commission.
With modern techniques, things move a bit faster. It took watchmakers at the modern Breguet three years to re-create the Marie Antoinette watch in 2005, the original having been stolen from a Jerusalem museum in the early Eighties (ironically, it was found again in 2006). Patek Philippe's new masterpiece, the Grandmaster Chime (pictured), is among the most complex wristwatches ever made, quite possibly the most lavish, and was over seven years in development.
In total it has twenty functions, 1,366 components, two faces, a sensationally ornate case that can be swivelled 360 degrees depending on which dial you want face up, and — as Patek's own literature accompanying the watch's launch informed us — its uses include reminding you to top up the parking meter.
It'll set you back a cool €2.5 million — except it won't, because the six being made (plus one for Patek's museum) were almost certainly all sold the moment it was announced, if not some time before. It's been created to mark the 175th birthday of the great Geneva maison, and the key to its complexity is its ability — as the name suggests — to chime out a remarkable amount of information as well as displaying it visually. As a statement of horological supremacy it doesn't half do the job.
2014 turned out to be quite a year for groundbreaking chiming watches. In January Jaeger-LeCoultre brought out the thinnest ever minute repeater, the catchily named Master Ultra Thin Minute Repeater Flying Tourbillon, and followed it up in the autumn with its first minute repeater for women, the Rendez-Vous Ivy, with a dial clad in blue ivy decorations and a case swimming in diamonds. Jaquet Droz, Hublot, Roger Dubuis and Ulysse Nardin have all produced unusual minute repeaters, while Vacheron Constantin reworked the same function as part of its fifteen-complication mega-watch, the Maître Cabinotier Astronomica.
The minute repeater was originally a prestigious pocket watch complication for telling the time in darkness, giving off a chime for the hour, a different chime for the quarter-hour and a third for the number of minutes since that quarter-hour. Sliding a lever on the side of the watch activates minuscule hammers that hit a wire gong encircling the movement, the case acting as an acoustic chamber. It must do so with enough force to be audible, with total precision and tonal accuracy. Achieving this in a pocket watch is one thing; doing so in the confined space of a wristwatch, often in combination with other complex features like perpetual calendars and moonphase mechanisms, is a seriously nifty thing to pull off.
It's for these reasons that the chiming watch holds its place at the top of the horological tree. It isn't just that it's complicated, it's that the engineering has a directly artistic result. Big brands pile vast amounts into researching micro-acoustics just to achieve the purest, most resonant pings.
While the minute repeater is the most common and well-known chiming function, however, it isn't quite the most prestigious. Up above it is the sonnerie — either grande sonnerie or petite sonnerie. Whereas a minute repeater tells you the time 'on demand' when you slide back that lever, a sonnerie watch will simply keep chiming out the time every fifteen minutes. In petite sonnerie mode you just get the quarter-hours — one chime for quarter past, two for half past and so on — while in grande sonnerie mode you get the hour each time as well.
Some time ago a watchmaker who used to create these for Audemars Piguet told me just how tortuous a process it was. He'd leave a watch in a drawer overnight, with the sonnerie activated and a dictaphone recording the various chimes as they sounded each fifteen minutes. The next day he'd listen back, hour by hour, ping by ping. If a single ping was out of place or sounded wrong, he'd have to dismantle the whole mechanism, find out where the problem was and start again, knowing that this in itself might knock another ping out of place. This could go on for weeks, and the whole assembly would take months. 'Almost no one is willing to do this, because it can drive one to madness!' he said cheerily.
Surprisingly, the sonnerie has been the one super-complication missing from the Patek Philippe portfolio. The reason given by the brand has been that such is the function's drain on power, limiting the time the watch could remain powered, that it was too much of an overall compromise. About a decade ago, it seems the decision was taken to use the 175th anniversary as the stage for resolving this; and thus it is that the Grandmaster Chime has a power reserve, with sonnerie activated and those chimes coming every fifteen minutes, of over 30 hours.
But what of that parking meter reminder? Well, the Grandmaster Chime also includes a chiming alarm function — but rather than merely giving off a trill at the appointed moment, it sounds the actual time itself. That's a first for horology, as is the final chiming function Patek has thrown in, the date repeater: activate this and the watch, which includes a perpetual calendar, will ping out the date, with different chimes for months and days.
It's probably fair to say that no firm other than Patek Philippe could produce such a wristwatch, though even Patek's watchmakers admit that it's only with computer-aided micro-engineering processes that such a thing has become possible. Or, at least, possible in a timescale that anyone other than Abraham-Louis Breguet would have baulked at.
Timothy Barber is editor of QP magazine