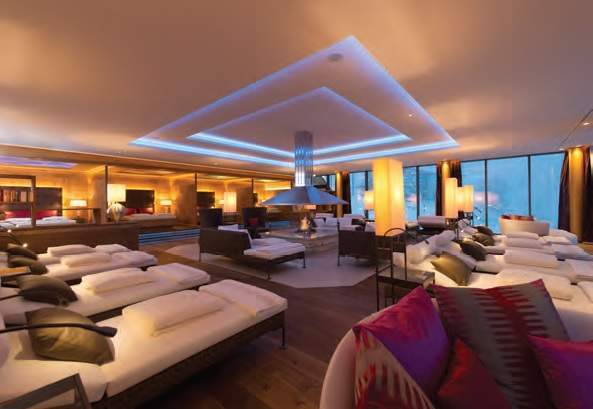 Enclosed in a valley surrounded by magnificent mountains, this family-owned, family-run hotel provides the gold standard of excellence for the Arlberg region. The hotel stands at one end of the village like a welcoming matriarch and in its time has become part of the area's DNA — it is synonymous with the village and its population, not to mention the hun-dreds of guests who return year after year to ski and play and be cosseted. It is old-style traditional on the outside but with a very modern twist in its nature, for it is the type of hotel that realises a guest's expectations before the guest has even thought of them. A quarter of a century ago it opened a spa, the first of its kind in the area, with swimming pool, sauna, steam room and water jets; this winter, it added to its spa offering with a €6 million beauty, the Aureus Spa (obviouslya golden one).
The original spa has been neatly and wittily turned into a Family Spa with mini-treatments for children and therapy rooms where parents and children can enjoy massages and manicures together. It also has steam rooms and saunas at lower temperatures for the younger guests.
The new Aureus stands regally to one side of the Family Spa, on two levels a vision of space, light, blond wood, stone and glass with a panoramic relaxation lounge of awe-inspiring proportions, not to mention views of the mountains. Add to that eight treatment rooms, a bistro, saunas, steam rooms, an alpine hamam, thermal pools and a hair spa. At the other side of the hotel is a sports and fitness area with indoor tennis court and well-equipped gym.
WHO
Families and couples from all over Europe and beyond. Almost half are from the German-speaking countries, but the UK is high in numbers as are Scandinavians. Children are beautifully catered for with a large kids club, shuttle-buses to the ski school, a special children's dinner and baby-sitting services for the tinies.
WHEN
From December through to April the hotel is a skilover's haven. Many guests leave their equipment and clothes here year after year. Within walking distance are two lifts which give access to some 350km of downhill pistes of all grades.
HAVE
Zürserhof is sauna central — there are two in the Family Spa, two in the Aureus Spa, one in the dedicated Lady Spa and two infra-red saunas. There are also four steam rooms and a glamorous Alpine hamam which uses local herbs and muds, and begins with a head and foot massage before going onto the serious cleansing scrub with a special mitt and alkaline soap.
On offer are a choice of massages from classic Swedish to hot stone as well as wraps, packs and a special menu of treatments for both men and expectant mothers. Guests can also create their own spa ritual, choosing body and beauty treatments from the Aureus menu; should they need help and advice, the spa butler is at hand.
DO
Explore the region and get out into the mountains. Non-skiers can take a gondola to a café on high to enjoy the clear air and meet partners or friends for coffee or lunch. Skiers have great swathes of the mountains to enjoy with runs suited to all levels. Tennis buffs can play matches in the hotel's indoor court or improve their game with the help of a coach. Drink masses of water — it is as pure as it can get and comes from the hotel's own spring.
BEST
The signature anti-ageing facial which includes massages of head, legs and arms is blissful, while the honey massage is an intensive hydrating treatment for the body and a total treat as the 1,800m altitude here can have a very drying effect on the body.