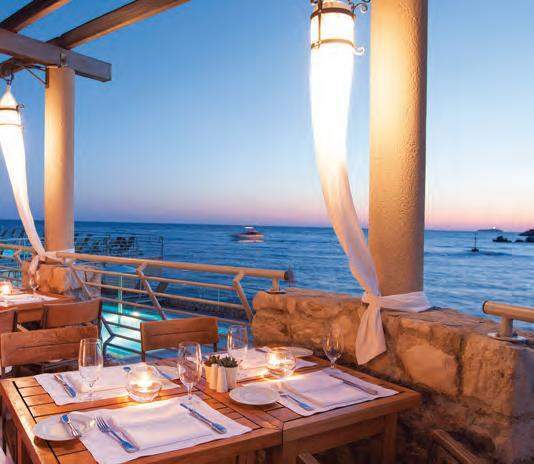 Recently renovated and lovingly refurbished, this iconic hotel has all the opulence and splendour any discerning traveller requires, as well as every comfort and modern convenience that makes life and holidays a joy. With a lush, green backdrop of forest, the hotel, which is located on the Lapad peninsula overlooking one of the most beautiful bays on a striking coastline, descends elegantly to the sea which provides a summer playground for guests.
Each room and suite has a private balcony with great views of the sea across to the Elafiti slands, while the super-luxury suites in the VIP wing all have private access and secluded terraces with magnificent views. Best of all, the hotel is close to the old town of Dubrovnik, a Unesco World Heritage Site, and the must-see in any visit to the area. Guests at the hotel can simply laze and relax at the beach and by the pools, but there is also a wide selection for the active to choose from. The Petka forest just behind the hotel has numerous hiking, strolling, biking and jogging trails, while waterbabies may prefer jet-ski safaris and waterskiing among other sports on offer.
But for those who wish to stay close to home, the hotel has further attractions in its restaurants and bars as well as its own magnificent art gallery, for the Dubrovnik Palace houses over 1,000 original works of art by some of Croatia's most prominent artists. From March until November on the seventh floor is the LUNA+SOL, the art gallery devoted to Contemporary paintings, sculptures, installations and photography from acclaimed local and international artists. Of course, there is also a plethora of pampering treatments available at the Energy Clinic Spa and Wellness Centre, as well as a gym, indoor swimming pool, sauna and Jacuzzi.
WHO
Obviously with its location and VIP suites, the hotel is a natural choice for statesmen and royals as well as celebrities, while the rest of the hotel welcomes families, couples and singles all seeking sun and relaxation or cultural tourists wanting time to savour the delights of Dubrovnik. The hotel attracts all nationalities as well as a number of home-grown guests.
WHEN
The best times to visit, when it is neither too hot nor too crowded, are May, June, September and October, when it's warm during the day and comfortably cool in the evening. The hottest months in high summer, July and August, are also the most popular — and most crowded.
HAVE
Thalgo, Lancaster and Decléor are just three of the luxury product houses involved with the Energy Clinic Spa, all offering treatments and therapies devised by their experts. Lancaster and Decléor are well-known for their skin care and facials, so there is a choice among these for all skin types. Thalgo, on the other hand, is renowned for its use of marine extracts harnessing the healing power of the sea, its plants and minerals, so it offers a wide range of beauty and body treatments, including a number of express therapies for those with little time or for those who do not know the product and want to try it before booking a package or full programme.Try a Plantar Reflexology treatment, which brings ease and solace for sightseeing tired feet and is a mega-relaxing stress-buster, too.
DO
Enjoy the Mediterranean and take a sailing excursion along the coast and out to some of the smaller islands. There are day and half-day cruises which the concierge at the hotel can help you book. But of course, first and foremost, you have to tour the Old City. You can either do this on your own with a guidebook or take a guided tour to climb the golden city walls and explore its Baroque churches, elegant palazzos and 15th-century Dominican monastery with its art collection.
BEST
A sunset cruise or a Mer et Sens treatment, which exfoliates, massages and totally relaxes. Or try the Fine Spine, which uses a number of different techniques to ease aching backs, necks and shoulders. And of course you can enjoy a gentle walking tour of Dubrovnik.