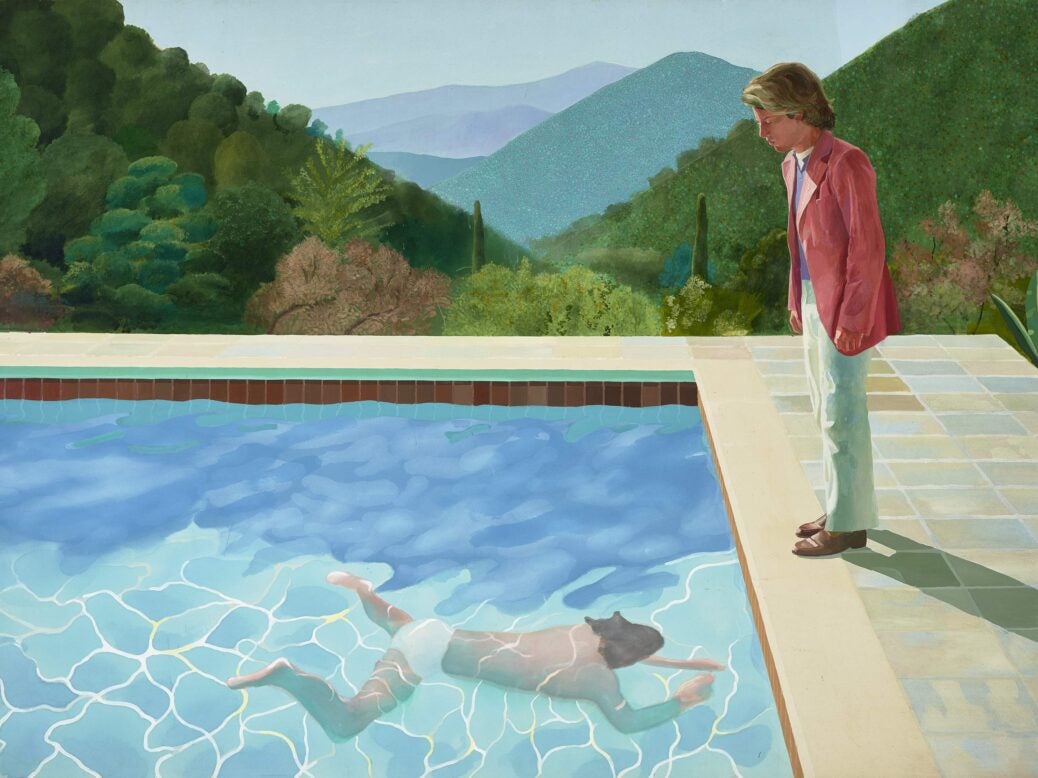 The recent sale of a 1970s David Hockney masterwork sets a new record for a living artist and may be the start of a new market energy for painting, reports Arun Kakar
David Hockney last week became the most expensive living artist to sell at auction when his Portrait of an Artist (Pool with Two Figures) from 1972 sold for $90 million at Christie's in New York. In so doing it eclipsed the previous record by a living article of $58 million fetched for Jeff Koons' Balloon Dog (Orange) in 2013.
The hammer fell on Portrait of an Artist (Pool with Two Figures) at the top end of its $70 million to $100 million pre-sale estimate, and consolidates the reputation of Hockney, 81, as one of the most outstanding artists of this generation. The work was touted by the auction house as 'one of the 20th century's most widely recognised and loved work'. It handily beat the artist's previous auction record of $28.4 million set in May for Pacific Coast Highway and Santa Monica.
'It's fundamentally fantastic news and a tribute to one of Britain's top artists and also, a recognition that lifelong ability and painterly ability is once more at the back to the fore after having been written off for the last 20 years or so,' says Johnny Messum of Fine Art Exchange and Messums Wiltshire art centre.
The painting was previously owned by record executive David Geffen, who sold it in 1995 to billionaire Joe Lewis for an undisclosed sum. Christie's did not disclose the buyer at last week's auction, but notably the painting carried no guarantee: an almost unprecedented move in today's market, where auction houses and consignors jostle to secure top-end works.
Alex Rotter, co-chairman Post-War and Contemporary Art at the auction house said that 'David Hockney's brilliance as an artist is on full display with this monumental canvas, which encapsulates the essence of the idealised poolside landscape, and the tremendous complexity that exists within human relationships'.
He added: 'With this painting, Hockney cemented his placement within the realm of history's most venerated artists, and come November, it is poised to become the most valuable work of art by a living artist ever sold at auction.'
For Messum, this fact that Hockney's work has overhauled that of Koons' record represents something of 'a return to quality' in the market. 'The thing is that Jeff Koons' work has such fantastic quality and power to it but it is someone else's hand,' says Messum. 'The point is that David Hockney's work is his own hand. Now whether or not you think he's a great artist or a good artist is immaterial: the point is that it's his work that you're buying, [and] that has a big part to play.'
Messum notes that painted art had been in 'the doldrums' throughout the end of the 20th century and has ceded ground to conceptual art in terms of its importance and strength. This Hockney sale, therefore, represents 'a broader shift' back to painting.
'I'm very pleased about the fact that painted art is once more in the ascendancy,' adds Messum. 'I think our ability to tell stories and connect with people through those visual images points to a wider interest in that genre that had previously been somewhat underwritten.'
The work propelled the Christie's sale to a total of $357.6 million, with other highlights including $21.7 million fetched for Francis Bacon's Study of Henrietta Moraes Laughing and $18 million reached for Alexander Calder's 21 Feuilles Blanches. Both pieces beat their estimates.
Arun Kakar writes for Spear's
Image Credit: Tate Britain