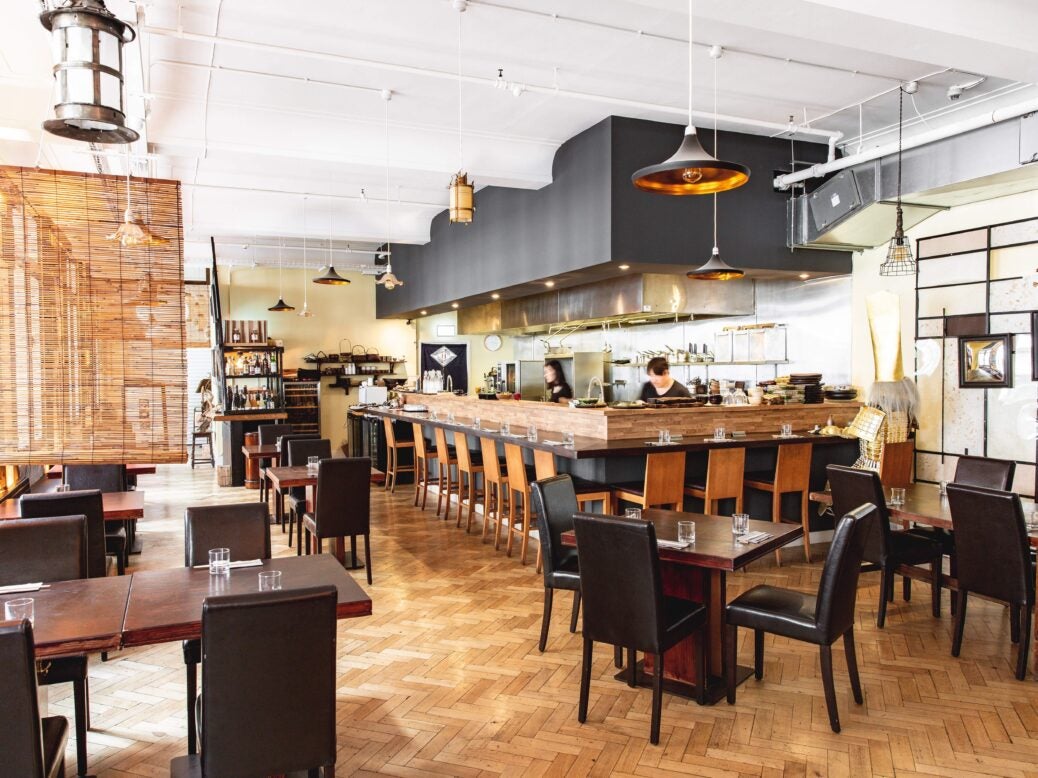 An unassuming Japanese restaurant in Waterloo has a tasting menu to compete with London's big hitters, finds Arun Kakar
A £120 tasting menu brings with it a set of expectations. They include, among other things: immaculacy, pomp, and culinary opulence. Even Hide, that two-storied Mayfair paradigm of extravagance, clocks in at £115 (albeit with a wine pairing selection that can rise to £495). It was a little odd, then, even a little disarming, to arrive at Hannah and have those expectations upended.
Hannah is an unassuming place that you could even call a little shabby. Its speakers beam out a selection of vocal jazz and swing (we're treated to some vintage Sinatra multiple times during our evening), but it retains a classiness, thanks to its smart interiors which are airy, traditional and quaint.
Tucked away on Belvedere Street and enveloped into the enormous County Hall (which among other things also contains the Sea Life aquarium), this intimate space is at odds with its location: to get to the loos, one must exit the restaurant and venture into a cold, Kubrickian corridor.
You soon find out that this all belies the quality of the cooking. Have no doubt: Hannah is more than capable of competing with London's Japanese heavyweights.
Each of the eight courses that comprised our tasting menu – scallop with spring vegetables, egg custard pork belly, sashimi, cold soba, Iberico pork miso, spider crab rice, orange jelly, and green tea ice cream – knocked us for six.
Hannah combines traditional Japanese dishes with the occasional European influence, resulting in a surprising and quite singular experience. Our Iberico pork, for instance, managed to capture both the barbecued richness so redolent of the Spanish classic without overshadowing the delicacy of the leek puree and Japanese vegetables that were served alongside.
In every dish, the attention to detail is minute and the presentation is immaculate. Our cold soba – a gingery, spicy dish – arrived in an ice bowl which, aside from being a sight to behold, also gave the dish a refreshing finish.
Our sashimi, meanwhile, came atop a rock in a set-up that is inspired by a Zen garden; while our delicious spider crab rice was presented in its shell, underneath a pot of charcoal. You'd call it all needless if it wasn't so good. Every dish is tasty, complimentary and very, very pretty.
Sitting opposite the open kitchen, we got to watch as owner-chef Daisuke Shimoyama and his partner commanded the various instruments around them. Both are a sight to behold: as the restaurant goes through various stages of busyness, the pace or mood remains constant, never veering from an assured calmness. Shimoyama carries the dexterity and effortlessness of Michelin-star experience: a former head chef Mayfair's UMU, he's also a certified sommelier and one of the few experts at preparing the potentially deadly puffer fish.
At Hannah your table isn't cleaned after every course, your napkins aren't folded every time you vacate the table and you're probably going to have to refill your own water from time to time. And that's no bad thing.  While there is certainly a time and a place for ultra-high-maintenance service – and it is abundant across London – this isn't it.
This is a place that accomplishes that difficult feat of being uncomplicatedly charming and tremendously endearing: Hannah has all of the quality but none of the fuss.