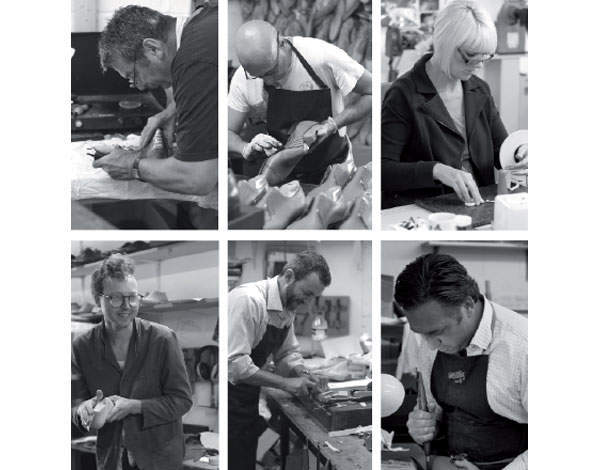 BROGUE TRADERS
Shoes can be quite a giveaway. France's president, a certain Monsieur François Hollande, learnt that the hard way: while his head was safely camouflaged, it was the way his feet were clad that told a French magazine their head of state had been stepping out with a new lady. (Or staying in, as the case may have been.)
And just a few years ago a pair of Berluti shoes was a star exhibit in one of France's most famous corruption trials. A $2,000 pair of these chicest of shoes had been given to France's foreign minister by his mistress, who worked for the Elf oil company and hoped thereby to seduce him into approving a sale of French arms to Taiwan. Makes one look at cobblers in a new light.
Most men, though, I would guess, worry more about comfort and a certain aesthetic neutrality than about flashing a fancy pair of shoes. When it comes to comfort, clearly there's nothing like a pair of finest leather hand-crafted to one's own precise measurement.
And as for a quiet understated elegance, that's a given for the sophisticated man around town, but now he also tends to want something that manages to have a little bit of individuality about it as well. While for years the world of masculine bespoke footwear seemed to be dominated by John Lobb, there is now a growing band of smaller, less well-known cobblers who are offering a different aesthetic and a great deal of comfort to boot.
Cobbled together
Take Gaziano & Girling. These two are beginning to create quite a little stir in cobbling circles. And although their names sound exotic, they're both as English as pale ale. Tony Gaziano and Dean Girling (pictured top) are long-time friends who've been making shoes for years, mostly for other well-known quality brands; they only founded Gaziano & Girling in 2006, since when they've been turning out their own beautiful bench-made shoes for a growing band of in-the-know customers.
They offer both ready-to-wear (£740 to £1,360) and fully bespoke shoes and boots (£3,480 upwards, depending on the skins). But what, you may be wondering, makes them special? First, they are sticking firmly to what they call an English aesthetic, which seems to mean that their shoes have a much more refined sole and heel proportion than their slightly coarser, chunkier continental rivals. (They're not above introducing also a tiny touch of continental flair in the form of a slightly shaped 'waist', though.)
If you like your shoes with a bit of a back story, they can do that, too. They use what they claim are the best leathers in the world — sole leather oak-tanned for twelve months in 2,000-year-old tanning pits originally constructed by the Romans. They also offer some exotic skins and some fine leathers from France, Germany and Switzerland.
Although the bespoke range is the ne plus ultra of the brand, they've also put a lot of work and thought into the ready-to-wear collection, coming up with a proper Goodyear welted shoe that is also elegant. G&G were, it seems, the first to put a fiddleback waist on a ready-to-wear shoe, a feature which gives it a much more elegant, slender look and today is copied everywhere.
They also put a great deal more effort into sophisticated detailing than is normally found on a ready-to-wear shoe, offering a much bigger range of special colours, leathers and shapes. What they manage to do so skilfully is to avoid what might be called the disproportionate conservatism that often besets the English shoe industry and yet retain its subtle virtues.
No Englishman, after all (and it seems many a continental entirely supports them in this), wants all eyes to be drawn towards his footwear.
Elite feet
They've begun to attract quite a lot of fans. Lapo Elkann, the Fiat heir, is rumoured to have close to ten pairs. He's been followed by John Elkann, Ralph Lauren, Tom Wolfe and French entrepreneur Xavier Niel, who all find in the Gaziano & Girling shoe something they don't elsewhere. One blogger (on styleforum.net) describes Gaziano & Girling shoes as standing out in the world of shoemaking like a 'Vermeer in a room full of Davids'.
Some of the brand's French fans have been so impressed that they not only own several pairs each but have also decided to invest in Gaziano & Girling itself, which is why a brand new factory recently opened in Northampton — the first new welted shoemaking factory to open there for over a hundred years. There are ambitious plans afoot to grow the brand, to increase the ready-to-wear offering and to have more retail outlets.
For the moment you can see and buy (or order the bespoke versions of) the shoes in the basement of 12 Savile Row, where there is a display of some of the current designs and styles. But with this new exciting investment, a bigger factory and a growing head of steam behind them, a shop of their own at 39 Savile Row is going to be launched this summer.
gazianogirling.com
FEET FIRST
Founded by Deborah Carré and James Ducker, Carréducker offers all the usual classic lines (Oxfords, loafers, boots), but where it is entirely different from anybody else is with its Winkers line of tweedy shoes. Carréducker called them 'English-made louche classics — ideal for in-flight, pool or beachside'. You choose your tweed and they're made to order. From £2,000 a time. (Below: Canvas deerskin Derby).
Mr Hare is Marc Hare, who would really like to be surfing but in the meantime makes some divine shoes ('shoes for the night', he calls them, because they are designed to go out and have a good time). They are handmade in Empoli in Tuscany. Right off they started selling in Dover Street Market, Colette in Paris and other hip outlets at around £500 a pair. His Jodhpur boots are particularly to be desired.
Pierre Corthay learned to cobble at John Lobb and Berluti and has his own tiny atelier in the Rue Volney in Paris, plus a shop on Motcomb Street. The style verges towards the adventurous (the Sultan of Brunei is a fan) and his ready-to-wear range outsells John Lobb in Harrods. At department store Isetan, Corthay shoes have become a cult buy. Ready-to-wear start at £1,200, bespoke at £6,000.