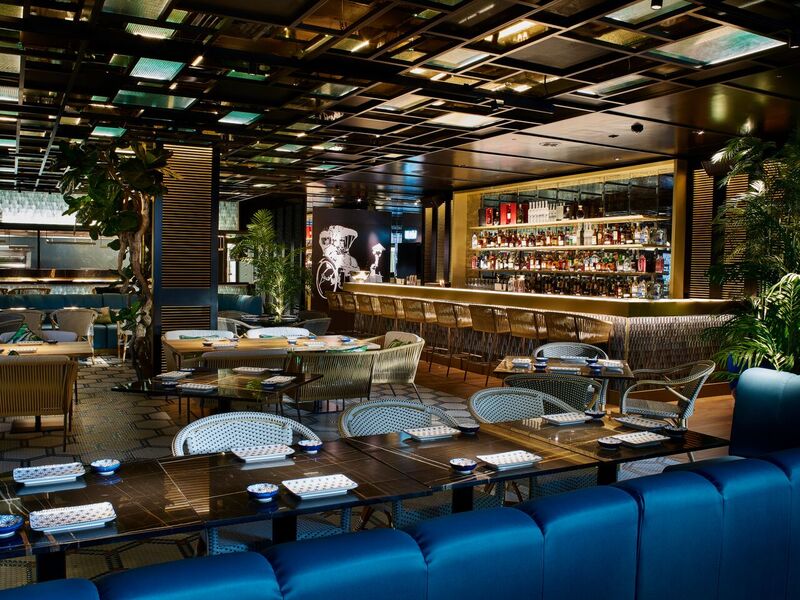 Arun Kakar visits London's latest fusion offering, and finds plenty of merit in meppon
There's reason to be sceptical of 'fusion cuisine'. Diners are now wary of perfectly good dishes, confusingly combined –  or 'fused' – to reveal a rogue's gallery of cronuts, sushi burgers and Yorkshire pudding burritos.
It's a trap that fine dining can also be caught in – mistaking geographic combinations for culinary innovations, resulting in dishes that resemble cobbled together table scraps from the neighbouring outlets.
So here we are at Zela, in the capable hands of Enrique Iglesias, Christiano Ronaldo and Rafael Nadal, who have joined forces in Aldwych with a fusion combination to test even London's culinary open-mindedness. They together present 'Meppon', a concept that originated in Ibiza and fuses together Japanese cuisine with Mediterranean.
Spear's scepticism suitably spiked, would we be eating tapas teppanyaki style? Gratin gyoza?
When we arrive, it's clear that if this is a gimmick, it's a very expensive one. Tucked around the corner from the Strand in the ME hotel – Zela is putting money where its mouth is.
It's clear Iglesias, Ronaldo and Nadal are looking to bring some serious heat to the West End with Zela, despite the adversarial weather outside. The interior could double up as sprawling rainforest-style nightclub if the tables were removed. There's a DJ booth, a pretty formidable soundsystem, and a lot of plants. What could have felt like an oversized Jungle Gyms is actually an oddly calming respite from the Central London bustle outside. Even the air feels a little lighter.
We open proceedings with cool cocktails enjoyed under chill house music. These are delicious, at first confusing to the taste but, ultimately, totally coherent and very moreish.  The Matilda, for instance, brings together Italicus gin, yuzu juice, shiso syrup, and lime together with in a syrupy, not-too-sweet balance. The proof, so far is in the concept.
With over 20 items on the cocktail menu alone, it's easy to get carried away, but we resist. The menu reads like a challenge, with elements of each item inviting an element of surprise.
Zela's menu is confusing to those who, like us, are unaware of the Meppon concept (as far as I can tell, it's a concept pioneered exclusively by Zela).
We browse confusedly through gnocchi with miso, Sunomono with calamari. Initiated with salmorejo and edamame, we're grateful that our waitress is a deft touch at guiding us through its nuances. We settle on the sashimi platter to start with. We're told it has everything, and when it arrives, as a grand platter served on a bed of ice, lit by neon and presented around a décor of plants and yes, bamboo, we're not in any position to doubt.
There's tuna, three pieces each in order of fattiness, scallops, and sushi moriawase. The former two items are sashimi at its direct and uncomplicated best; the latter is the most intriguing. There's a lot going on with the three we're each given, featuring brown sugar and white fish, caviar and pastrami. Here the feel of sushi is present, but the taste doesn't match the texture. It's most evident in the pastrami that's hardened meat is at odds with the typically supple fish that you're likely to find atop the rice.  It sticks out as a bit of an anomaly on an otherwise outstanding platter, but that's not to say it doesn't work. It's a brilliantly salty, tantalisingly small, but is it sushi?
As endless lively music accompanies us throughout the evening, it's all too easy to draw an analogy between Meppon cuisine and one of the soul remixes the DJ continues to serve up. Japanese cuisine appears to be the 'original' where, whereas the Mediterranean cuisine is doing the 'remixing'. The essence of the original is there, but it's been reworked, rearranged in ways that are often totally original.  This is a thesis that comes to a head with the arrival of our mains, which are outstanding.
There's the Waygu Teryiyakai, so tender that the slab of meat can be eaten with chopsticks. It's everything waygu should be – juicy, flavourful and moreish. There's the Duck Zela too, served with bao, rich, gooey and soft. Both dishes – which we share – are recommended for those with doubts about Meppon as a concept and Zela as a premise. Both feel traditional yet new, like being introduced to a new person with whom a familiarity is immediately shared.
When we finish the last of our Sauvignon – the crisp Cloudy Bay, from New Zealand – over macadamia nuts brownies and white chocolate cremoso, Zela has converted us. We're full, merry and feel both as though we've learnt a thing or two. Zela is a totally different ball game.
Arun Kakar writes for Spear's