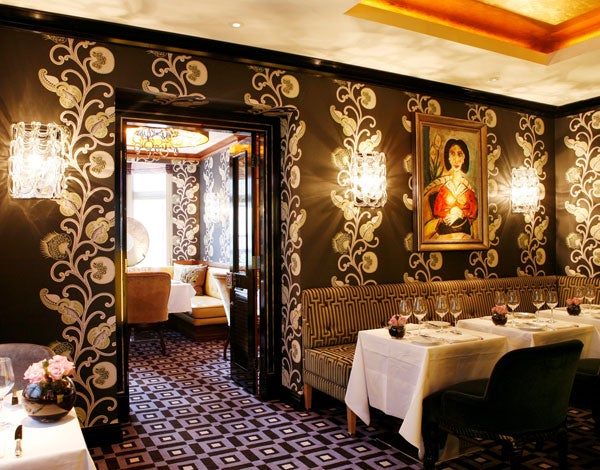 William Drabble has gone all out to celebrate British game and truffles with an elaborate but delicious culinary parade says Alex Matchett
Truffles are notoriously difficult to find, hidden away as they are in the nooks and crannies of the forest floor. Fitting then that some of London's best truffle dishes are currently being served in the cosy Seven Park Place restaurant at the St. James' Hotel & Club, itself a venue hidden away amongst the warren of alleys that sit just south of Piccadilly.
In time for winter and the festive season Head Chef William Drabble has drawn up a menu to celebrate truffles and British game. It's perhaps not so much a celebration but a full on carnival, a rolling earthy parade of deep meaty flavours amplified to eleven by the ever present woody elixir of truffle.
The first course was carpaccio of hand-dived scallops, Jerusalem artichokes and truffle vinaigrette, a fleshy and succulent starter built around massive scallops that doesn't offset the later meats but rather queues them up with their fleshy texture.
The next dish made use of pasta to contain the game: Ravioli of wild rabbit with langoustines, leeks and truffles. This, like the scallops, was superb. The thin and finely crafted pasta did nothing to impede the soft juicy texture of the rabbit inside, the langoustines brought a fresh salty breeze and the leeks kept everything grounded with the nostalgia of a warming, wholesome stew.
Beneath all this was the truffle, blending everything in a deep and creamy way, which gave it a strange sense of seamlessness, not in anyway unpleasant.
These two dishes were outstanding, although sadly the wine until now had been substandard, the Chardonnay ('Bramare' Vina Cobos, Marchiori Vineyard, Lujan de Cuyo, Argentina 2013) with the ravioli was simply too clean and clear, making it a disinterested onlooker with a weak handshake while the Riesling ('Gaisberg Reserve, Weingut Schloss Gobelsburg, Kamptal DAC, Austria 2012) with the scallops had been well…Riesling. In my opinion a wine too often discounted from being paired by its oily sweetness, it's really masquerading at dinners, giggling to itself that it has managed to get to the table at all.
However after this they picked up significantly, with a delicate Chilean Carmenere 'Los Lingues', Casa Silva Gran Terrior (2012), which played with the array of meat served with a game marmite and truffle. This was followed by a wine from British Columbia's Okanagan Valley: the Mission Hill Oculus (2002), a stand out glass of real depth and character, brooding with rich berries and without any overdrawn flattening flavours you get with older wines, it was perfect drinking.
The Oculus paired a saddle of venison with pomme de terre Ninon and salt baked celeriac. The meat was incredible, almost melting, as was the wood pigeon that preceded it, benefiting from the truffle's alchemy. But such wealth cuts both ways: On their own these dishes would have been rich enough but when brought together the woody, meaty hits, turbo charged by the truffle, became so big that the game started to resemble American Football rather than forest creatures, especially as between each course there was rather a lot of stoppage time before the next play.
The meal ended with truffle ice cream. Although the lady next to be said this was incredible I thought it tasted as if a ham rind had been put into a dirty pint of milk which was then left in the sun, then frozen, or at least chilled. It just didn't work.
That was a truffle dish too far but although Drabble has applied his truffles liberally it is to mark these meats and seafood as something to be cherished and enjoyed fully. He revels in these dishes and has created them with a charming intensity. I admit, an odd phrase, but when he joined us afterwards it was not without emotion that he revealed his sense of stewardship to the dishes he makes.
There is heritage to game and its traditional sense of fortune. He told stories of rabbits smoking in stovepipes to preserve the catch through the winter, as well as the risk still involved in catching the fish he serves: One fisherman's son had recently been caught in a net and spent two minutes beneath the North Atlantic before they were able to pull him out, thankfully alive.
Apart from the ice cream, any of his dishes would be welcome on the menu of any great restaurant, especially at this time of year. Eat them all together and you might suffer serious game fatigue but that is credit to how hard each one works to bring out their ingredients. Drabble and Seven Park Place are rightly celebrating truffles and British game, and it's a suitably bombastic party.
Seven Park Place by William Drabble