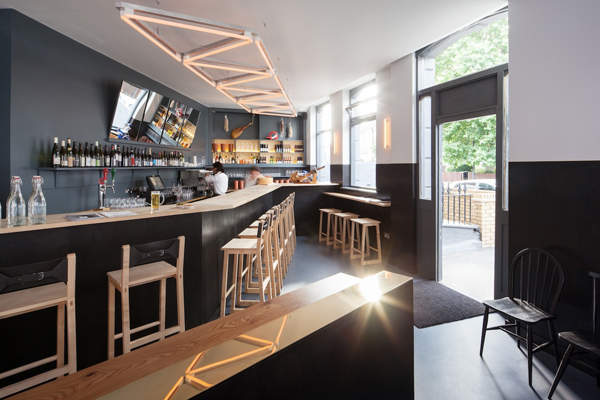 Go for brunch at Bad Egg
Bad Egg is brought to you by Noble Inns and is to be found in a rather uninspiring part of the city, near Moorgate. It is, however, perfectly located for a brunch before heading to the Barbican for some cultural nourishment.
(Alternatively, if you are one of those city workers unfortunate enough to still be in the office at 5am on a Saturday morning, I advise you hold on a few more hours and then treat yourself to something when Bad Egg opens.)
It has a great menu covering everything from breakfast tacos and huevos rancheros to French toast and fried chicken with peanut butter and jam. Yes, the last one sounds a bit bizarre but also worth trying just to see if it is simply genius. The food is big and bold and the restaurant is a fun place to sit. It cheers up the grey concrete of Moorgate no end.
Try a Nordic pop up in Clapton
Nordic food /and/ foraging? No wonder this is taking place in Clapton, where all the trendy Wendys live. Nordic chef Christoffer Hruskova, former chef patron of Michelin-starred North Road, is taking over the dinner menu at Verden (pictured below) from 21 March to 5 April.
The menu will use ingredients foraged from the South Coast and New Forest by Peter Studzinski and will include dishes like veal sweetbread, nettles purée, spicy leaves and cheese whey (£10); lamb belly with turnips, wild garlic and unripe elderberries (£14.50); and rye bread porridge, beetroot sorbet and milk (£6).
Book yourself in for a lovely wine tasting
On Thursday 16 April, Cameron Douglas, New Zealand's first and only master sommelier, will be hosting a party to launch the new Summer Case with the New Zealand Cellar.
The Summer Case will be made up of twelve bottles from the Family of 12 group in New Zealand, and this is a great chance to taste these excellent wines in the very suitable venue of New Zealand House.
Cameron will introduce each of the wines, and guests will then be invited to enjoy each and discuss with the vineyard's representatives to learn more. You'll also be able to buy the entire Summer Case on the night for £190.
Tickets are £40 per person, including samples of each wine and nibbles courtesy of Neal's Yard Dairy.
More information and tickets here
Support Henry!
Finally, while he is looking for a new home for Racine, our friend Henry Harris is cycling 100 miles to support Macmillan Cancer Support. You can help him on his way here