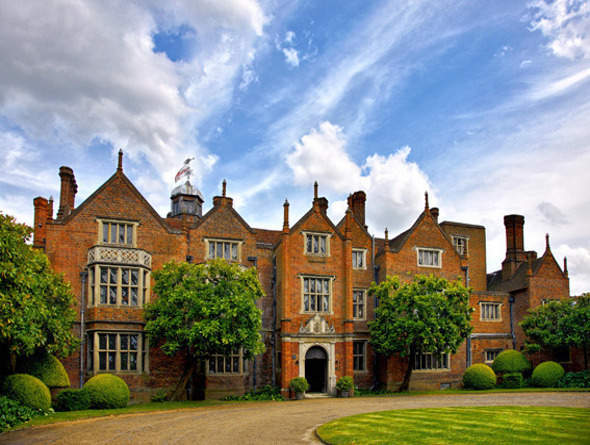 If you know anything about the Rookwood family, as I'm sure you all do having done thorough research, you will know that I have been denied a country pile as a result of the Gunpowder Plot. Great-great-great… uncle Ambrose Rookwood supplied the horses to Guy Fawkes and looked great in a cape, history records. He was also hanged, drawn and quartered, which was not such a great look.
Claudia Schiffer currently lives in what I like to refer to as 'my house', which is very upsetting. Anyway, this is probably why I have a huge love of rambling country houses with their red velvet ropes, heavy fabrics and dark paneling.
Great Fosters is one such place. The entrance hall is full of aged wood and grand fires, and a dense wood-smoke haze hangs in the air. It is beautiful and is like walking into a National Trust property that you can actually play in without being told off by a ninety year old volunteer in orthopaedic sandals.
The main reason for visiting Great Fosters was their new fine dining restaurant, The Tudor Room, looked after by head chef Shane Hughes (pictured left). Shane was previously head chef of Ynyshir Hall, where he won them a Michelin star.
Cheese menu
Unsurprisingly, the food in the Tudor Room is excellent – ingredients are of the highest quality and they are thoughtfully combined with great skill. We tried the eight course tasting menu – and why wouldn't you, especially when there are exceptional dishes like the cannellone of pig's ear and chorizo with root vegetables, Cornish scallop and tomato fondue (one dish).
The small cannellone (only one, you see) was delicately filled with vibrant and equal-sized cubes of the ingredients, the pasta had the perfect amount of bite and the scallops were beautifully translucent and soft. It was truly excellent.
Pictured above: Pigeon salad at the Tudor Room
The cheese course is also worth seeing. It comes with a cheese menu in a little envelope so you can identify all of the cheeses sitting in front of you – about twenty if I remember correctly.
The flavours are on the whole European, though there is a distinct Asian influence. In fact, the chef's signature dish is called Asian Forest (pictured below) and is a wonderful combination of lemon grass, chilli and ginger in the form of marshmallow-and-parfait mushrooms on a forest floor of meringue and glistening puddles of fruit puree.
It was unexpected and there is a real kick to the chilli, but the overall effect was wonderful and certainly memorable (and for the right reasons, not as some unsuccessful overly cheffy flourish).
Come for lunch
As well as the evening menus, there is a ridiculously good value lunch starting at only £29. So, for the same price as a distinctly average pub lunch you can get something really rather special here. When we visited there were only three people working in the kitchen as they were down a sous-chef. We were none the wiser until the next day when we spent a few hours with Shane in the kitchen.
Shane is involved with every process, from making the bread to plating up at the pass, and from the few hours we spent with him it is clear that his dedication doesn't stop at the food he produces as he looks after his young staff too – Frenchy and Ferret as they are affectionately known.
It is a pretty new kitchen with a very young brigade, making the food they deliver even more impressive. They very kindly came in on their day off to talk me through their processes and cook a few dishes for our lunch (which we got to eat at the pass, with a pint glass full of orange juice – best not to ask about that bit).
Anyway, as it is game season, Shane gave us a thorough run through of all things game. He also created a glorious partridge pie (which you can make yourself as it is this week's guest recipe). He used to make a version of this with quail but this was the first attempt with partridge and mighty successful it was too.
Game tips
So, before you head off to have a go at it yourselves, here are a few of his best tips for preparing game birds:
> Always ensure you buy birds that have been hung for a sufficiently long time. Blood is acidic but sweetens with the hanging process.
> The bottom of the bird should be blue, to show that it has been hung properly.
> If you are deboning your bird at home (please watch Julie and Julia also at this point), the easiest way to remove the wishbone is by simply rubbing your knife against the flesh to reveal the wishbone and removing it with your fingers.
> When cooking a very lean cut of meat – for example a pigeon breast – grill gently in cream. The cream forms a skin and prevents the breast from drying out.
My advice is to firstly make the most of the abundant game now that it is in season and not be afraid of it – your butcher can deal with the gory bits if you're not confident with the butchery element – but also make time to get to Egham.
It is only 40 minutes from Waterloo, so very doable for a weekend lunch. London cannot offer the sort of experience you get at Great Fosters – it isn't just the food, which is without question excellent, but also the setting, the smells and the sense of escapism it provides (even if you can still hear the motorway gently purring away in the background).