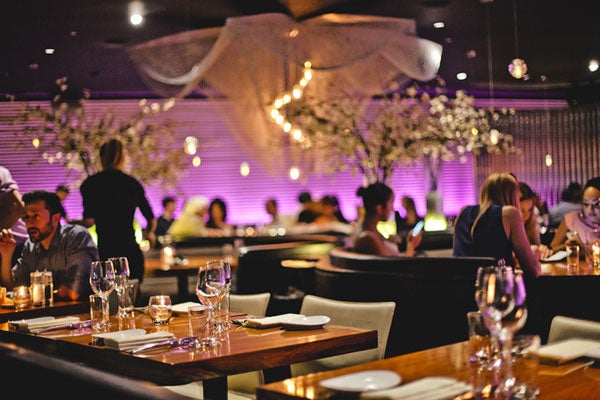 So where does Spear's have dinner in London's theatreland after our awards at The Savoy?
Thanks to a few glasses of Nyetimber English sparkling wine at the post-awards reception, I wasn't in the mood for a long cab ride. Nor for paying any attention to recent government guidelines that look to put English bacon – with steak next under scrutiny – on the health warning list. The opposite in fact.
So I, my wife, Spear's awards judge Rupert Phelps and Tatler's Little Black Book girl-about-town India Clarke walked all of 100 metres to STK London which is also part of the uber-trendy ME hotel.
You enter through a twenty-foot-high glass wall. A Bond-like doorman with an earpiece frowned slightly at our dark City suits but after a brief pause the glass wall opened into a low-lit central lounge area surrounded by an elevated mirrored wall dining room. It's decadent, sexy and super chic. Suddenly you're in a West Hollywood supper club – not the West End.
It's not often that the cover of a menu gets you excited before your first tray of soft-shell sliders – with pickled ginger and crushed cashews – arrive on the table, but STK's looks and feels like a seriously slick neo-retro Stones LP. The image is a sexy and exotic delight that David Lachapelle himself probably took; it depicts a seriously leggy girl in a seriously short red lace dress holding not a handbag but a large silver butcher's meat hook with a giant blood-red raw steak. At STK, this is known as The Tomahawk – it's 1kg in weight, and comes with confit shallots, garlic and mushroom and red wine (£95).
Other steak options include a 750g cowboy steak at £65 and a T-bone at £55; all are available in less intimidating sizes and prices. I had the medium fillet at £40 which was a haunch of melted heaven. Other options include the Wagyu at £40 per 100g (we had a tray of mini-Wagyu burgers as a starter), or you can try a Hereford sirloin.
Now, the Hereford steak option probably isn't on the menu in Vegas where STK (part of the One Group) has one of its most famous restaurants in the Cosmopolitan Hotel. I have no idea if the Rolling Stones have ever played in Vegas but if they ever were to again – judging by the YouTube video of young blonde Vegas party sirens swirling champagne at the bar – STK Vegas is exactly the sort of place you'd expect to see Mick and the gang tucking into the very best USDA prime steaks with a choice of ten sauces. We had them all.
The contemporary 'International American' menu has been created by executive chef Barry Vera (formerly of The Clarendon and Marco Pierre White) and also has a very strong Californian wine list, along with some exceptional New World wines put together by Sommelier Tamas Toth.
Sam Coretz – who runs the runway-style bar with the sort of shimmering stools that I would imagine Karl Lagerfeld having in his Paris apartment – has created a cocktail list with such bespoke drinks as Not Your Daddy's Manhattan – which my wife enjoyed (twice) – a twist on the Old Fashioned, and the zinging Lemon Stiletto, which I am told is three splashes of Grey Goose citron, St Germain, lime, passion fruit and vanilla. Another thing I liked is that the cocktails have been created so that you can drink different cocktails with each course as opposed to changing wines.
STK is not only about steak. If you are worried about devouring half a cow at dinner, you can always opt for coconut-fried halibut or swordfish ceviche from the raw bar.
Although STK is not exactly your average family steakhouse, it's not all expensive. There's a popular glazed spiced venison loin at £22 or hot and cold lobster at £45. Starters are exotic, tantalising and unusual without being pretentious. Europhile foodies won't be disappointed. They include roast bone marrow and roast pumpkin veloute and smoked duck carpaccio.
If you are going to the theatre and want to end the evening in the 21st century as opposed to some fusty theme park, come to STK. While I am glad to note that Simpson's in the Strand – which opened in 1828 as a chess club and coffee house and looks like the sort of panelled-walls-and-starched-tablecloth after-theatre grill that even Lady Mary Crawley might have had reservations about dining at on a sojourn to London – is still going, a night out in the West End should not be about Edwardian time travel.
Occasionally the restaurant hosts 'all you can drink' exotic cocktail and steak nights, which could end up resembling a Caribbean Sunset Cruise voyage where people dance on the tables and more. But hey, if you are single, good looking and want some mid-Atlantic singles fun on a Friday night in the world's greatest city, then why not? If you can get past the doorman, that is. Dress up – retro Voyage or Versace will get your the best table – and bring the black card.
Our little Spear's party was certainly in the mood for some sophisticated and raw swinging Nineties glitter-glamour – and we got it at STK. As the restaurant declares on its menu's back cover, 'Don't expect to find any stuffy antiques on the wall or a stuffy atmosphere.' Indeed the only antique I could see as a surveyed the mirrored walls at STK was my own 49-year-old reflection staring back at me. Next time, I'll lose the tie.
For anyone who finds the idea of an American steakhouse 'a tad on the boring side', STK reinvents the idea of what a chic steakhouse can be. From the highly polished rosewood round tables and the deep booths, the place is more spacious and relaxed than the Chiltern Firehouse. You get the fun of a mid-Atlantic steakhouse without your wallet being overcooked – or plain burnt, as it was on my last visit to the Firehouse. Definitely worth a return voyage.
stkhouse.com
336-337 The Strand
London WC2R 1HA
020 7395 3450