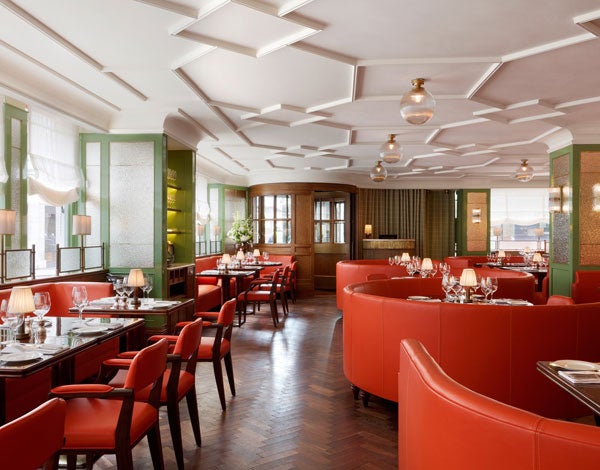 The clock at the front of Fortnum & Mason has always chimed every fifteen minutes – but downstairs in the old Fountain restaurant, time stood stubbornly still.
You came to be mothered by the staff after a hard morning's Christmas shopping, rather than for the menu (which was marooned somewhere between the end of rationing and the fall of the Berlin Wall). It always felt a bit like eating inside one of those musical biscuit tins they sell in the Food Hall, but everyone was terribly fond of it.
Eventually, however, the Fountain ran dry. It was starting to look embarrassingly out of step with the rest of the store, which chief executive Ewan Venters has been busy sprucing up since he took over in 2012. Something had to be done.
After a major re-fit by Martin Brudnizki Design Studio (of all the Ivies, Scott's and Hix fame), it's disappeared altogether – and risen from the ashes is handsome 45 Jermyn Street.
Gone are the acres of duck-egg blue and the chintzy chairs. In their place are banquettes and booths in burnt-orange leather, bakelite-bottomed lamps and a gorgeous marble-fronted dining counter.
The food, too, is in a totally different league. I mean, there's a caviar trolley (yes, really). You can kick things off with a smackerel of scrambled eggs cooked at your table, plus teeny-tiny baked potatoes and blinis, soured cream and miniature dollops of Golden Oscietra. It's like bagging a seat at the world's best dolls' tea party.
The other starters are just as jolly. Spätzle, the dinky dumplings that Fischer's on Marylebone High Street does so well, are smartened up with lashings of lobster. The dressed crab comes with two bunny-ears of toasted bread. You get the idea – Railway Children meets Le Caprice.
Don't be fooled by the whimsy, though. Head chef Lee Streeton has done stints at Brown's and The Savoy, so he knows all about letting ingredients speak for themselves.
The Glenarm rib steak is a serious piece of meat, cooked with due reverence, and pumpkin ravioli is a dish of complex, earthy beauty. Sides are magnificently old school – you can have cauliflower cheese or petits pois à la Francaise, and potatoes come chipped, baked or boiled.
For dessert, we go full-on Famous Five. My Knickerbocker Glory comes in a glass almost a foot high, crowned with an Everest of blowtorched Italian meringue. I actually squeal when I spot it making its way towards me across the restaurant.
It isn't just me. All around us hedge-fund managers are beaming into ice-cream floats or gleefully snapping away at their steak knives, which have '45 Jermyn Street' engraved in tooth-fairy-sized letters along the top of the blades.
Two days after it opened, the place is rammed – and deservedly so. It's all good, clean – but never fusty – fun.