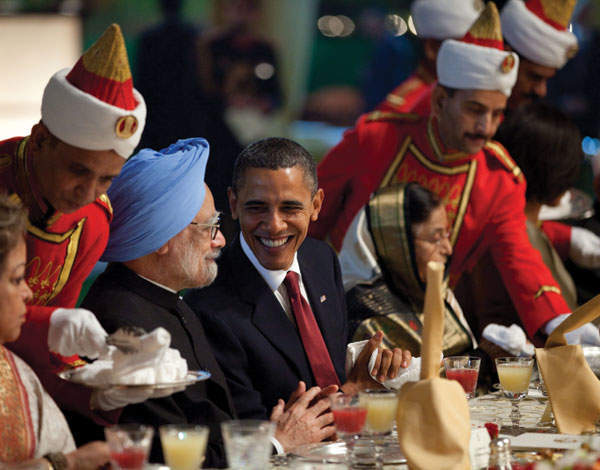 The American ambassador to the Court of St James, Matthew Barzun, is in a bad way. Asked in the October edition of Tatler what he would serve at his ideal dinner party, he responded: 'I'll tell you what I would not serve — lamb and potatoes. I must have had lamb and potatoes 180 times since I have been here. There are limits and I have reached them.'
English patriots, Welshmen, celebrity chefs and others have joined as one to decry him. 'What's wrong with lamb and potatoes?' they ask. 'WHAT'S WRONG WITH LAMB AND POTATOES?' They do a little dance. 'LAMB AND POTATOES! LAMB AND POTATOES! LAMB AND POTATOES!' Rowley Leigh of West London's Le Café Anglais wonders if the ambassador is 'not a very sophisticated character' and adds: 'The thing is the Americans don't really get lamb. They'd rather have beef or beef, or possibly beef.'
Partial as I am to lamb and potatoes, though, I think that the ambassador might actually have a point — and it's a point that the partisans of lamb and potatoes may be slightly missing. If you're an ambassador — or the more outgoing sort of CEO — you will spend a good deal of time eating banquet food. And banquet food is generally pretty conservative. Even when it's done well, it's pretty conservative. And very often — since producing hot, well-cooked, posh-looking grub for dozens or even hundreds of people at the same time is tricky — it is not done well.
Pork is usually out, for obvious reasons. Beef is a risk if you're expecting Hindus, and it can be tricky to cook — banquets tend to give you Wellington, which is fiddly, or braised featherblade with an over-reduced jus. Nobody really wants to cook fish for 200 people. Shellfish? It's a brave caterer who risks that with nothing by way of legal protection but a pair of crossed fingers. Chicken? A breast of chicken doesn't really say putting on the Ritz, does it? And it takes a brave banqueting manager indeed to make the whole room go vegetarian.
So you're left with lamb. Lamb and potatoes. My hunch is that Mr Barzun will have eaten a lot of dauphinoise. A fair few slicks of pommes purées. A number of those strange cylinders of potato that stand on a plate like lonely gasometers. And the lamb? He'll have had it roasted in French racks, presented in médaillons and cutlets, done as a trio or a collection of 'textures': a hockey-puck of slow-cooked shredded meat, a sort of croquette, tough cubes of liver threaded on to the inevitable wan rosemary sprig…
Who wouldn't, after a while, feel the guts start to revolt? It strikes me that — Ferrero Rochers aside — those in the worlds of diplomacy and the top end of international business and philanthropy are quietly taking one for the team in the gastronomic department. They are suffering an unexpected punishment for their eminence.
Oh, sure, when dining one-on-one the HNW is able to command top-flight private chefs, tables at the best restaurants in the world. But if you do the circuit of galas and banquets and awards ceremonies, you will end up eating a lot of rich, pseudo-fancy mass-catered food and you will get sick to the back teeth of it. Or sick to the stomach: the sort of sick that requires Alka-Seltzer.
Friends, I do not only diagnose problems. I do not only extend the lamby balm of understanding to the digestively disadvantaged. I come bearing suggestions. The suggestion is that the culture — the serving-counter culture — of banquet eating should change.
Trying to mass-cater the sort of fancily plated cheffy grub that ordinarily belongs in an haute-cuisine restaurant is extremely difficult. It's a recipe, if you like, for taking expensive ingredients and making them slightly disappointing. So why try?
What cooks well in huge quantities, is forgiving of timings, can be served pretty quickly and is utterly delicious? Stew. That's what. Hear me out: I know that the word itself doesn't have 'gala meal' written all over it. But you'd have said the same about 'boil-in-the-bag' before it was re-invented as 'sous-vide'. Think not of the word, but of the thing.
Imagine if, instead of your already cold lamb three ways, your grim puck of dauphinoise and your attractively presented but waterlogged baby carrot, you sat down at the ambassador's banquet to a steaming bowl of something herby and unctuous and filled with meat and vegetables. Think of it: shin of beef and carrots, say, speckled with toasted sesame seeds and Korean spice. Or — if halal/kosher problems aren't presenting themselves — shoulder of pork with cannellini beans and cavolo nero in a richly hammy broth. Or I'll tell you what. You know what combines really, really beautifully in a stew? Lamb and potatoes.