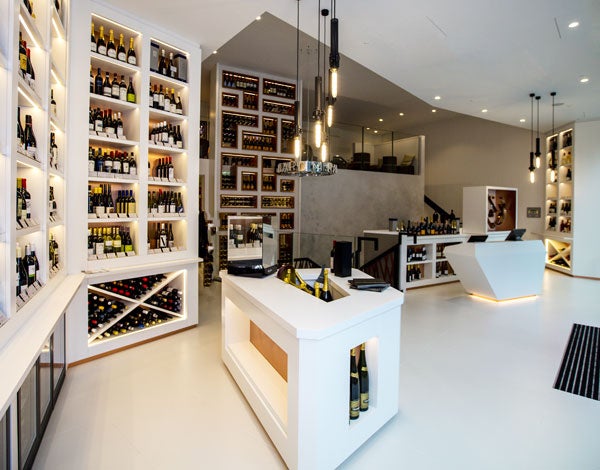 Alex Matchett takes celebratory sips from the establishment's 'fancy oligarch oenophile vending machines'
'Do you like my home economic skills?' perhaps not an odd thing to hear from a restaurateur but in this case Martin Williams was referring to the sewing job he was undertaking on his buttonless blazer. It was refreshing to see him so relaxed just eighteen hours before the official opening of the second edition of his M Restaurants, where, up on the wine shop mezzanine he joined us for a pre-Christmas glass of wine.
Talking of haberdashery he'd just returned from M's Threadneedle Street instalment where he told us they'd had 300 covers for lunch – success he has now emulated at their Victoria based edition with an astounding 1,500 bookings taken in the first 24 hours of opening.
When we visited the afternoon before there was still very much a sense of adding the finishing touches, but it was no boiler room of stress and panic.
Downstairs the snug but sophisticated private bar already felt crowd-warmed while the handful of diners in the elegant, art deco pastel restaurant were clearly enjoying their chance to start the weekend in a refined but relaxed environment.
And so were we. Williams has appointed Zack Charilaou to head up the wine shop that serves as a foyer to the whole space. It's easy to imagine this taking the form of another Hedonism Wines, they've forked out '90,000 for six of those fancy oligarch oenophile vending machines, but ultra high-end Mayfair this ain't.
Charilaou has a simple plan: to offer restaurant wines at shop prices, meaning the shop will serve those coming in off the street but also allow those enjoying a bottle downstairs in the restaurant to take one or two home with them. He's spent the last few months trying to onside the suppliers and vineyards into supplying him with their good stuff at a knockdown rate, and with some success.
He says he's had a few coups in stocking the likes of Newton Unfiltered Central Coast, Wind Gap and Dona Silvina as well as an Alpasion Malbec, something he says would set you back '1-200 in a restaurant but that here you can pick up for '22.50.
Like many younger sommeliers his mission is to make the grape more accessible; although that doesn't stop him from proudly showing us round his 'Icons' Room' at the back of the shop, stocking plutocrats' stalwarts such as Ch'teauneuf du Pape de Beaucastel and Penfolds Grange.
Upstairs though is where the chatty Northener is really in his element as he takes us through the wines he's chosen to stock in the chrome vending machines that take up a whole wall of the informal tasting area.
There's a lot on offer, some of it more remarkable than others, but the accessibility is certainly there: For 67p you can enjoy a Wakefield Clare valley 2013 Merlot, something that usually costs '70. It's just a tiny taste but the chance to try before you buy is a privilege. It's all a refreshing, unpressured contrast to the '50 shots of wine hedge fund managers impress their clients with downstairs in Hedonism.
Our highlight was the heavenly Argentinian Torrontes, grown at altitude it's clear and crisp with angelic fresh and fruity notes that call you back again and again.
Williams will no doubt be hoping his new establishment has the same effect on its patrons. It's not a mahogany-panelled club cave, nor is it a hyper-cool media love nest, it's loungey, unpretentious and relatively simple. With a 'column of wine' linking the three floors and dominating the space architecturally there's clear emphasis of the vine being the vehicle to enjoying the finer things in life, be that dinner downstairs or an afternoon whiled away at the wine tasting wall (or ideally both), M Victoria Street is a welcome venue for such pleasures.