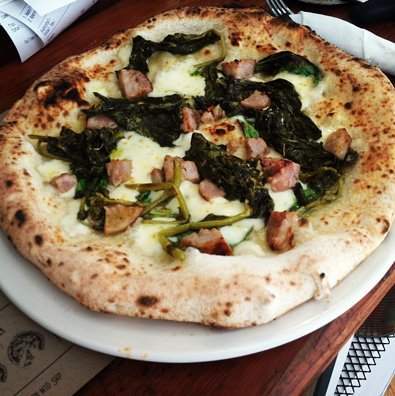 It might be the summer holidays, but the restaurant industry's out of office is firmly off and the new openings just keep coming
It might be the summer holidays, but the restaurant industry's out of office is firmly off and the new openings just keep coming. For anyone trying to keep up with them all, best of luck to you, I hope you have your elasticated clothing at the ready. To help you navigate the ever-changing London restaurant scene, here are some of the recent openings worth popping in to and some new openings worth keeping an eye out for.
The boys in the green van have found a permanent home over on Dean Street. They are serving their tried and tested neapolitan pizza bases and delicious toppings — including portobello mushroom and truffle, and artichoke, ricotta and smoked garlic oil — in an all weather, with an inside venue promising large amounts of prosecco and lambrusco, which they claim is back 'with a vengeance, just like leggings'.
I am all for good pizza and especially good pizza made by some lovely blokes in a restaurant slap bang opposite a Pizza Express. Take that mass-produced pizza! Especially those awful 'girl friendly' ones with half the pizza taken away and replaced with some limp salad.
pizzapilgrims.co.uk 11 Dean Street, W1D 3RP
Blue Plate at Outsider Tart
Some serious soul food from the boys at Outsider Tart in Chiswick. The two Davids not only sell gorgeous tarts and goodies in the shop, but they now have a café space, Blue Plate, where you can get your hands on great hulking mountains of soul food. From pulled pork buns — they literally contain half a pig — to chilli or meatloaf night, the food is very American and very big. It's all made fresh on the premises and is as comforting and friendly as the chef, David. This is not diet-food, this is comfort food in Bridget Jones quantities. I can't think of anywhere better to go with a hangover.
www.outsidertart.com 85 Chiswick High Road London W4 5TT
Flesh and Buns
Following the success of Bone Daddies ramen bar in Soho, Ross Shonhan is opening a second venue in Covent Garden. Flesh and Buns will serve up hirata buns with a choice of, surprise surprise, flesh. From sirloin steak with wafu dressing to grilled seabass and lamb chops, the offering is pretty extensive. There is also the opportunity to try other Japanese sharing dishes from sashimi and rolls to yakitori chicken and prawn tempura. With an extensive sake list and interesting looking cocktails, this big venue is set to be very busy and excellent fun.
www.fleshandbuns.com 41 Earlham Street, London WC2H 9LX
Smokehouse
Neil Rankin (of Pitt Cue and John Salt fame) has teamed up with the pair behind The Pig and Butcher, The Princess of Shoreditch and The Lady Ottoline to open Smokehouse. It's situated in an old pub and you'll be able to get delicious, seasonal food in a cosy location (yes, there will be open fires in the winter).
With a heavy emphasis on BBQ and smoking, Rankin is working with his trusted suppliers to bring top quality rare breed meats, vegetables and fish from the south coast to this little corner of London. I've also heard talk of a foie gras club sandwich. Amazing. With over 20 craft beers available on tap, it promises to be one cracker of a gastro-pub.
smokehouseislington.co.uk 63 — 69 Canonbury Rd, N1 2DG (Opens 17 August)
Dirty Burger Vauxhall
Soho House is taking over the world. Soho, Shoreditch, Kentish Town and now Vauxhall. Similarly, burgers are taking over the world. Not content with the imported American and Icelandic offerings (Shake Shack, Five Guys and Tommi's Burger), Richard Caring is taking the Dirty Burger offering south of the river. With another soon to be opening in Mile End, there will be burgers available in every inch of London soon.
www.eatdirtyburger.com Arch 54, 6 South Lambeth Road, SW8 1SP
Sager & Wilde
The beautiful beard of Michael Sager-Wilde is setting up a permanent home with the lovely Charlotte Sager-Wilde at the British Lion pub on Hackney Road this August. After a hugely successful pop-up on City Road, the duo are opening a permanent wine bar promising to have the same excellent selection of wines at much less than you would get in a restaurant.
The wine list will change daily and a blackboard of super high-end wines will be announced each day via social media. In addition to the wine, if you need any other reason to go, you will be able to get a selection of snacks, including bread and charcuterie and the famous 'Sager & Wilde grilled cheese sandwich'.
www.sagerandwilde.com 193 Hackney Road, E2 8JL